ART SG LEADERS: ERIC BOOTH
One of Thailand's most progressive collectors, Eric Booth is committed to advancing conversations about contemporary Thai art, culture and society, through his personal art collection as well as the two art spaces he founded. He speaks with ART SG about what drives him, some of the initiatives he has undertaken to support the Thai art scene, as well as his plans for the future.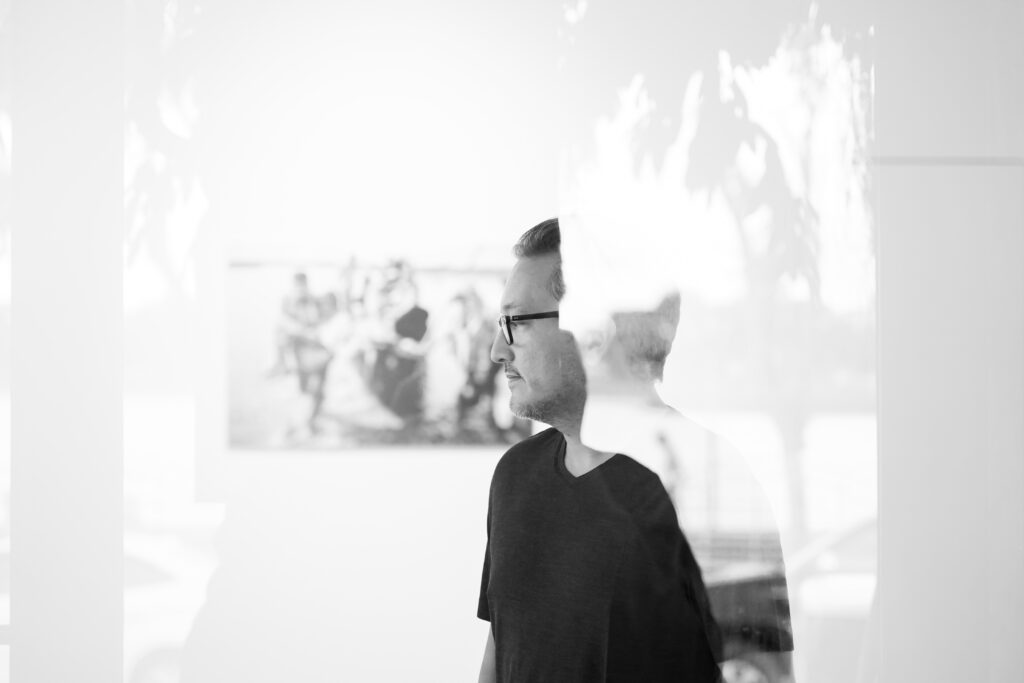 Photo of Eric Booth.
Image courtesy MAIIAM Contemporary Art Museum
TSL: "Tell us about the first work of art you bought. Where is that work now?"
EB: "An abstract painting by Niti Wattuya was my first acquisition in 1993. It was in MAIIAM's permanent collection for 5 years and is now in my new Chiang Mai home. When I returned from my studies abroad, I wanted to learn about the local contemporary art scene. Unfortunately, most galleries were showing neo-traditional works of art. And it was definitely not for me. So when I went to the Wattuya opening at Dialogue, I was very excited. Through this gallery, I met Gridthiya Gaweewong, who introduced me to all of the artists that I collected in the '90s."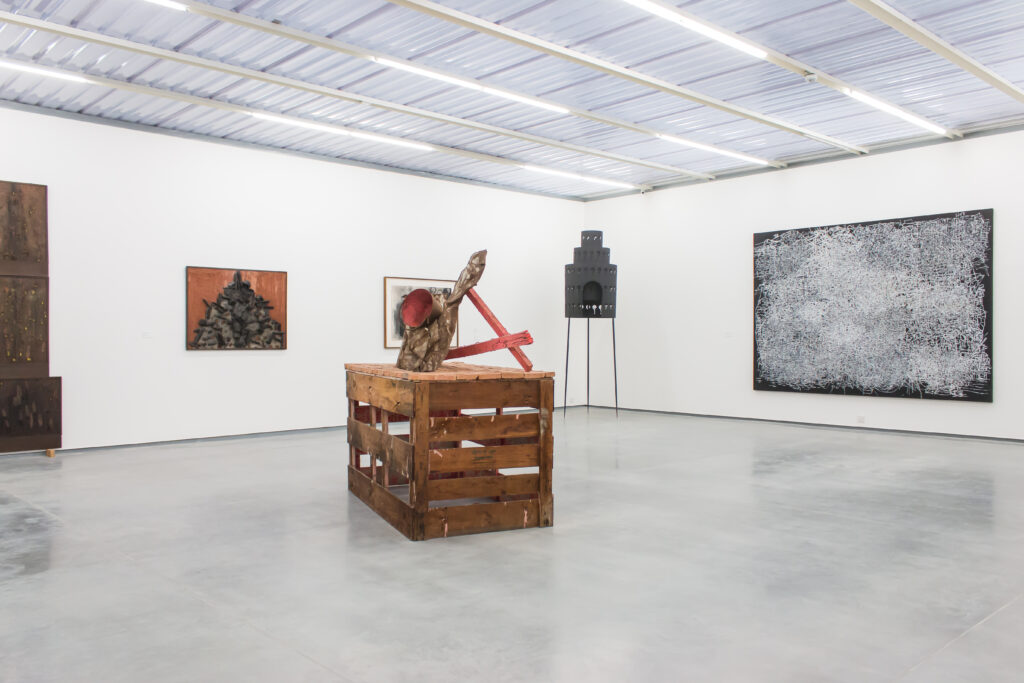 Montien Boonma, Venus of Bangkok.
Image courtesy MAIIAM Contemporary Art Museum
TSL: "Have your tastes in collecting changed over the years? How so?"
EB: Not at all. Actually, we just purchased a recent abstract landscape by Niti Wattuya.
My other very early acquisition, Montien Boonma's Venus of Bangkok, about the plight of the construction workers and sex workers, did set me on the path, which I haven't veered away from. The socio-political problems in Thailand remain evident in my recent purchases and exhibits at both MAIIAM and MAIELIE.
TSL: "Within the last 5 years, you have opened two art spaces in Thailand, MAIIAM in Chiang Mai, and more recently MAIELIE in Khon Kaen. It takes a lot of hard work, willpower and resources to sustain such independent art spaces – what drives you?"
EB: "I couldn't do any of this without my team. We must thank our curators and art installers (they are extremely important of course) but we rarely mention the day to day. How can we exist without the manager, the shopkeeper, the chef, the cleaners, the guards, etc.? And how about my accountant? She puts a lot of sense into me and manages the resources. What drives me? The lack of equality, justice, fairness and democracy in Thailand. There's no way I could even think of comparing myself to the activists and human rights lawyers here, but, hopefully, MAIIAM / MAIELIE raises some good questions."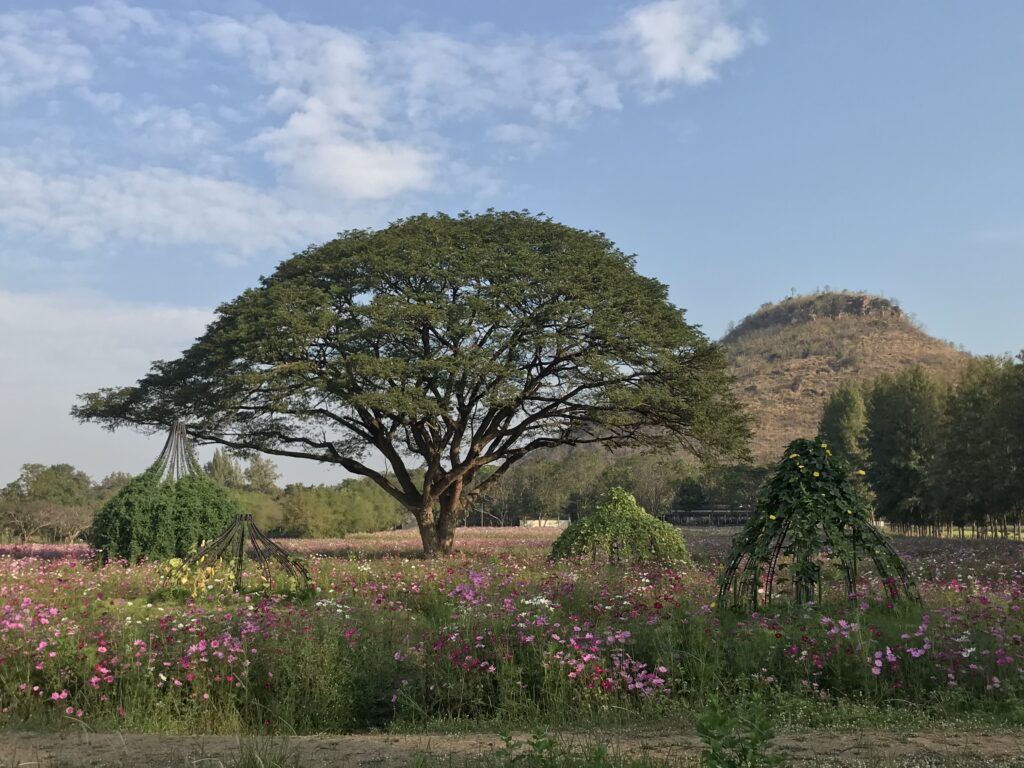 Artwork by Pinaree Sanpitak installed at Jim Thompson Farm.
Image courtesy of the artist and Jim Thompson Art Center.
TSL: "You have a senior role at Jim Thompson in Thailand. While many associate this revered name with silk products and tradition, Jim Thompson has been actively supporting contemporary art since the early 2000s. How did this come to be?"
EB: "I am now on Jim Thompson's Executive Board and remain a Trustee of the James HW Thompson Foundation, under which, the Jim Thompson Art Center operates. The company and the Foundation are completely separate entities, but both have been supporting contemporary art.
The Jim Thompson House Museum is one of the most visited tourist destinations in Bangkok, but it's about the past, Mr. Thompson and his antique collection. With the Art Center, we reflect on the present and ponder about the future. Our aim was also to attract the local audience, especially the younger one, with the temporary art exhibits and educational programs.
As for the Jim Thompson Farm, the initial idea was to promote Isaan, the poorest region in Thailand through silk and textiles (of course), traditional architecture, music, and crafts. Then, we realized we had the opportunity to present local contemporary artists as well. And now, it's a good place to show larger installations. So, we invited more established artists to spend time on site to learn about the local heritage and Jim's relationship with the complex history of this region."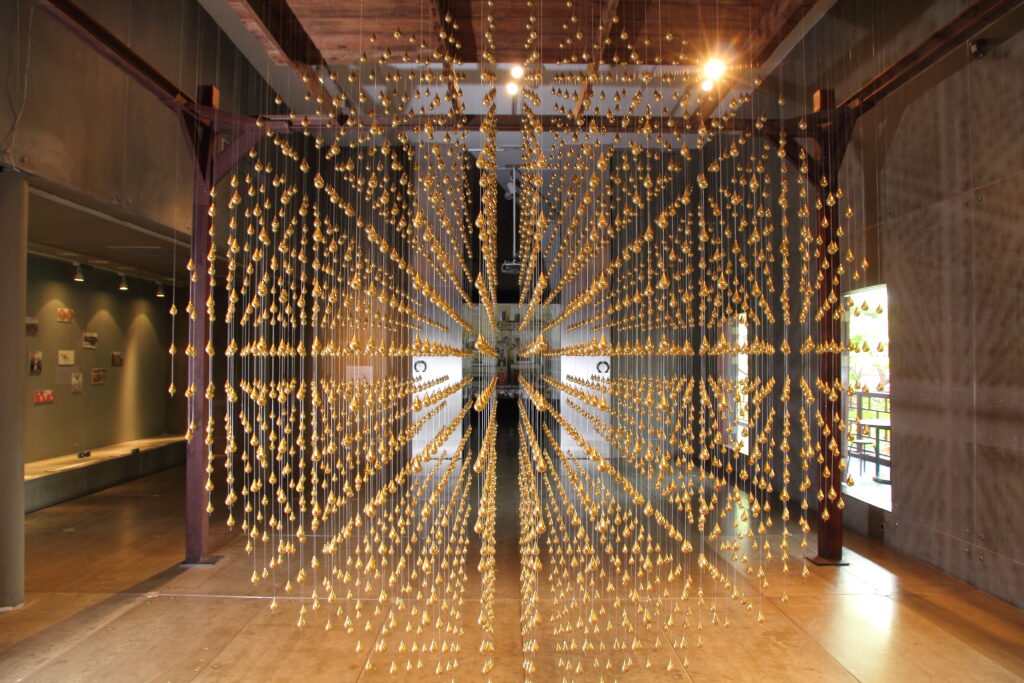 Installation view of The Making of Golden Teardrop, a presentation of Arin Rungjang's work  in Venice Biennale, at Jim Thompson Art Center.
Image courtesy Jim Thompson Art Center.
TSL: "What do you find exciting about the art scene(s) in Thailand, and the Southeast Asian region, right now?"
EB: "It's exciting to see contemporary art events happening all over Thailand, not just in the capital. Just in July and August alone, I will visit the northeast (Khon Kaen and Udon Thani), the north (Phayao and Chiang Mai), and the south (Patani) to see contemporary art exhibits organized by local artists and curators. Finally, we are witnessing some decentralisation of art, but still a lot must be done.
Covid-19 has been a disaster, but it has opened new doors. I am enjoying the deeper connections with museums and institutions from around the region. During this past year, we have collaborated with The Factory Contemporary Arts Center, Ho Chi Minh City, and SAM Art & Ecology Funds, Jakarta, under the Pollination project. This resulted in The Hunters exhibition, presently shown at MAIIAM and soon on the way to MAIELIE. We also collaborated with Para Site, Hong Kong, Dhaka Art Summit and Samdani Art Foundation on the exhibition A beast, a god, and a line that ended two months ago at MAIIAM.
On July 30th, we will open ERRATA: Collecting Entanglements and Embodied Histories at MAIIAM. It's a collaboration with the collections of Galeri Nasional Indonesia, Jakarta, MAIIAM Contemporary Art Museum, Chiang Mai, Nationalgalerie – Staatliche Museen zu Berlin, and Singapore Art Museum, initiated by the Goethe-Institut.
It's interesting to collaborate with major European institutions like Hamburger Bahnhof, Nationalgalerie – Staatliche Museen zu Berlin, but expanding the network within the global south is also very exciting for both the Jim Thompson Art Centre and MAIIAM/ MAIELIE."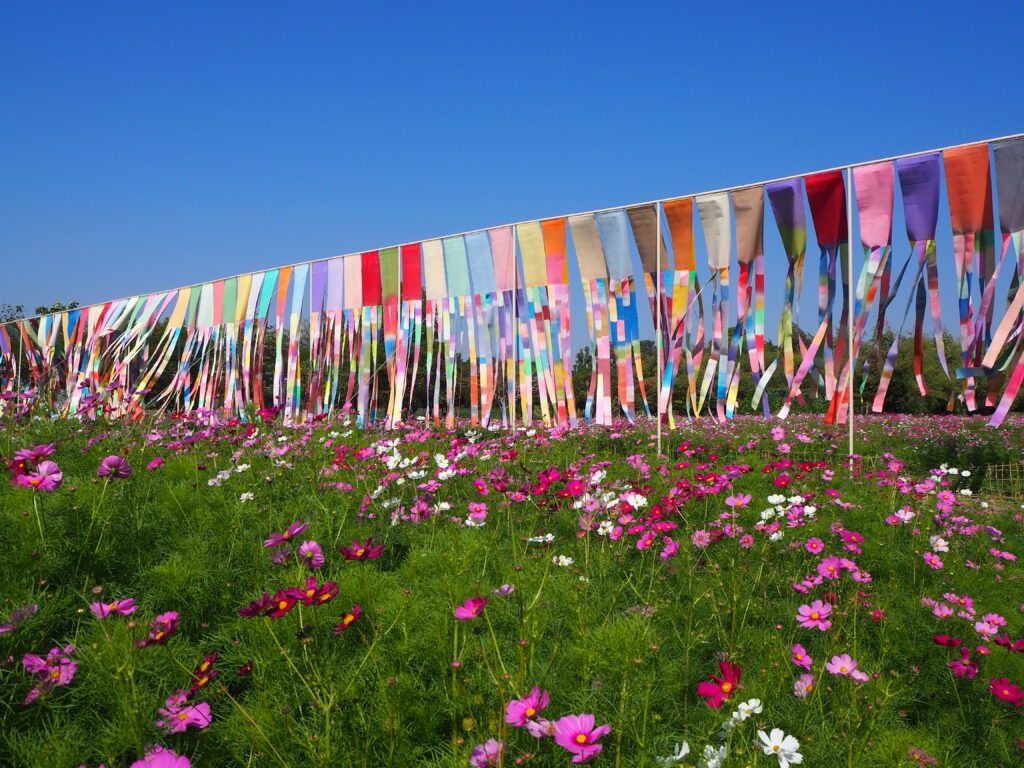 Artwork by Mit Jai Inn installed at Jim Thompson Farm.
Photo by Ekarak Nubtheursuk. Image courtesy Jim Thompson Art Center.
TSL: "What do you think such engagements or alliances (with other art initiatives and institutions in Southeast Asia) can offer Thailand? And what can it offer the region, and the world?"
EB: "It's a great question…and maybe the experts need to answer it as it relates to the art world.
For me, as a half European/American and half Thai, I've always had more of a link with the West. It seemed so important/ and so necessary for a long time. For example, up until not long ago, at Jim Thompson (the company) we would hire Western designers, marketing directors, etc. But in the past few years, we've had on board people from Laos, Malaysia, Singapore, Korea, Japan. These people are bringing something new. It's difficult to put on paper. But their view isn't that old fashioned Western view of the 'exotic' 'Far East'.
They don't see the floating market and Thai traditional dance as important factors in our DNA. The charm of the farmers in the rice fields with the buffalo mentality has shifted to something more modern, more of today, more meaningful. Of course, it's more complex at the company because Jim Thompson was an American and his views on Thailand are reflected in the beautiful house, unique collection and silk designs. (All very nice but seems at times a bit passé, with due respect.)
At MAIIAM / MAIELIE (and the Jim Thompson Art Center), we continue to be honoured to work with the Western institutions but excited to see what we can do with our regional neighbours in Asia — a bit further to both the east and west — and all the way to Africa and South America etc. There's going to be a lot of good, interesting, new, and exciting exchanges."
ABOUT THE AUTHOR: TAN SIULI
Tan Siuli is an independent curator with over a decade of experience encompassing the research, presentation and commissioning of contemporary art from Southeast Asia. Major exhibition projects include two editions of the Singapore Biennale (2013 and 2016), inter-institutional traveling exhibitions, as well as mentoring and commissioning platforms such as the President's Young Talents exhibition series. She has also lectured on Museum-based learning and Southeast Asian art history at institutes of higher learning in Singapore. Her recent speaking engagements include presentations on Southeast Asian contemporary art at Frieze Academy London and Bloomberg's Brilliant Ideas series.