A CONVERSATION WITH DR APINAN POSHYANANDA
The Bangkok Art Biennale returns for its third edition from 22 October 2022 to 23 February 2023. Titled CHAOS : CALM, the Biennale will present works by 73 leading artists over multiple sites in the city as well as online. ART SG speaks to Prof. Dr Apinan Poshyananda, the Biennale's Chief Executive and Artistic Director, about the importance of mounting this major presentation of contemporary art in Bangkok, memorable artwork-site activations, and the future of the Bangkok Art Biennale.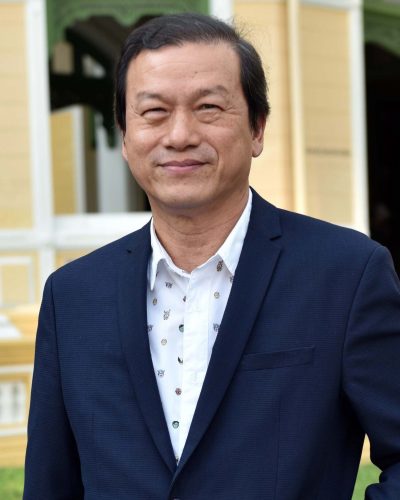 Profile image of Prof. Dr Apinan Poshyananda. Image courtesy of the Bangkok Art Biennale.
Professor Apinan, it's great to be connected once again. We are all excited for the upcoming Bangkok Art Biennale, titled CHAOS : CALM. This will be the third edition of the Bangkok Art Biennale – how is it different from, or similar to, the previous editions?
Dr Apinan: This edition is the completion of a trilogy. When we set out to plan for the Biennale in 2017, we wanted to do at least three editions. So the first edition in 2018, titled Beyond Bliss, was thought to be the opener or an introduction of our Bangkok Art Biennale. Then we had Escape Routes in 2020, and now CHAOS : CALM. So it's like one leading on to the other. It's like parallel reflections of what is going on in the world, as well as the art world. Much has changed in the world: the way we live, the art ecosystem, even our behaviour… how do we look ahead for the future?  So the three editions within six years, in fact, have recorded many traumas and calamities that we face in the world and how it has affected not just people in general, but also the art world.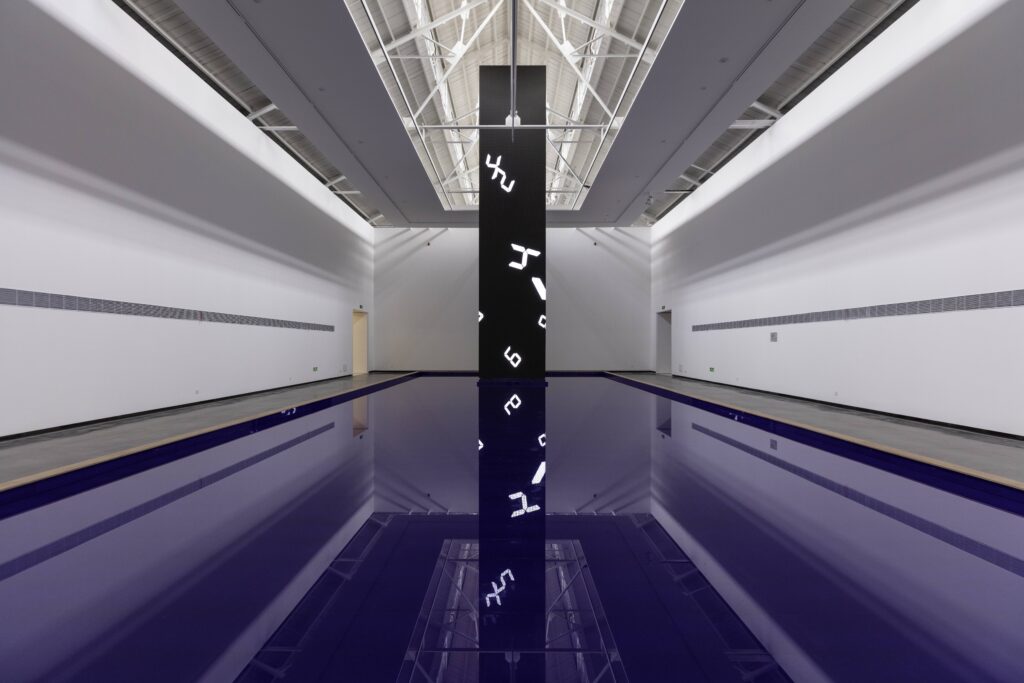 Tatsuo Miyajima, Time Waterfall-panel #MAM 2019, Photo. Image courtesy of the artist, Lisson Gallery, Shanghai Minsheng Art Museum and SCAI THE BATHHOUSE.
In a way, CHAOS : CALM has been something of an invitation for artists and those involved to take a look at the two words we introduce, whereby 'Chaos' and 'Calm' are not necessarily binary opposites. In fact, we look at the colon between these two words as the space where the two somewhat opposite identities can seep through, and this kind of fragmental definition is, in fact, ongoing every day in our life or our individual behaviour, which we face both simultaneously or quite challengingly in terms of how we deal with ourselves, and likewise, how governments and superpowers look at themselves and how in the larger picture, they have to deal with problems whether it be politics, climate, or even collapse of economies. I think we are at the crossroads, or many crossroads, where decisions have to be made. In this way, we feel that CHAOS : CALM is appropriate for this edition.
In the curatorial approach for this edition, because we've done two previous Biennales, we look back to the previous two, but we also want to introduce other things whereby, for example, collaborations have become more prominent. We've also added the dimension of virtual venues. This is another new addition, because some artists who have been working from home have produced some amazing digital forms and virtual venues. So we added a few artists in this way. People who come for the Biennale can appreciate the works installed over the more than 11 sites that we have, but those who cannot come in person can experience the Bangkok Art Biennale online as well.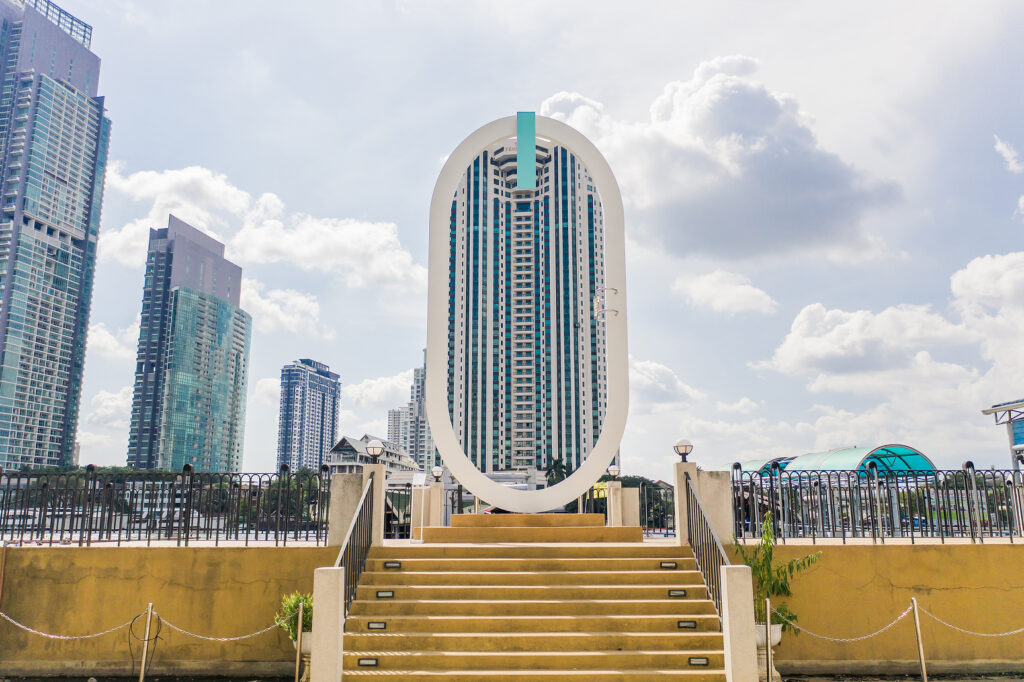 Elmgreen & Dragset, Zero, 2018. Stainless steel pool and cement base. Image courtesy of the Bangkok Art Biennale.
What I've always enjoyed about visiting the BAB is the variety of venues wherein to experience the artworks, from more conventional art spaces to evocative old buildings and Bangkok's riverside temples. Looking back at past editions, which artwork-venue pairings have you felt the most satisfied with?
Dr Apinan:  Well, there are many of course, and each one has amazing memories because we struggled so hard to deal with the custodians of the spaces, whether it be temples or a logistic company's building or other heritage sites. Naturally, they feel protective, and we are seen as invaders, people who come in with strange ideas and strange things. We could write several books on this, of how to overcome the obstacles, but the pairings? Well, I would say — because they were most challenging — the sites like Wat Pho (the Temple of the Reclining Buddha) and Wat Arun (the Temple of Dawn).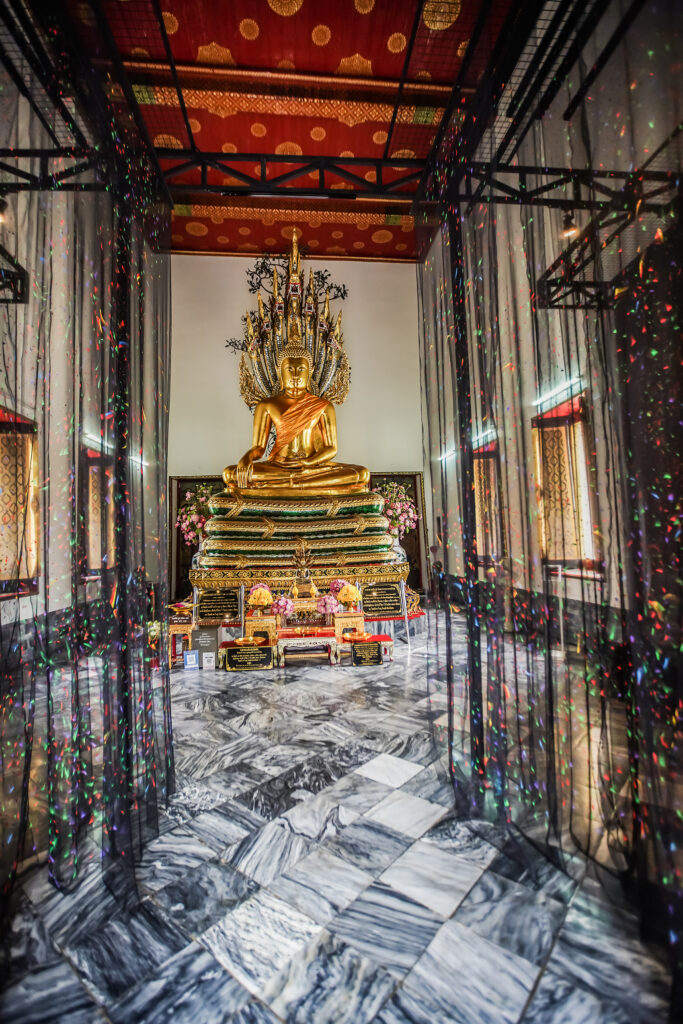 Uttaporn Nimmalaikaew, Invisible world, 2020. Oil painting on net. Image courtesy of the Bangkok Art Biennale.
These are royal heritage sites and you're not supposed to put Anish Kapoor's 'Sky Mirror' on the lawn or put some fantastical architectural works by Sanitas Pradittasnee in the garden for example. We actually put another piece by Anish Kapoor in the Sermon Hall of Wat Pho which was quite memorable in terms of how we had to deal with transporting three and a half tonnes of wax and transfer that into the temple. They had just renovated the Sermon Hall with Carrara marble from Italy and then suddenly, we come with mess and grit and dirt. It was so amazing for us to be able to site the work there, but for the Abbot it was shocking. 
To overcome this resistance we had to be able to explain to them the context of the shape of this bulk of wax in relation to the seated Buddha in the Sermon Hall, the context of the crimson red in relation to the vermillion and gold. Gradually, some of the abbots became tour guides, explaining to people the meaning.  I could go on… there are many really great memories, but overall it was important to have done this — and the idea was unthought of the beginning — and to have come this far. At the beginning people thought, why put artworks in the department stores? Why put contemporary artworks in temples? And I will say, why not? And those visitors who at first had this fixed idea of where art should (or should not) be encountered…when they go to these places, sometimes they don't look at the artwork. 
Sometimes they look at something else and they find something else on the way or something else that they never thought they would see. This is the kind of experience in which contemporary art becomes a catalyst whereby you can trigger many things individually, and you cannot plan this. That's the joy of it, when something happens individually or in groups. So you have to go and visit the sites with an open mind and don't have a preconception or preconceived ideas of 'this should not be' or 'that should not be'.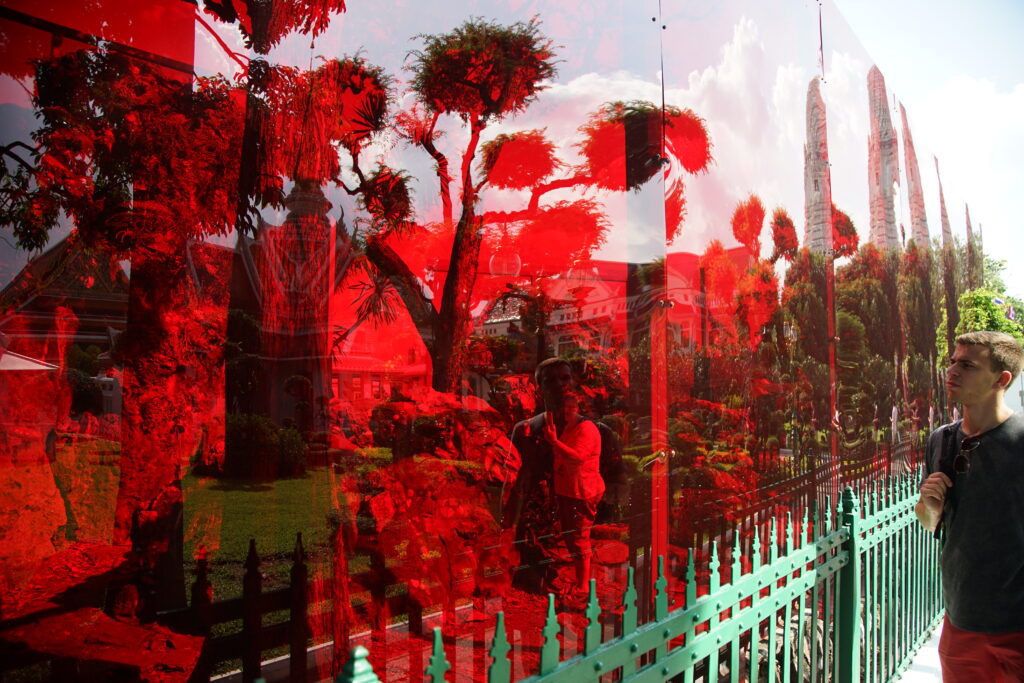 Sanitas Pradittasanee, Across the Universe and Beyond, 2018, Installation view at Wat Arun. Image courtesy of the artist and Bangkok Art Biennale.
This leads me to the next question about the Biennale in Bangkok. Why is it important for Bangkok to have a Biennale? What does it do for the city, and for the art ecosystem?
Dr Apinan: Well, Bangkok may not need it. Bangkok has survived for hundreds of years, and it's been the destination for tourism, because Bangkok is strategically right in the centre of Southeast Asia. People traveling to Australia, to China or Europe can stop over, and not just stop over for rest, because there are so many things to do. There's heritage tourism, entertainment, gastronomy, and all kinds of attractions. So maybe Bangkok does not have to have a Biennale, but to have it gives a different dimension to Bangkok, which is so rich in so many things. But in terms of contemporary art, the Bangkok Art Biennale can nurture the art ecosystem in Bangkok. 
Unlike Singapore, for example, where the government has a very strong policy to support art and culture and its continuity and sustainability, here support from the government is far from enough. So many galleries and artist-run spaces have to struggle quite a lot. But to have the Bangkok Art Biennale every two years, I think, gives new incentives for visitors but also for the locals because we have what we call Friends of BAB (FOB) where we invite all the galleries or the art institutions to discuss what we can plan and help support during the four months of the Bangkok Art Biennale. Many visitors are coming, many galleries, many art directors, curators …we're going to have our symposium on 22nd to 23rd of October, and we have leading speakers coming over. So this gives us that new dimension. I think what we've done over the past six years has proven that in terms of tourism, you know people love to talk GDP, how much it brings in money-wise, but we bring in other things — it's not all about money or profit, but to enjoy yourselves, come spend two, three days and go away and have something in your memory. Many travel in from the provinces of Thailand to enjoy the Biennale — art students or artists from outside Bangkok…they come in busloads. This is something they look forward to every two years.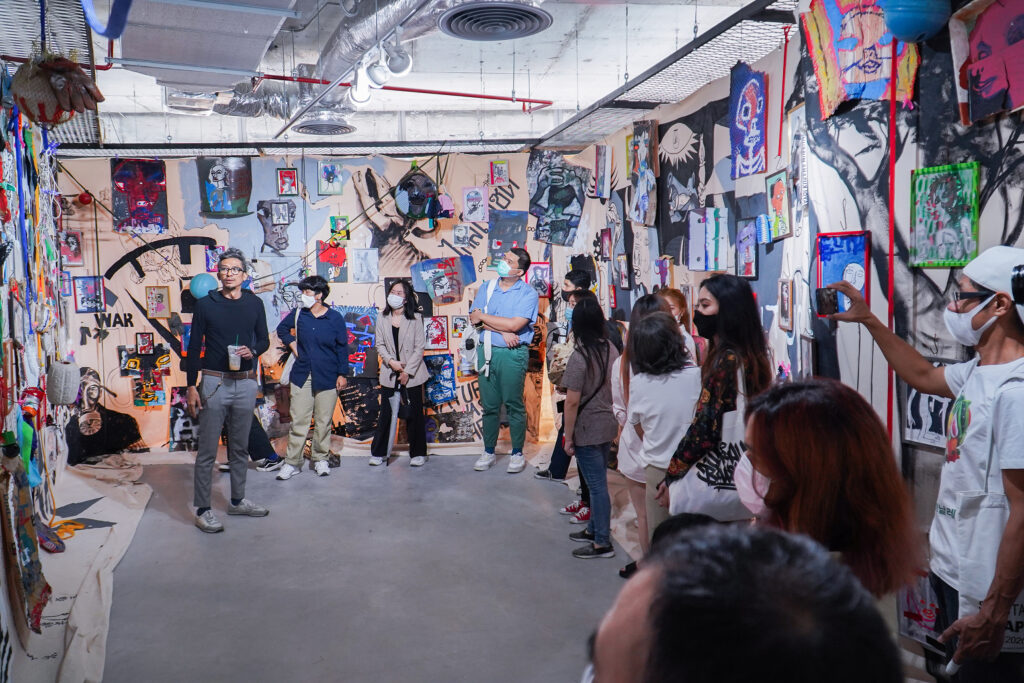 Thaiwijit Puengkasemsomboon, The World is Directed by Karma, 2020. Mixed media installation and painting. Image courtesy of the Bangkok Art Biennale.
Professor Apinan, you've curated a great number of exhibitions over the course of your career, many of which remain important touchstones or references for contemporary Asian art history (for example Traditions / Tensions in New York in 1996, and Thai Transience in Singapore in 2012). Have your curatorial approach and interests changed over the years? Do you find yourself drawn to different ideas and types of artwork and artists now, compared to a decade or two ago?
Dr Apinan: Thank you for that, I appreciate that you have got something out of my research or my writings. I would say it's changed; we change, our tastes change as we get older. But the idea of pushing the boundaries just a little, and to keep on pushing – I would say this is my trademark as it were. Having said that, to do that in the early 1990s was much more difficult. From doing something like curating (I didn't even know what the word meant) with no money, to doing something like the Bangkok Art Biennale…things have changed in terms of scale, in terms of maturity as a person, experience as a curator, and so many artists whom I have worked with have contributed to my thinking. So in this kind of growing up process, as it were, I've learned so much. For example, getting away from nationalities then regionalities, then now, the catch words of collaboration, collectives, all these ideas. In fact, they've been experimented with before, it's just that they've moved from the margins into the mainstream. So this is the excitement of the art world.
I'm now working on a lot of writing and research. I think it's time to do another book, or a couple of books, one on the history about modern and contemporary Thai art, which I'm revising. I'm also writing a new book, maybe about the experience of curating. That will be something of my own combination of learnt experiences and I am hoping to maybe pass it on to the younger generation, and make some contribution to art history and courses on curatorship.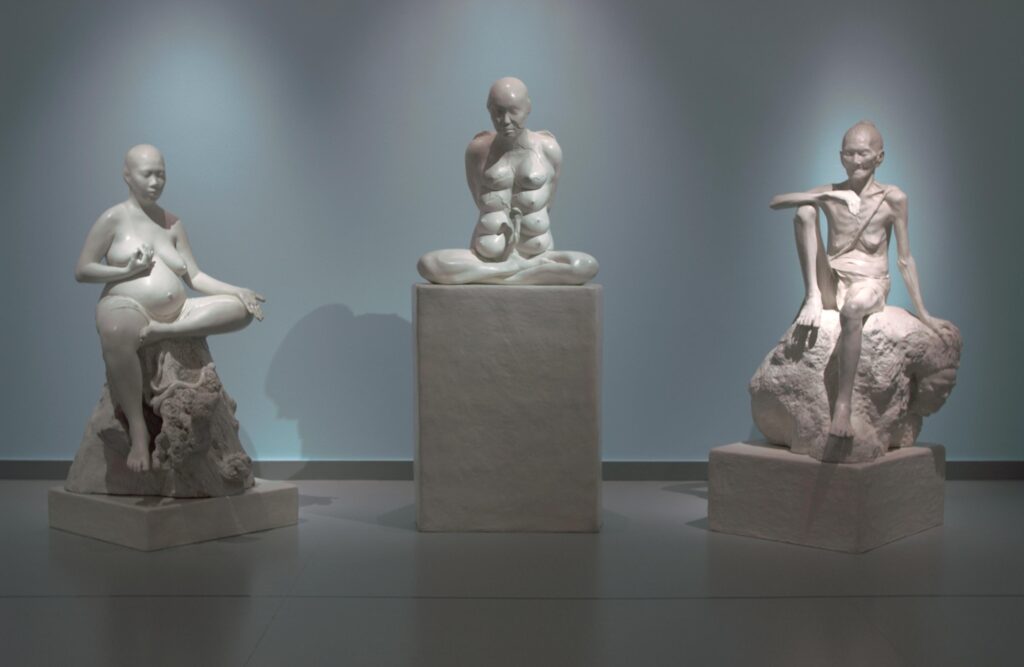 'Three Buddha Mothers', Agnes Arellano, 1996. Cold cast marble, life-size (variable dimensions). Collection of Singapore Art Museum, image courtesy of Heritage Conservation Centre. Exhibited at "Contemporary Art in Asia: Traditions/Tensions" (1996).
Could you say a little bit more about what it meant to push boundaries in the 1990s versus what it means to push boundaries today?
Dr Apinan: In the 1990s, people still said that there's no history of contemporary Asian art, no history of Southeast Asian art, we were just copycats. So that was pushing a little bit just to say, oh, wait a minute, I think there is. That was something of a benchmark at that time. And just to find friends in Japan and Korea, in Indonesia, and Singapore, those were the most memorable times because we came together and we realised how much we were looking to the West and how little we knew about each other. And how much more we needed to learn about our region. So that was pushing multiple borders.
In the following decade, more and more people became interested in Southeast Asian art and Tradition / Tensions, as you mentioned, was a high point in 1996, where we actually took 27 artists from Asia, not just Southeast Asia, but from Indonesia, Philippines, Thailand, Korea and India, to show in New York. And the reaction was amazing — the critics and reviewers were shocked because they thought that there was no art from Asia. There were only a handful of people in the American institutions like the Asia Society and some writers, who appreciated and already knew. So in that way, when we travelled the show to Perth, to Taipei, to Vancouver, it had a ripple effect, whereby people said, "oh, wait a minute, there's something interesting going on". And those were the days when artists like Kimsooja and Heri Dono were unknown, but now they're so famous and I'm so glad that I was part of it, to be working with them then.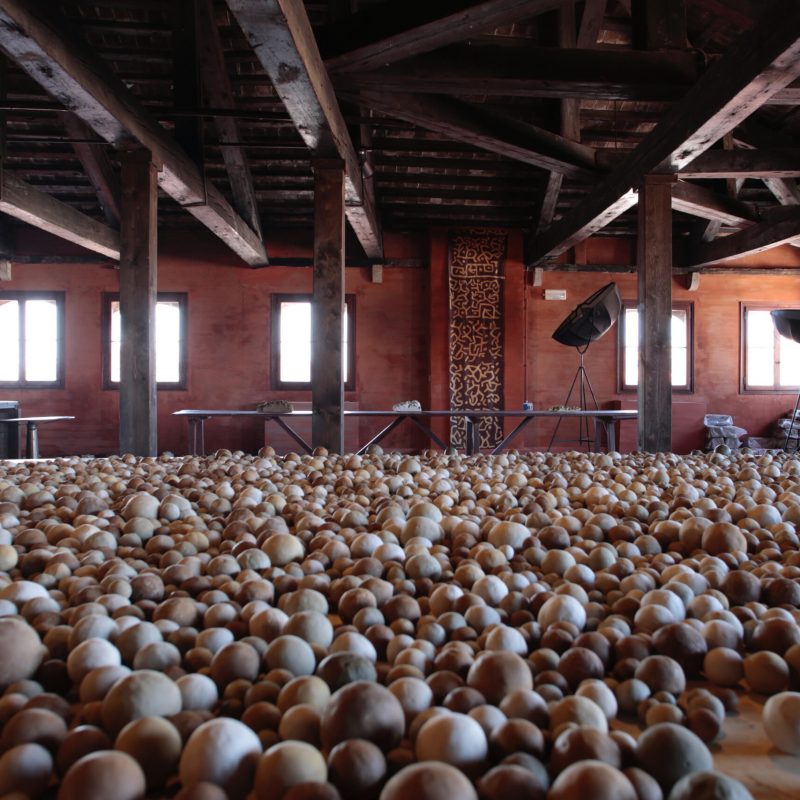 Kimsooja, Archive of Mind, 2017. Image courtesy of Axel Vervoordt Foundation and Kimsooja Studio.
I could go on for a long time, but just to say that there's different benchmarking at different times. I had to overcome a lot of obstacles, having worked at Chulalongkorn University, and then moving on to the Ministry of Culture, which was extremely conservative in terms of presentation of Thai-ness and identity. To be able to put forward some of the exhibitions, like Thai Transience and other shows like Thai Eye that travelled to Saatchi Gallery…these were the shows that gave a new dimension and understanding of Thai art. It was important that we could we could work with these institutions that tend to be quite 'static', to open their views on contemporary art in the context of heritage.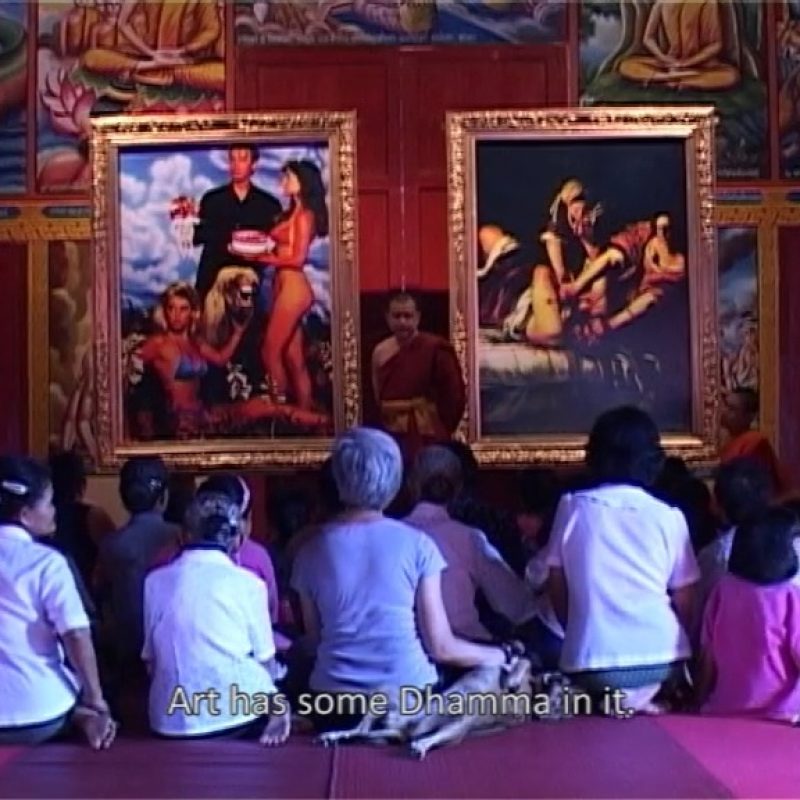 Araya Rasdjarnrearnsook, Thai Villagers and Gentileschi's Judith and Holofernes' Jeff Koons, single-channel video, 20 minutes, 2011.
Image courtesy of the artist and 100 Tonson Gallery. Exhibited at "Thai Transience" (2012-2013).
And what are the benchmarks that you want to try to push today?
Dr Apinan: [laughing] Today, I have to finish putting up the Chapman brothers' work. Today, I have to try to get Antony Gormley's sculpture out of the customs. The best benchmark today is that we have completed the trilogy of Biennales; the benchmark today and tomorrow is that we've got the good news that the Bangkok Art Biennale Foundation will do another three editions.
Congratulations, that's wonderful news! What is your vision for the future of the Bangkok Art Biennale? Have you determined a direction yet for the next trilogy?
Dr Apinan: A little bit, but the vision and mission would have to be different to the last three. I think there's a lurking idea that Bangkok Art Biennale will go to other places, meaning that the exhibition, or some of the artists selected previously, or in the present, will be presented at other international arenas. So this way, we were planning that we still do it here in Bangkok, but we might move like a traveling exhibition.
If we fly the Bangkok Art Biennale flag elsewhere, we can make a presence. It does not necessarily have to have the name Bangkok Art Biennale at all– it could be just a traveling show. But the artists we work with, or are working with, and have worked with, can be in our plan. So in this way, when we work with so many artists — now there are hundreds of artists — we don't just forget them. Not only do we collect their works, we can come back and work with them and nurture them. Of course, we cannot do that for every artist, but by collecting their works and taking their works to show elsewhere in the region or in Europe would be quite exciting.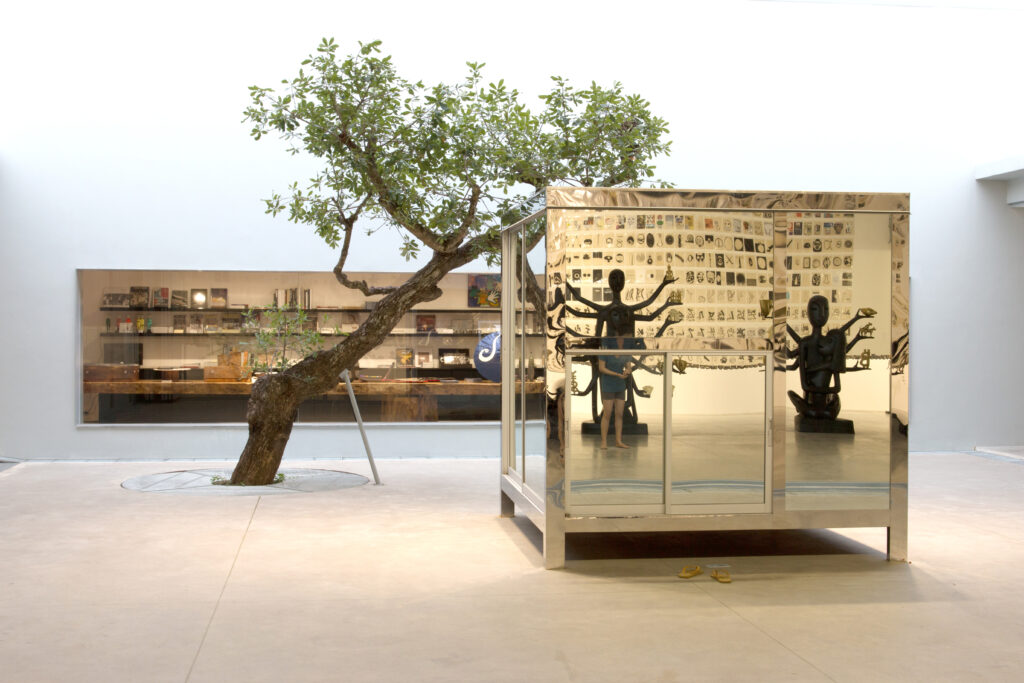 Kamin Lertchaiprasert, Tea House (ห้องชา), 2016 Metal, mirror and plywood 240 x 240 x 240 cm Image courtesy of Maiiam Museum.
Professor Apinan, I have one last question for you. You spoke about Bangkok and how it's such an attractive tourist destination. What is one place or artwork, not necessarily in the Biennale, that art lovers visiting Bangkok must check out?
Dr Apinan: Perhaps that's the most difficult question! But I would answer in a sort of touristy way. If I give only one choice for this visit, I would encourage people to go to Wat Pho. It is a place where you can feel that for several hundreds of years now there have been vast cross-cultural activities. When you enter, you can see the residues of Indian, Cambodian, Khmer and Chinese influences. So this richness of layers of heritages, the layering of artisanal works, can be felt really strongly. And it's not necessarily just Buddhists who can appreciate it; other people with other faiths, beliefs and religions can really enjoy it too. Wat Pho has been called the first university in Siam. It's not just about faith and religion, but also astronomy, massage, healing, and all these kinds of things that make your mind and body work in unison. I think to visit that will be quite a revelation for those people who come to Bangkok.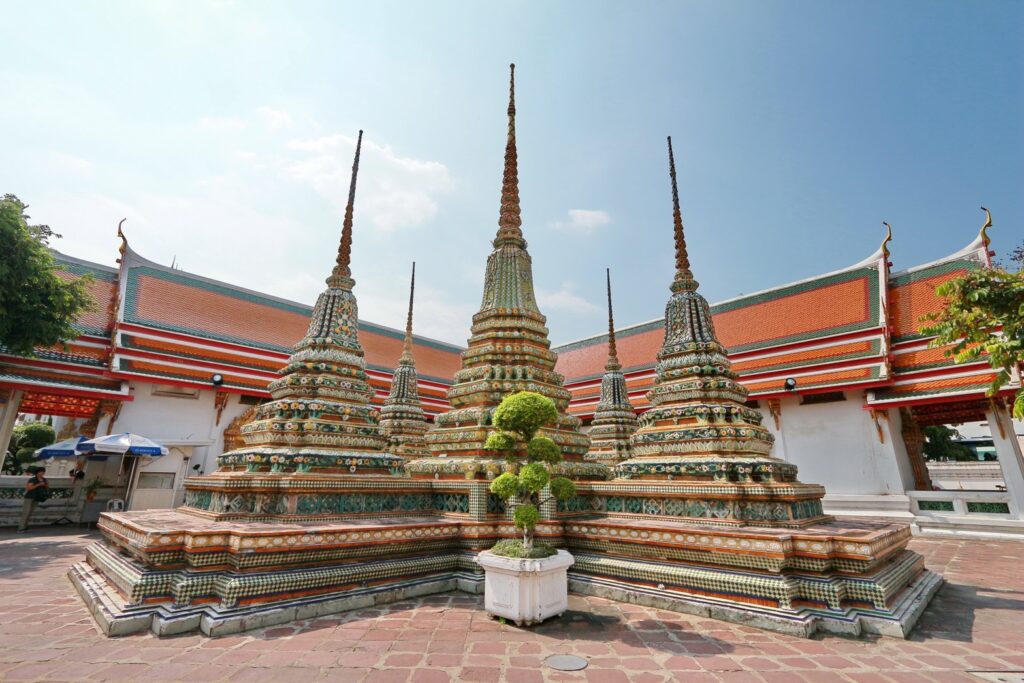 Wat Phra Chetuphon Wimon Mangkhalaram Rajwaramahawihan (Temple of the Reclining Buddha or Wat Pho). Image courtesy of the Bangkok Art Biennale. 
And are you able to share some details about the Biennale artworks that will be installed at Wat Pho?
Dr Apinan:  Yes, of course! This is going to be very exciting for me and many others if it works – we will have two new works by Antony Gormley facing each other in the courtyard in Wat Pho. And around this courtyard, there are dozens of seated Buddha images, as well as Chinese sculptures, but the two Gormleys will be facing each other. As you enter from two sides, the experience is fantastic. And because it's outdoors, morning, afternoon and night the ambience will change. But not only that, not far from the two Gormleys, we will have the giant Buddha head of Montien Boonma, inside one of the temples facing the Buddha image, and this will also be quite an amazing experience. Montien, as you know, was a very religious Buddhist who wanted to use his art as a form of healing, but he did not get the chance to show many of his works in the temples. 
Another piece that will be quite a revelation is a work by Montien Boonma which has never been shown in public, and we will place this in the garden called the 'Missakawan Garden' which is near the reclining Buddha image. So there are three places that you can visit in Wat Pho– you can spend hours there. And then look at the other heritage works, the mural paintings and sculptures. Half a day would be quite easily spent there. So, I reveal a secret for the first time to you.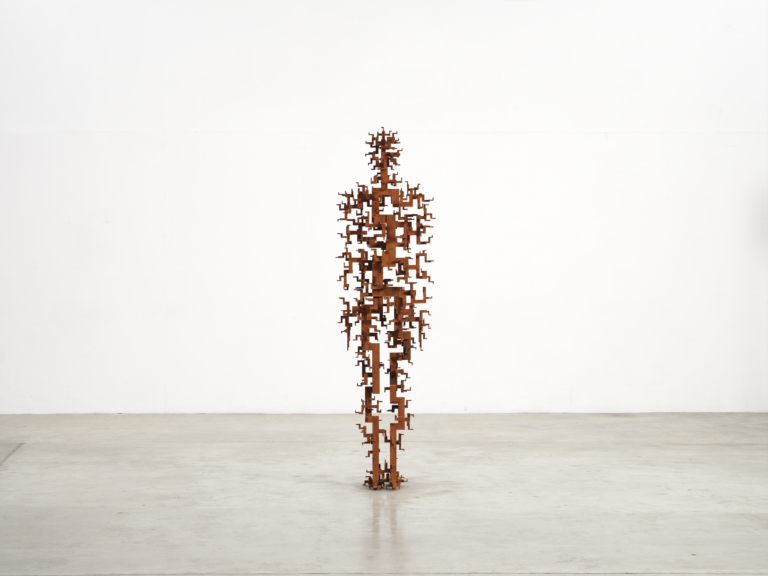 Antony Gormley, CONNECT, 2022. Cast iron, 200.4 x 55.1 x 39.5 cm. Photo Stephen White & Co. Copyright the artist. Image courtesy of the artist and Galerie Thaddaeus Ropac.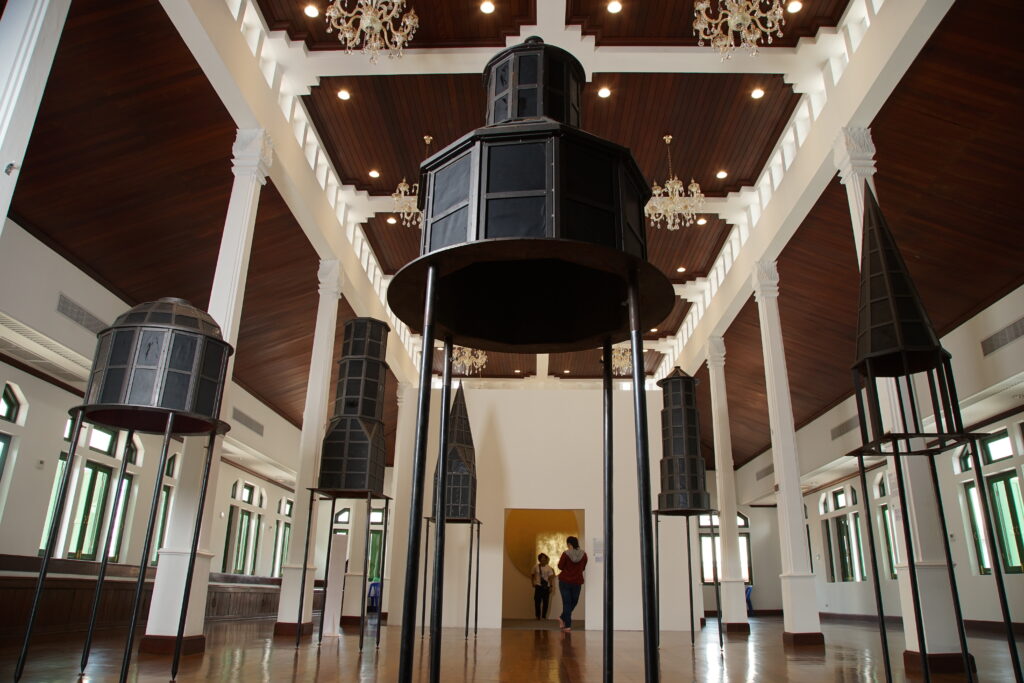 Montien Boonma, Zodiac Houses, 1998-1999. Metal, herbal medicine, wood, cellophane, and transparency sheet. Size variable. Installation view at the Bangkok Art Biennale 2018. Image courtesy of Bangkok Art Biennale.
---

The Bangkok Art Biennale curatorial team comprises: Prof Dr Apinan Poshyananda (Chief Executive and Artistic Director), Nigel Hurst (Global Director of Exhibitions, IMG), Loredana Pazzini-Paracciani (Independent Scholar and Curator of Southeast Asia Contemporary Art, Bangkok and London), Jirat Ratthawongjirakul (Director of Gallery VER & N22 Art Community, Bangkok), and Chomwan Weeraworawit, PhD (Founder of Mysterious Ordinary, Bangkok and Co-Founder of Philip Huang, NYC).
(From left to right) Loredana Pazzini-Paracciani, Prof. Dr. Apinan Poshyananda, Dr. Chomwan Weeraworawit, Jirat Ratthawongjirakul. Image courtesy of the Bangkok Art Biennale.
ABOUT THE AUTHOR: TAN SIULI
Tan Siuli is an independent curator with over a decade of experience encompassing the research, presentation and commissioning of contemporary art from Southeast Asia. Major exhibition projects include two editions of the Singapore Biennale (2013 and 2016), inter-institutional traveling exhibitions, as well as mentoring and commissioning platforms such as the President's Young Talents exhibition series. She has also lectured on Museum-based learning and Southeast Asian art history at institutes of higher learning in Singapore. Her recent speaking engagements include presentations on Southeast Asian contemporary art at Frieze Academy London and Bloomberg's Brilliant Ideas series.