A Conversation With Chanon Kenji Praepipatmongkol
Korakrit Arunanondchai's latest exhibition, 'A Machine Boosting Energy into the Universe', launches with Singapore Art Week on 14 January at the Singapore Art Museum's new space at the Tanjong Pagar Distripark. Ahead of the launch, ART SG speaks to curator Chanon Kenji Praepipatmongkol about Korakrit's practice and the Museum's future programming.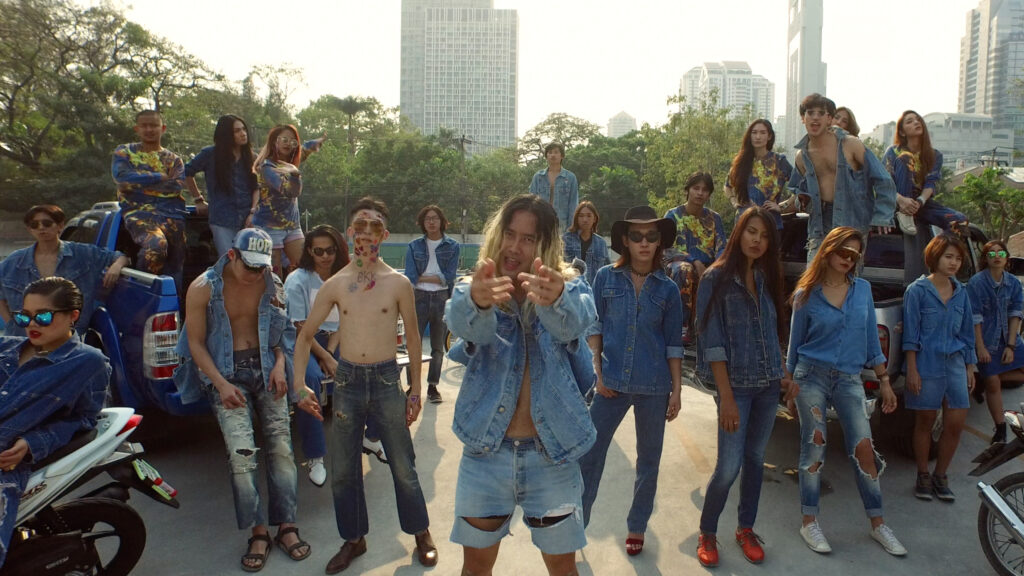 Video still: Korakrit Arunanondchai, Painting with history in a room filled with people with funny names 3, 2015, single-channel video, sound, color, 24:55 min. Courtesy of the Artist, C L E A R I N G Brussel/New York, Carlos/Ishikawa and BANGKOK CITYCITY GALLERY. 
Korakrit Arunanondchai: A Machine Boosting Energy into the Universe

Gallery 2, Singapore Art Musem at Tanjong Pagar Distripark
14 January – 3 May 2022
Curated by Chanon Kenji Praepipatmongkol and co-curated by Syaheedah Iskandar
Hello Kenji, could you give a quick introduction to Korakrit Arunanondchai's practice for our readers?
Kenji: Korakrit's rise to the highest rungs of the contemporary art world has been nothing short of meteoric. Following his first institutional solo show at MoMA PS1 in 2014, he has made an illustrious international career with iconic burnt denim paintings, energizing music video-essays, and unruly installations that conjure the feeling, in turns, of being in a night club but also in the heart of a ceremonial ritual. His video series Painting with history (begun in 2013) interweaves personal narrative with found clips from the internet, news broadcasts of political events, reality TV shows, and dramatic theatrical tableaus, conjuring a world of mysterious interconnectivity. For all the spectacular trappings of Korakrit's cinematic universe, sincerity is a hallmark of his work, as we become party to his quest to capture the fading memory of his late grandparents. A kernel of emotional truth resonates within.
One of the most interesting aspects of Korakrit's cinematic universe is the co-existence of an older animistic cosmology that sees spiritual presence in all things and a more recent transhumanist understanding of the way our consciousness is bound up with machines and other non-human subjects. In this sense, Korakrit has much to say about the expanded understanding of "ecology" and "ecological consciousness" that many see as crucial for our future existence in a fragile world.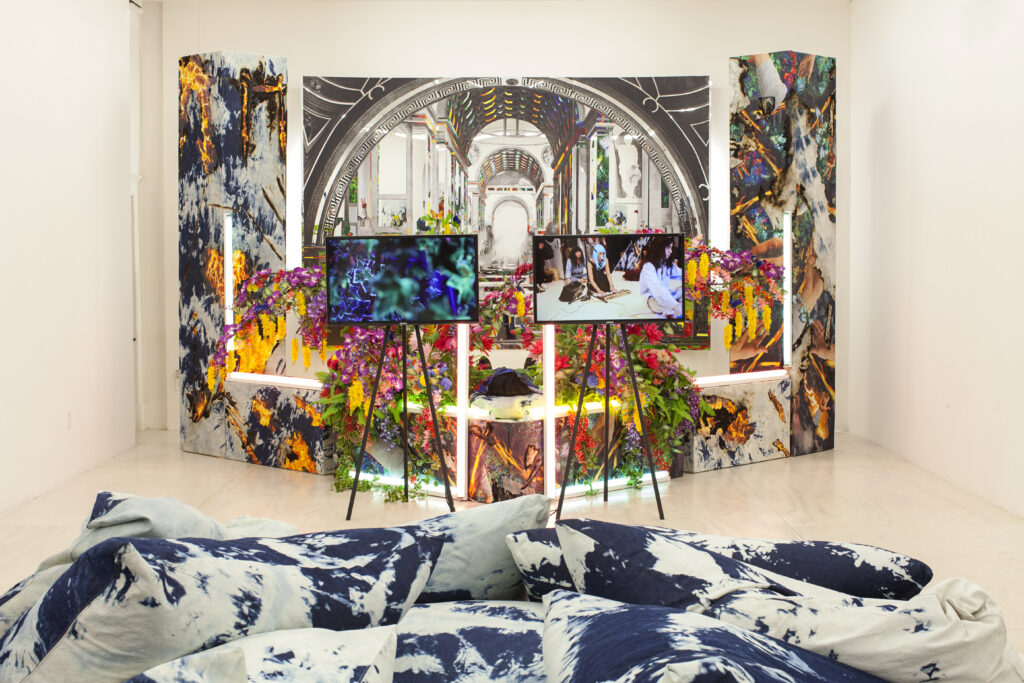 Korakrit Arunanondchai, 2012-2555, 2012. Installation view of Korakrit Arunanondchai at MoMA PS1, 2014. © 2014 MoMA PS1; Photo Matthew Septimus.
Why was Korakrit's video-installation selected as one of the artwork presentations for SAM's inaugural opening at Tanjong Pagar Distripark?

Kenji: A Machine Boosting Energy into the Universe centers on Korakrit's video Painting with history in a room filled with people with funny names 3 (2015). Painting with history 3 entered the SAM Collection in 2021 and represents a continuation of the museum's longstanding engagement with Korakrit, from Cinerama at SAM 8Q (2017) to the Singapore Biennale (2019). The exhibition underscores the way SAM works and grows with artists over time. With SAM's opening at Tanjong Pagar Distripark, it is also an opportunity to articulate the significance of Korakrit's work in the rapidly changing terrain of contemporary art.
Video: Korakrit Arunanondchai, Excerpt from Painting with history in a room filled with people with funny names 3, 2015, single-channel video, sound, color. Courtesy of the Artist and BANGKOK CITYCITY GALLERY. 
Korakrit's exhibition launches a new exhibition series at SAM called Material Intelligence. To say that an artist has knowledge of materials may traditionally suggest the way they possess an intuitive understanding of how to skillfully handle media like oil, ink, stone, or wood. But with the diverse array of objects, environments, and experiences that constitute contemporary art, it is no longer apparent what is the relationship between art and the knowledge required to shape the material world around us. To take seriously the title of Korakrit's ongoing series of video works—Painting with history—indicates the expanded approach to art and making today. Here, painting serves as a metaphor for the manipulation of streams of materials that constitute history. Korakrit splices the endless glut of online video footage into montages that interweave personal narrative and world events. He scavenges landfills of electronic waste, converting relics of our collective memory into sculptural assemblages and architectural environments. Through Korakrit's work, the inquiry of Material Intelligence begins, as we give precedence to artists as guides to imagining possibilities of building realities—physical and digital—that respond to the urgencies of our time.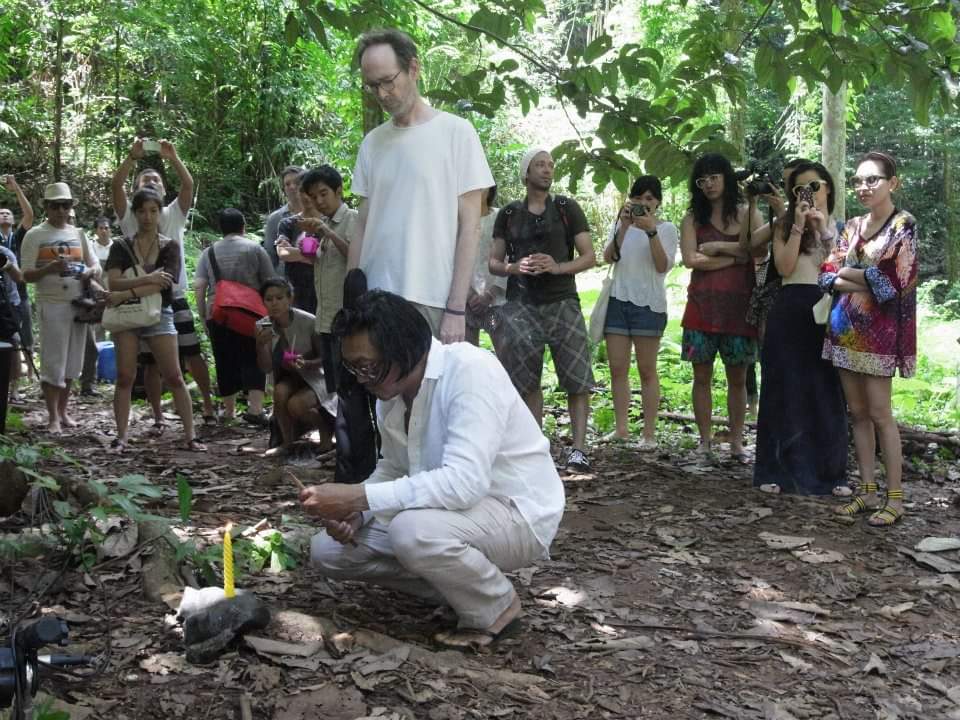 Rirkrit Tiravanija & Arto Lindsay perform for Film on the Rocks Yao Noi,
Korakrit in the audience
. Image courtesy of BANGKOK CITYCITY GALLERY.
In previous interviews, Korakrit mentioned that one of the most important lessons imparted by his mentor Rirkrit Tiravanija was to consider the context of where and how the artwork would be presented, and the importance of a shared space (where the work is presented) as a kind of "energy field that everyone is contributing to".

Kenji: A keyword that arises repeatedly in Korakrit's own work is the "membrane": the liminal zone of connection that registers the intimacy of contact, as well as the surface tensions and underlying pressures that keep boundaries intact. To enter his video installations is to occupy this threshold between worlds. In Painting with history 3, viewers are surrounded by cyborgian sculptures that confound the distinction between organic and inorganic, human and machine, fleshy being and ghost. The sprawling narrative of the video—a crossover between personal diary, historical montage, and music video—places the viewer at the heart of a web of interconnected characters, places, and events. In short, storytelling in Korakrit's universe is not linear, but entails weaving and building up an energy field that gathers seemingly disparate things into emotional resonance. 

The booklet that accompanies the exhibition documents the making of this energy field in a more practical sense—the way Korakrit has worked with creative practitioners across disciplines to assemble his cinematic universe. Conversations with Korakrit's longtime friends and collaborators, including Alex Gvojic, Akapol Op Sudasna, and Chomwan Weeraworawit, reveal the extent to which his practice has developed in relation to the shifting contours of contemporary music, fashion, and art. Essays by Alex Quicho and myself further flesh out connections between Korakrit's work and ideas around ecology and religion.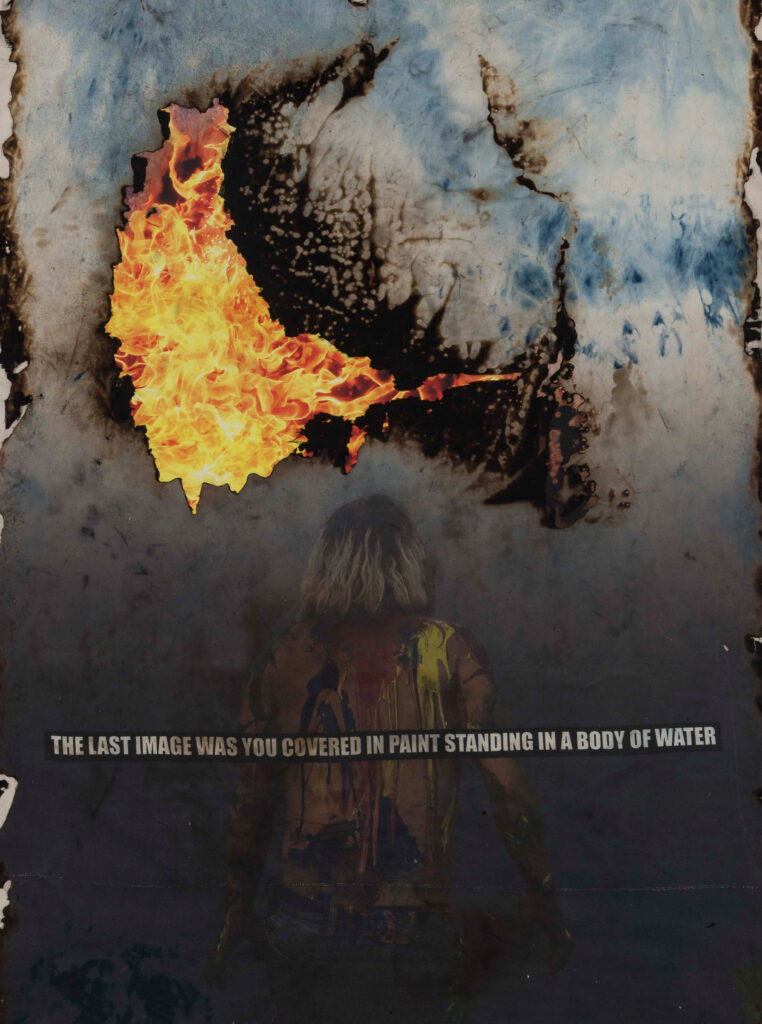 Korakrit Arunanondchai, Untitled (History Painting), 2016, acrylic on denim, digital print on canvas, , bleached denim, gel medium, stretcher, 218.4 × 162.6 × 3.8 cm. Collection of Singapore Art Museum
"A Machine Boosting Energy Into The Universe" which will be presented at SAM's pop-up premises at Tanjong Pagar Distripark (TPD), centers on the video work "Painting With History In A Room Filled With People With Funny Names 3", iterations of which have previously been presented at Palais de Tokyo (Paris), K11 Musea (Hong Kong), Bangkok CityCity (Bangkok), and Mori Art Museum (Tokyo). 
In what way(s) will this presentation at TPD be similar to or different from previous iterations?
What were some of the considerations both of you had when working on this presentation in this particular space? 
Have recent or current events informed the presentation in any way? Revisiting this work at this point in time, are there certain elements that you feel are particularly resonant now? 
Kenji: Painting with history 3 marks a key turning point in Korakrit's practice, as his earlier engagement with Euro-American art history gives way to an interest in histories and mythologies that animate everyday life in Thailand and Southeast Asia. The naga, the serpent-deity of Hindu-Buddhist cosmology, figures as a main character in the video and also takes physical form in real space as a sculpture. True to the naga's character as an unruly, chaotic force, it is made from the messy material remains of everyday life: the messy electrical cables that run along Bangkok's streets; the broken hard drives, mobile phones, and digital cameras that hold the clutter of our memories. What is exciting about each new iteration of the work is the way the naga installation has evolved across showings in Beijing, Bangkok, Tokyo, and now Singapore. For each iteration, more waste is added, so that the materials that make up its body literally embody its international trajectory through each urban landscape. 
Staging the work at Tanjong Pagar Distripark allows us to take advantage of the industrial character of the warehouse space, which motivated the decision to wrap the naga around the central pillar and to connect it to a high ceiling. In this way, Korakrit's work is site-specific to the architecture of each place it is shown at. But in a deeper sense, the proper "site" of this work is the transnational circuit of the art world today. The life-form that Painting with history 3 has taken would have been unthinkable even a couple of decades ago, when there were fewer art institutions that could support production at such scale, and when the notion of the "global contemporary" had yet to fully take hold. The naga, as a sculpture grown from the remains of our digital consumption, from fast fashion and consumer excesses, holds up a mirror to relentless growth and globalization.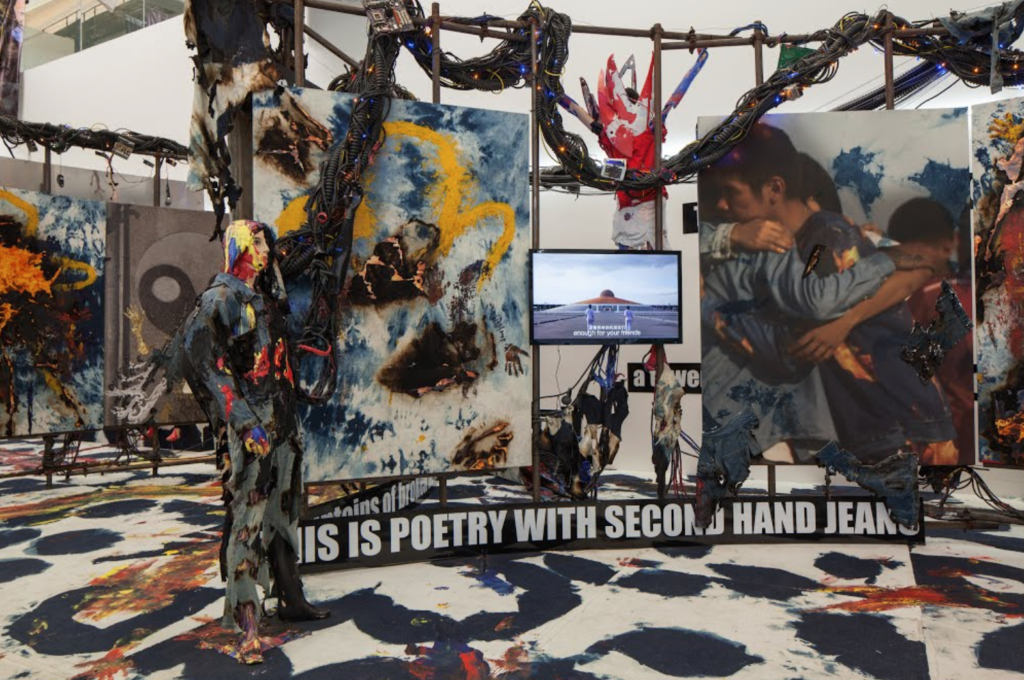 2558 (The water serpent Naga swallowed by the spiral of time). Korakrit Arunanondchai. 2015, Mixed media installation, Dimensions variable, UCCA Center for Contemporary Art, Beijing, China. Image courtesy of the artist, Carlos/Ishikawa, London and C L E A R I N G, New York, Brussels.
We have seen with last year's presentation of Choy Ka Fai's "Cosmic Wander", and now with Korakrit's work, that TPD has offered SAM an opportunity to present contemporary art programming that is far more immersive and performance-based, perhaps a little more raw in presentation as well. Is this a strand that we will continue to see in SAM's future programming? What does this tell us about how contemporary art practice may be shifting or developing in Singapore and in the region?

Kenji: Recent projects by SAM, whether at Tanjong Pagar Distripark or elsewhere, present multi-disciplinary practices that reflect the diversity of contemporary art today. Looking ahead, this means organizing exhibitions and programmes not only for the gallery environment, but also creating encounters with art in mundane spaces that further embrace the contingency of everyday life. 
ABOUT THE AUTHOR: TAN SIULI
Tan Siuli is an independent curator with over a decade of experience encompassing the research, presentation and commissioning of contemporary art from Southeast Asia. Major exhibition projects include two editions of the Singapore Biennale (2013 and 2016), inter-institutional traveling exhibitions, as well as mentoring and commissioning platforms such as the President's Young Talents exhibition series. She has also lectured on Museum-based learning and Southeast Asian art history at institutes of higher learning in Singapore. Her recent speaking engagements include presentations on Southeast Asian contemporary art at Frieze Academy London and Bloomberg's Brilliant Ideas series.