A Conversation with Marcel Crespo
Filipino collector and ART SG Advisory Group Member Marcel Crespo talks to ART SG about how his collecting practice has evolved over the years, what he looks out for before acquiring an artwork, and how his perspective has shifted after taking a break from the art circuit during the pandemic.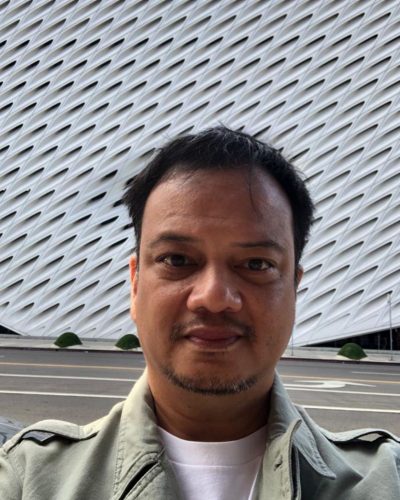 Image courtesy of Marcel Crespo.
Tell us about your collecting journey. How did you get started?
Marcel Crespo: I bought my first painting in the 1990s. I wasn't collecting then, but I did an artist's studio visit. I was young, I bought my first home, and I wanted to put artwork on the walls. It was my first studio visit ever, and I think the artist at that time kind of knew I wasn't going to buy anything. I couldn't afford to buy anything at that time. And– it's a funny story– the artist had a dog that went nuts on his cat right in front of me. And I could tell that the artist was really stressed about the whole situation. So I mentioned, "You know, I have three cats." And he looked at me and said, if I took his cat from him, he would sell me any painting on a certain wall for $500. And that is how I bought my first painting. I actually came home with a cat and a painting the next day. It was a bundle deal. That's the first painting I ever bought. I still have that painting as well – every home I've ever had, it's always been in my bedroom. But the cat did not work well with my other three cats. So I only had that cat for a month.
That was my first foray into buying art. I started collecting in a more organised, serious manner around 2005, 2006. I was always interested in collecting things. I think most collectors have a kind of gene, I don't think people collect art as a starting point, meaning they probably collected something else, earlier in life, as I did. When I was younger, it was stamps, coins, things like that. I always liked to amass little collections of different things. And I've always had an interest in art, no formal study or anything like that, but I always used to go to museums as a child, and I would spend a lot of time there, with a lot of enthusiasm and interest. When I got older and once I could start affording it, it became a natural thing. My first big purchase was a Warhol painting. I focused on the Pictures Generation early on. Robert Longo, David Salle, Richard Prince, those were names that were of interest to me, and what I started off collecting.
David Salle, Six Women, Image Courtesy of Marcel Crespo
From these early acquisitions, was there one definitive artwork which really excited you or galvanized your collecting direction?
Marcel Crespo: My home, my space is very important to me. So I've paid attention to that most of my life. Within my living room, one my first big purchases was a 10 by 12 foot David Salle painting that I bought in that period– 2005 or 2006. And it just made such an impact. Sitting  in my living room every day, looking at it, having it there –  its presence was very gratifying. It made me feel that I really needed to be living with art at that point. So that got things going.
I think it's important to have your art in your space. That's the whole idea of living and engaging with art. We all have art in storage, but as much as possible, the whole idea is actually to live with your art. I would look at walls or areas in my space, and specifically buy art that would fit a certain wall, because I want to live with the work; not just buy and store. Only when all your walls, and all your spaces are pretty much filled, that's when you place things into storage. And hopefully you can rotate every now and then, whenever possible.
Although you are from Southeast Asia, you started by collecting Western art and travelling to look at artworks to acquire. When did you start looking at Filipino art?
Marcel Crespo: I was buying Filipino art throughout. But the idea of buying internationally at that time, was not actually common during the mid 2000s, when I started collecting Western works. I didn't go out trying to do something different from everyone else in Manila at that time. It was just natural for me, because I spent a lot of time in the US and South America. That's where my family was based. So the idea of collecting works from that region was natural for me, because the sensibilities and the ideas that the works were about spoke to me. I find people will support and buy local works because if they're from wherever you live, then things make sense. Does it seem natural for me to buy, let's say African or South African work? It doesn't, because the messages and the language are not the same. But I did start buying South American works, for example, like those from Willys de Castro, Cildo Meireles and Sebastian Diaz Morales due to my deep connection with the region. And that just made sense to me, because I lived in South America.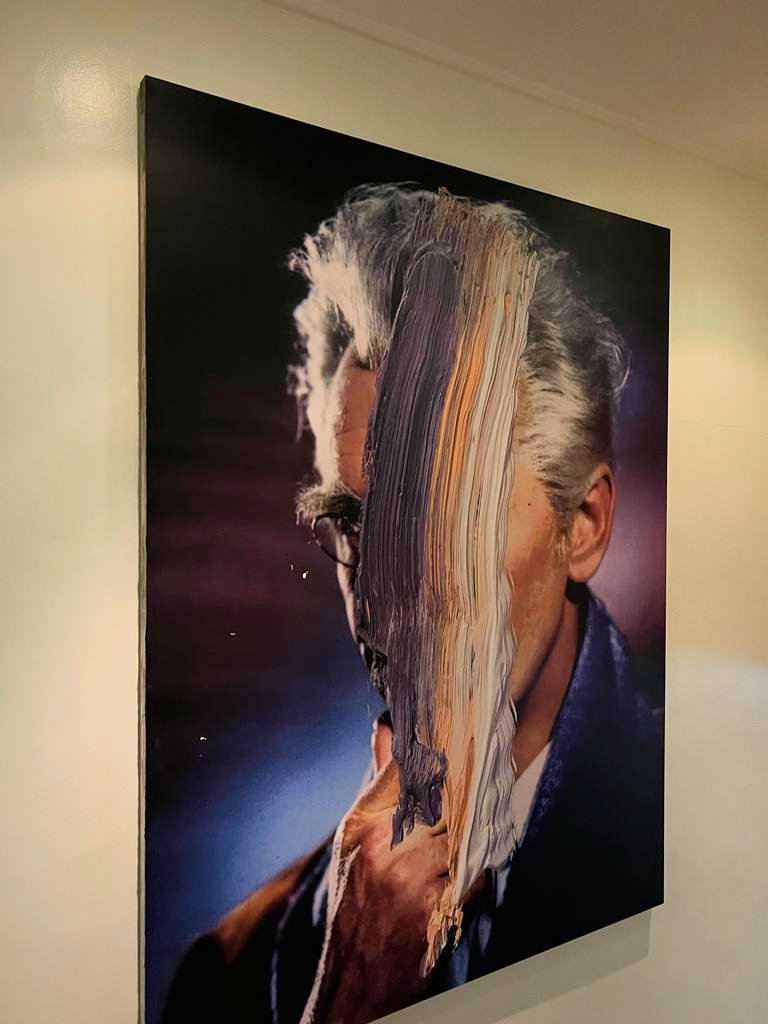 Urs Fischer, Problem Painting, Image Courtesy of Marcel Crespo
Your present collection is extremely diverse, medium-wise. Initially, were you collecting mostly paintings, or did you start exploring different mediums quite early on?
Marcel Crespo: Painting is always part of the collection. But I did go into buying more objects, sculptures, and such, recently, maybe in the last five, six years. To be honest with you, I haven't bought a painting in a long time. A lot of it has to do with how I got into a conceptual way of thinking. Paintings can be conceptual, that's very possible. But it seemed to me that certain objects which are more sculptural, were starting to interest me more on a mental level than, let's say, paintings were. Maybe the history of painting is longer, and people have made arguments that everything you can do with paintings has already been done. Objects and sculptures became increasingly more interesting to me, and also text-based work.
Even the paintings that I do have– it's questionable whether they are actually paintings. For example, I bought a couple of Urs Fisher's Problem Paintings, and one of his self-portraits. It's not painting in the classic sense, where you get a canvas and a brush and use gesture to make to make a painting. It is a painting, but it's also photo based — layered photographs in aluminium boards that are milled out, so it's sculptural in that way. It uses silkscreen-type processes. Works like these engage me intellectually in the process of how things are done, by the artist.
One of my clearest recollections is a conversation we had 10 years ago, when I was asking you about what was getting you excited, and new artists you had your eye on. You showed me a picture of a cardboard box.
Marcel Crespo: Yeah, exactly. The thing for me is that artists obviously have something to say, no matter how odd the work might be. And trying to understand what they're trying to express is interesting to me. So weird things that don't make all that much sense, in fact resonate to a degree.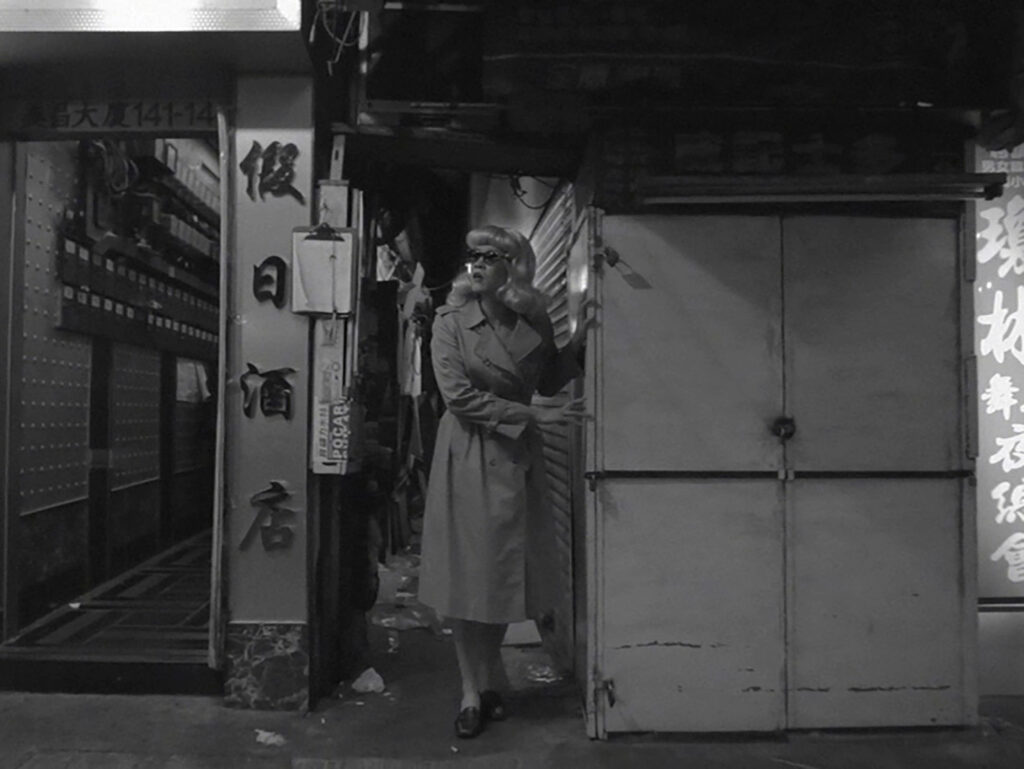 Still from After Chinatown, single channel video, 2012, Ming Wong, image courtesy of the artist.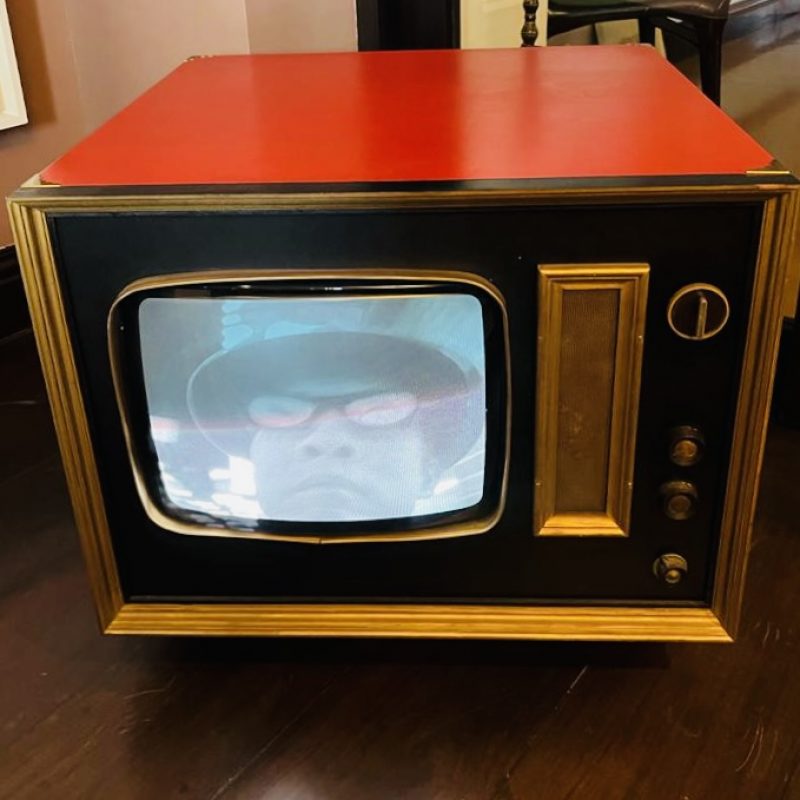 After Chinatown,  Ming Wong, image courtesy of Marcel Crespo
You also collect new media work, such as the work by Ming Wong.
Marcel Crespo: It's called 'After Chinatown'. Again, it's a very odd work, people look at it and wonder what's going on here? It's not for everyone, but it makes me think, it arouses my curiosity. I gravitate to work that makes me curious, or makes me see the world in a different way. And I think that's a very big theme for me.
When the gallery [carlier gebauer] first showed me the work, I thought, this is really unusual, but something is resonating with me. Its viewpoints are different and I thought it was really interesting. I had to have it semi- commissioned because the original edition was too big [in format]. So I remember asking the gallery, can we have it this shape? Can we do it this size? We collaborated with the gallery to come up with the work. The video was formatted already. So it was a matter of finding the right TV set, the right size, to make it work. Which was very difficult because it's not a flat screen, it's a vacuum tube television. There are not too many of those going around. We worked with the artist to put it together, because I had a specific space in mind where I wanted it.
I've actually done that a few times. And I don't mind waiting a year or two for the artists to go through the process of putting the work together, as long it's exactly the work I want and the best possible work the artists can do. I'm okay to collaborate with them and make that happen. I have a Philippe Parreno Marquee in my living room. It took two years for that work to get done. I worked with the artist and gallery [Pilar Corrias] to look at the space, and they came up with different proposals on how it could be installed.  And I always said, as long as it's the best possible work for the space, I will wait.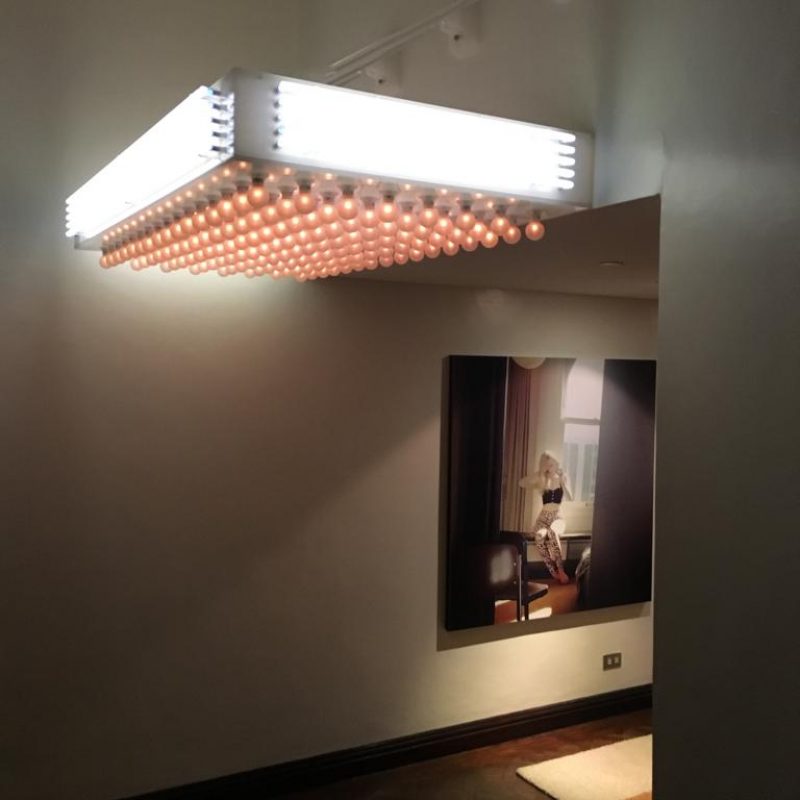 Marquee, Philippe Parreno, image courtesy of Marcel Crespo.
What are some shifts in your collecting you have personally experienced? For example, do any of the ideas that you embraced — maybe early on when you were collecting the Pictures Generation — feel less relevant to you now? Or are there any trends ongoing currently that you might say, 'you know, this really doesn't work for me'?
Marcel Crespo: That does happen, right? You start off at one place and as you get older, or you go through this period, your ideas change. You might be interested in one thing, and you decide that, as you move on, and you look at works, again, the ideas that were important to you, change. I think that's a very human behaviour.
Or even just looking at artwork generally, and thinking, is this a good artwork or not? Obviously, it has to be visually stimulating because it is visual art, so that's important. But the other thing that I look for is:- how does it affect me, on an emotional level, on an intellectual level? I always ask myself, do I feel this work is important in an art historical way, or even in what it's trying to say?
I like works that speak about the human condition. The subject of mortality is something that I think about. Subjects about the passing of time; about life's struggles; things that talk about what success is. Maybe I didn't ask those questions when I was younger, but those subjects are now important to me. So when I look at art, those subjects seem to be part of the process for me, and I find myself looking for  works that discuss that subject matter.
Pre-pandemic, I was looking for a really good 'The End' painting from Ed Ruscha, which is a question about the human condition. I'm getting older, so now I really think about, 'what are we doing here?' It's a piece that discusses mortality, and that there is an end, so value your time, don't waste it.
I have a Nam June Paik 'Candle TV 'work. That work speaks about the passing of time, as you watch the candle burning. It discusses obsolescence as well because it's a TV from the '30s. That makes total sense with the subjects that I find important. It fits.
I'm also still looking for a good example of a Jac Leirner 'money piece'. The [series of work] is made out of these Brazilian notes, and its very relevant now, because it's about hyperinflation. It makes you think, the idea of money, what the hell is it? It's a construct that we make ourselves, we are falling all over ourselves trying to get it. But the notes that have been used in Leirner's artwork are now completely worthless. I'm blown away by that.
For me, when you ask about my process of looking at work, one of the most important things I ask myself is: will it stand the test of time? So that's the way I think about collecting. If it makes me look at the world differently; makes me question the world that we live in; things that conceptually make me think about these things,  or even just reminders on a daily basis: when I see it, I remember, 'Hey, don't be so crazy about the idea of chasing money around. It's just dirty paper.' It really puts into perspective how we value things. So that's great for me. Art has to really hit me in an emotional and a mental way, for it to be something I will go after. And I will wait and take my time to find the right example, before I make that call.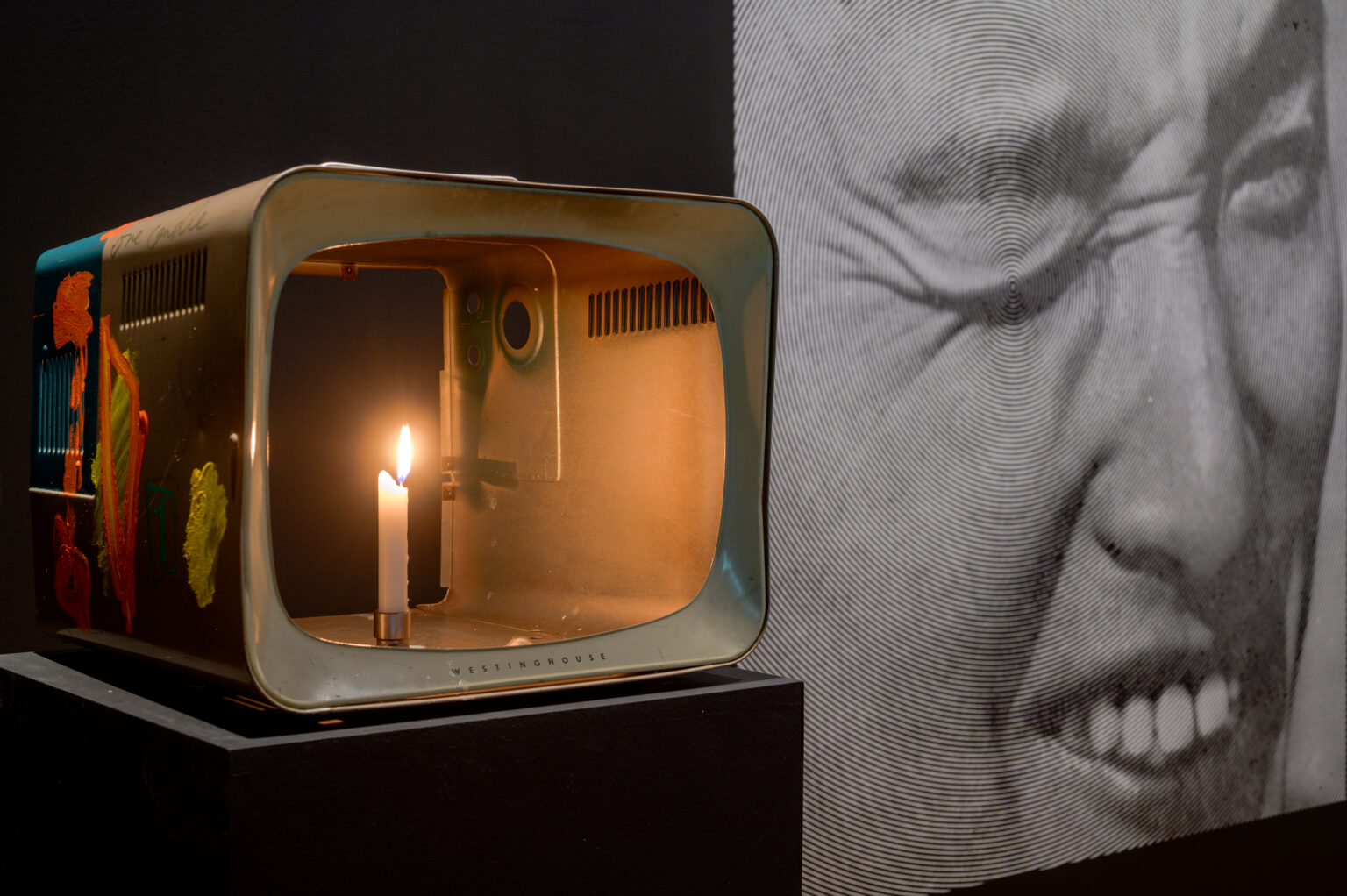 Nam June Paik, One Candle (also known as Candle TV), 2004, Cathode ray tube television casing with additions in permanent oil marker, acrylic paint and live candle. Lent by the Estate of Nam June Paik. Exhibition view at 'Nam June Paik: The Future is Now' at the National Gallery Singapore. Image Courtesy of the National Gallery Singapore.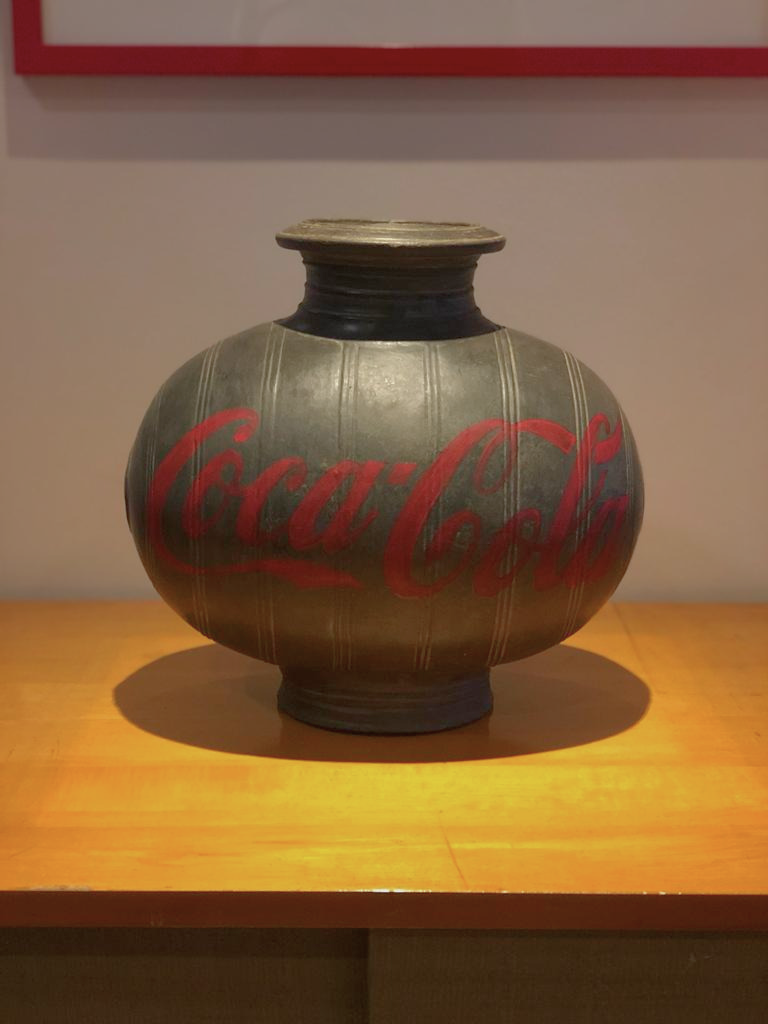 Coca Cola Vase, Ai Wei Wei, Image Courtesy of Marcel Crespo
During the pandemic, you've taken a break from art and the art circuit for two years. Do you think this has realigned your thinking about art?
Marcel Crespo: I went to my first art fair after two years, which was Art Basel Miami Beach [in 2021]. And I honestly felt a little lost. I didn't know how to move forward. I didn't know how to allocate my time and decide which way to look, to be honest with you. I got a little bit overwhelmed with everything that was out there. And I decided that I would rebalance myself before deciding to add to my collection. I wanted to take my time and figure out what was important to me and start narrowing things down. That's the way I'm thinking about things right now.
This second half of the year, I'll be able to travel a little bit more, and really recalibrate and come up with ideas of how I want to proceed. I'm a little more cautious now than I used to be. I don't think I am impulsive. I really have to look at things. I like the pace of really trying to understand what the work is all about. I like to put all of those things together, before I say, "Okay, fine, this should be in my home, I should have this". I really go through that whole process, instead of, "Oh, this is a beautiful visual painting, I should have this" – I have to think through things. I'm always in my head.
As an example, I'll share a funny story. Before the pandemic, I bought an Ai Wei Wei Coca Cola Vase. And I love the work. I think it's a magical object. It says so much, historically speaking, I think it's an important work. When I decided that I would go ahead with this purchase I wanted to know how long I'd been looking at this to find the right example of this work. I took a look at my emails to see when I first looked at an Ai Wei Wei Coca Cola Vase and it was exactly nine years, 364 days, since I first started looking for that work. Basically 10 years before I said, "I found the right one, I'll go ahead and do it." It took me 10 years to make that call. I showed the emails to Tim [Neuger] when I finally acquired the work through him. But I think I have such a wonderful example of the work now.
And so one of the most important things for me when I'm looking at works is, will the work stand the test of time? Is it something that I will look at 10 years from now and still be interested in? You know, people say that, hey, if you're looking at something and go to bed, and if you wake up the next day and you're still thinking about it, then you should own it? For this artwork, I went to bed, 10 years later, I woke up and I still wanted it. For me, that's very important. I guess maybe because I'm looking at it from a really different time horizon and perspective. I try to be patient, I try to take my time. I want to focus on things that are interesting to me, and try to erase all the noise from everywhere else. I want to know that the things that I am collecting are still going to be relevant, many, many years from now, and not just exciting today. It has to stand the test of time for me.