A Conversation With Ming Wong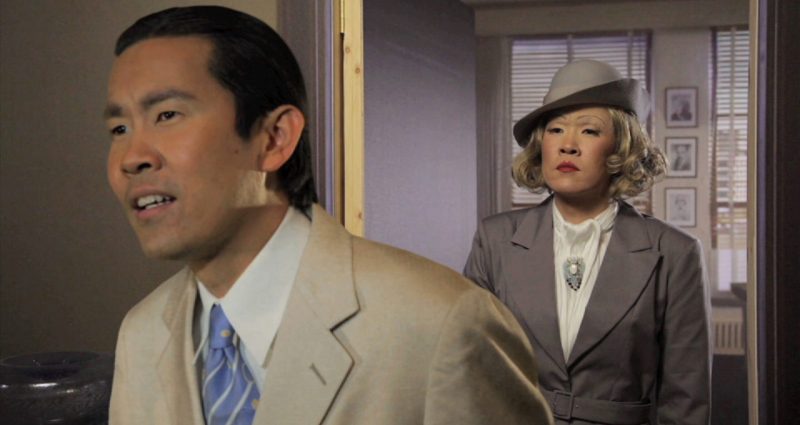 Ming Wong, 'Making Chinatown', mixed media installation featuring a 7-channel colour video, 2012,
commissioned by REDCAT, Los Angeles. Image courtesy of the artist.
Ming Wong is best known for his re-working of world cinema classics, in which he  deliberately 'mis-casts' himself and others, often playing multiple roles in a foreign language. Through this re-telling, Wong explores how notions of gender, culture and identity are essentially a form of performance.
Wong represented Singapore at the Venice Biennale in 2009 with a presentation that revisited the golden age of Singapore cinema, for which he was awarded a Special Mention by the International Jury of the 53rd Venice Biennale.
Wong has maintained a lifelong interest in Cantonese opera, having grown up with it in Singapore, and one trajectory of his artistic practice has been to explore and imagine the modernisation of this traditional cultural form, alongside the development of science fiction in the Chinese speaking world. ART SG catches up with Wong on the occasion of the launch of his new public art work at the Singapore Art Museum, titled Wayang Spaceship.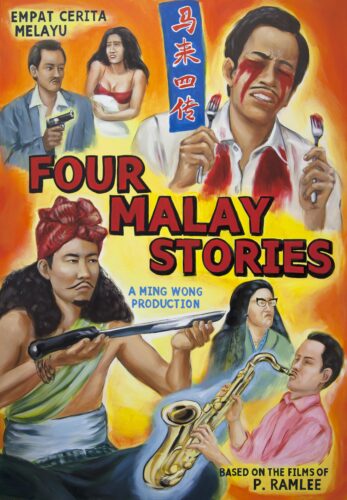 Four Malay Stories, Poster, LIFE OF IMITATION, Singapore Pavilion
53rd Venice Biennale, 2009. Image courtesy of Ming Wong.
Hello Ming, we last met at the opening of Spectrosynthesis II in Bangkok, where you performed Land of a Thousand Rainbows together with Bradd, Radha, Tamarra, Josh Serafin and Amadiva. Performance and performativity inform much of your work– how did you get into this, given your traditional art foundation at the Nanyang Academy of Fine Arts (NAFA)?
Ming Wong: It may come as a surprise to many when I say that I was a full-time student majoring in Chinese Art at NAFA in my younger days. Having been educated mostly in English when growing up, I was curious about my cultural roots. It was then that I also began writing plays and experimenting with different languages. I was going backstage at Chinese wayangs to take photographs as research for my paintings, and I was mesmerised by the contrasts on and off stage, each side was equally performative and inspiring.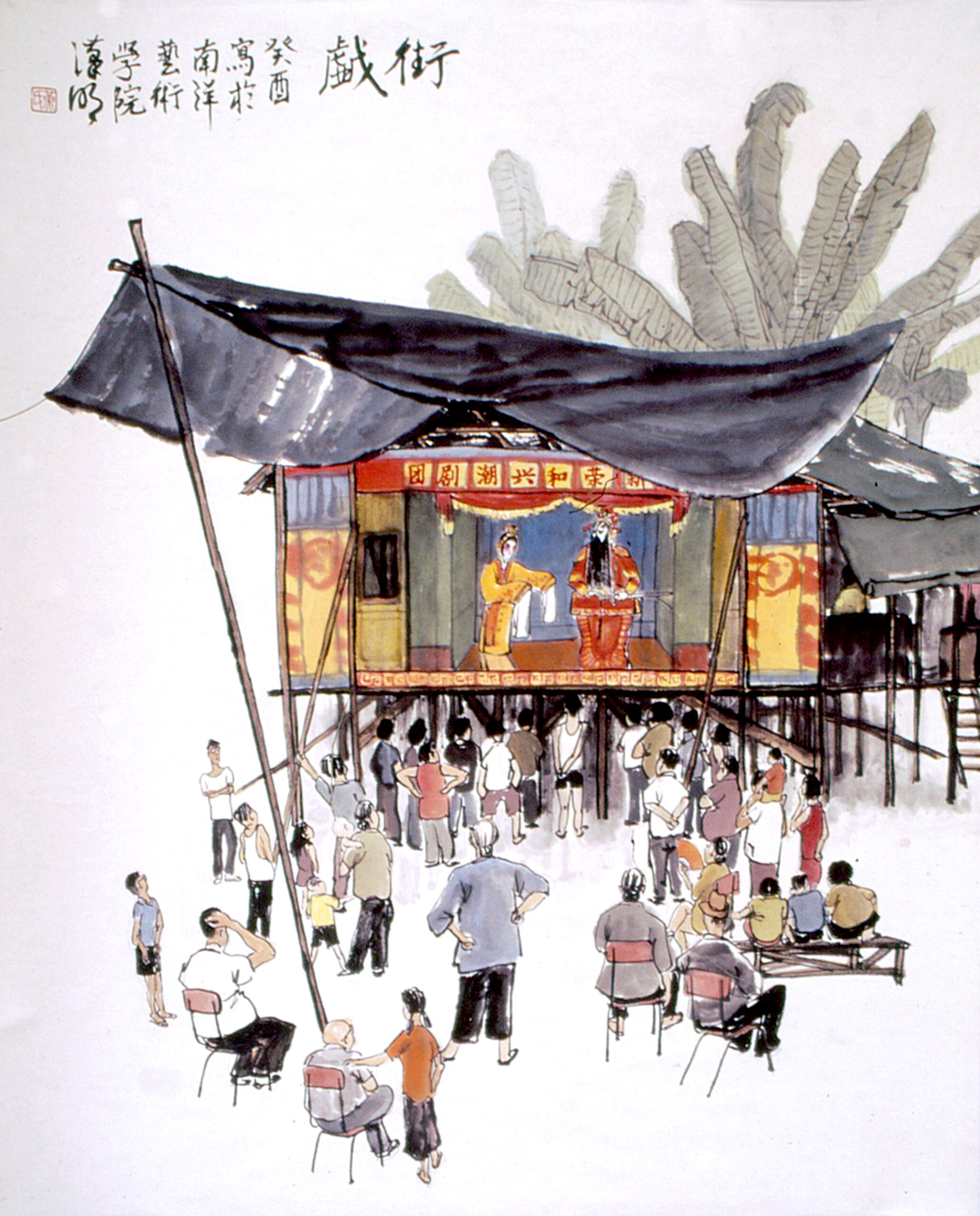 A painting made by the artist Ming Wong during his student years at NAFA. Image courtesy of the artist.
Your aunt Joanne Wong is the doyenne of Cantonese opera in Singapore– is this how your interest in this art form started? What first drew you to Cantonese opera, and what is it about this form that continues to fascinate you today?
Ming Wong: Because my aunt and uncle ran a Cantonese opera group and they used to organise Chinese opera festivals, I would accompany my grandmother to watch the shows, and continued to do so as research for my own artistic practice. As a playwright, I was struck by the similarities and differences between contemporary theatre and the highly coded and stylised world of Chinese opera. It took many years before I revisited the art form whilst researching in Hong Kong about a decade ago, this time about the early film genre of Cantonese opera cinema.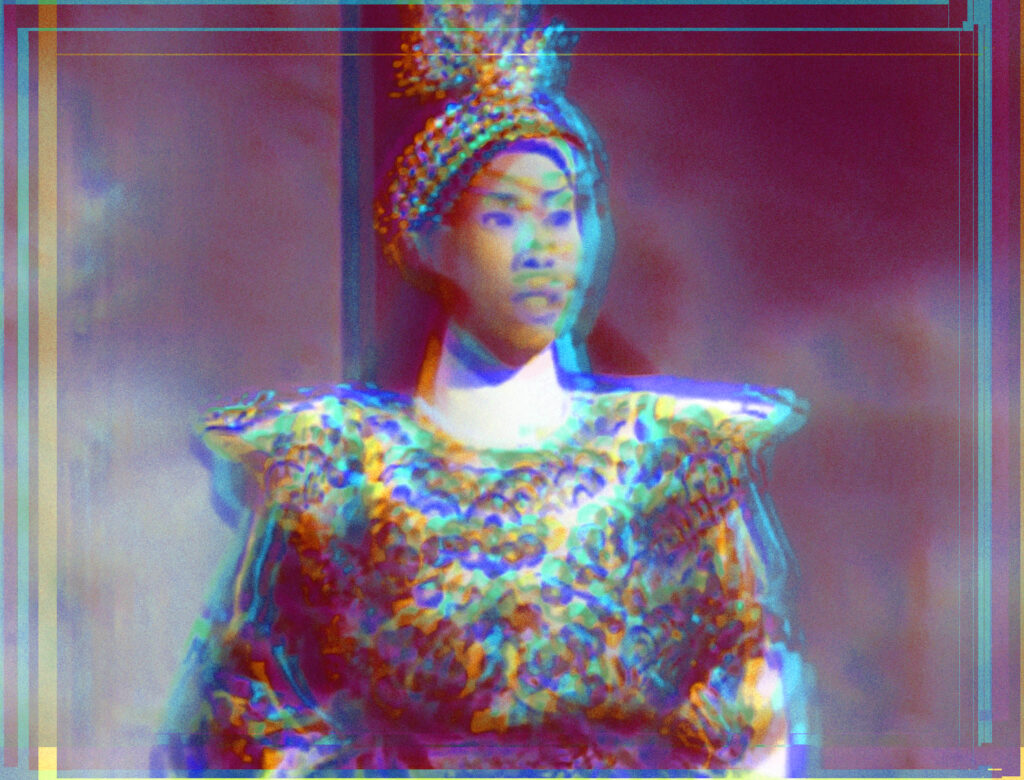 Ming Wong, moving image stills from the 'Wayang Spaceship', 2022. Image courtesy of the artist.
I was struck by how, like the immigration patterns of diasporic Chinese in Singapore in the late nineteenth and early twentieth century, the art form of Cantonese opera travelled to Southeast Asia and to California, USA to perform for the overseas Chinese communities, and the international circulation of culture, ideas, capital and technology gave rise to innovations and progressive attitudes surrounding Cantonese opera and Cantonese opera cinema of the time. 
It made me curious to see if the 'modernity' of the form then could be expressed in contemporary times. For me it became a lens for observing the recent developments in mainland China and their effect on the rest of the world.
Ming Wong, 'Scenography for a Chinese Science Fiction Opera', mixed media installation featuring a
handpainted theatre stage set (paint on canvas, wood, steel, motors), 2015, Image courtesy of the artist. 
Tell us more about Wayang Spaceship: how and where does science fiction come into play alongside the traditional wayang form? How did the location at Tanjong Pagar– in proximity to the container port terminal– inform aspects of the work?
Ming Wong: It was around 2013 / 2014 that I started to do research on science fiction in China, its history and recent developments. By expanding the notion of time in my research, which also included the history of Cantonese opera cinema and Cantonese opera itself, I began stretching my thinking and imagination further forwards and backwards in time.
This was the basis of imagining the Wayang Spaceship, as a platform to launch a futurist Cantonese opera cinema, and as a portal through which one can imagine alternative futures and what-ifs.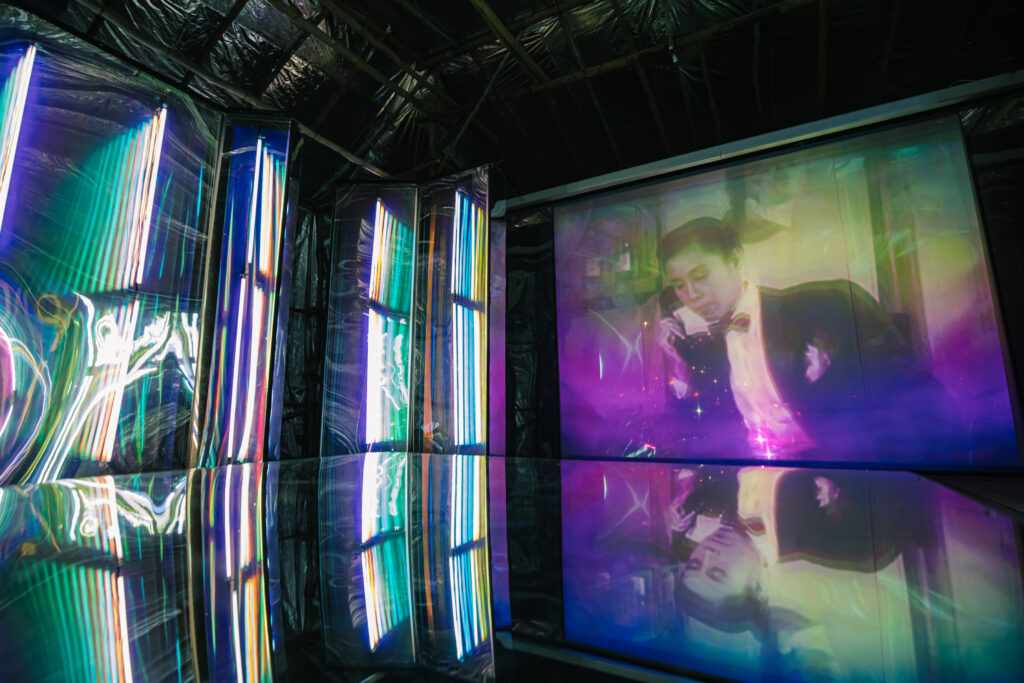 Detail view of Ming Wong's 'Wayang Spaceship', as part of SAM's
The Everyday Museum, 2022. Image courtesy of Singapore Art Museum.
The Wayang Spaceship landing at the container port terminal behind the Singapore Art Museum, points to the arrival of our forebears by boat at the port of Singapore, and to rituals of thanksgiving and protection at coastal temples for the goddess of the sea, in the form of opera performances on makeshift theatres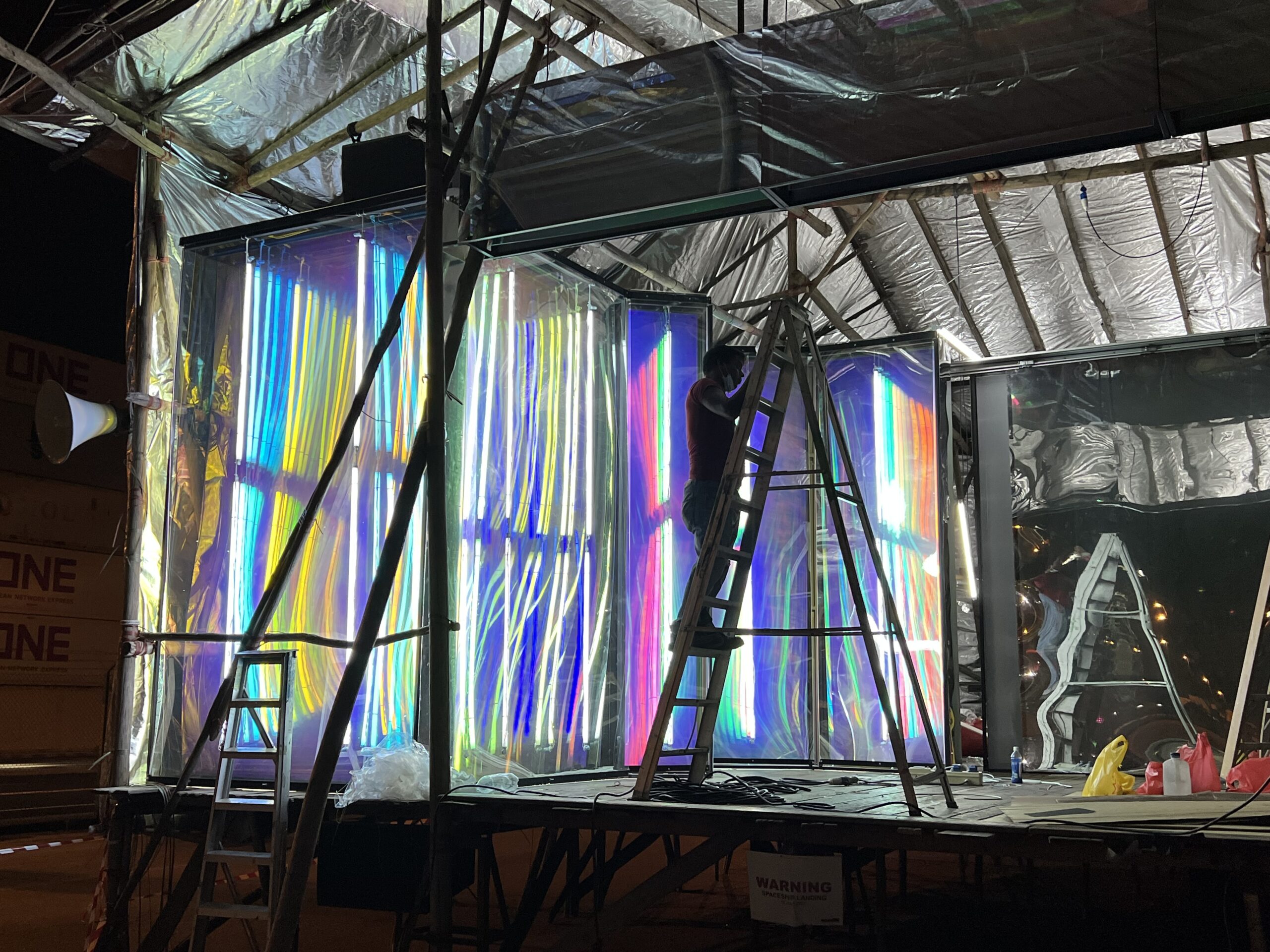 Installation of light boxes with fluorescent tubes, which come on during the
activation of the 'Wayang Spaceship'. Image courtesy of Singapore Art Museum.
The Wayang Spaceship borrows the form of a travelling Chinese street theatre; it can be dismantled, transported and set up again in another site. This is part of the concept for the museum's public art project, The Everyday Museum. For most of the day it lies dormant, only becoming activated at dusk for an hour, after the museum closes. How many visitors will actually get to see the portal open, revealing its spectrum of lights and cinematic collages of sound and images? In the end, perhaps not that many. In a text accompanying the installation, I have written:
"It's right in front of your eyes but not there. A strategically oriented mirrored garden, you would not find it if you were not looking for it. The coordinates of the floating architecture fluctuate with the tide. It never stays in the same spot, so as to confuse outsiders."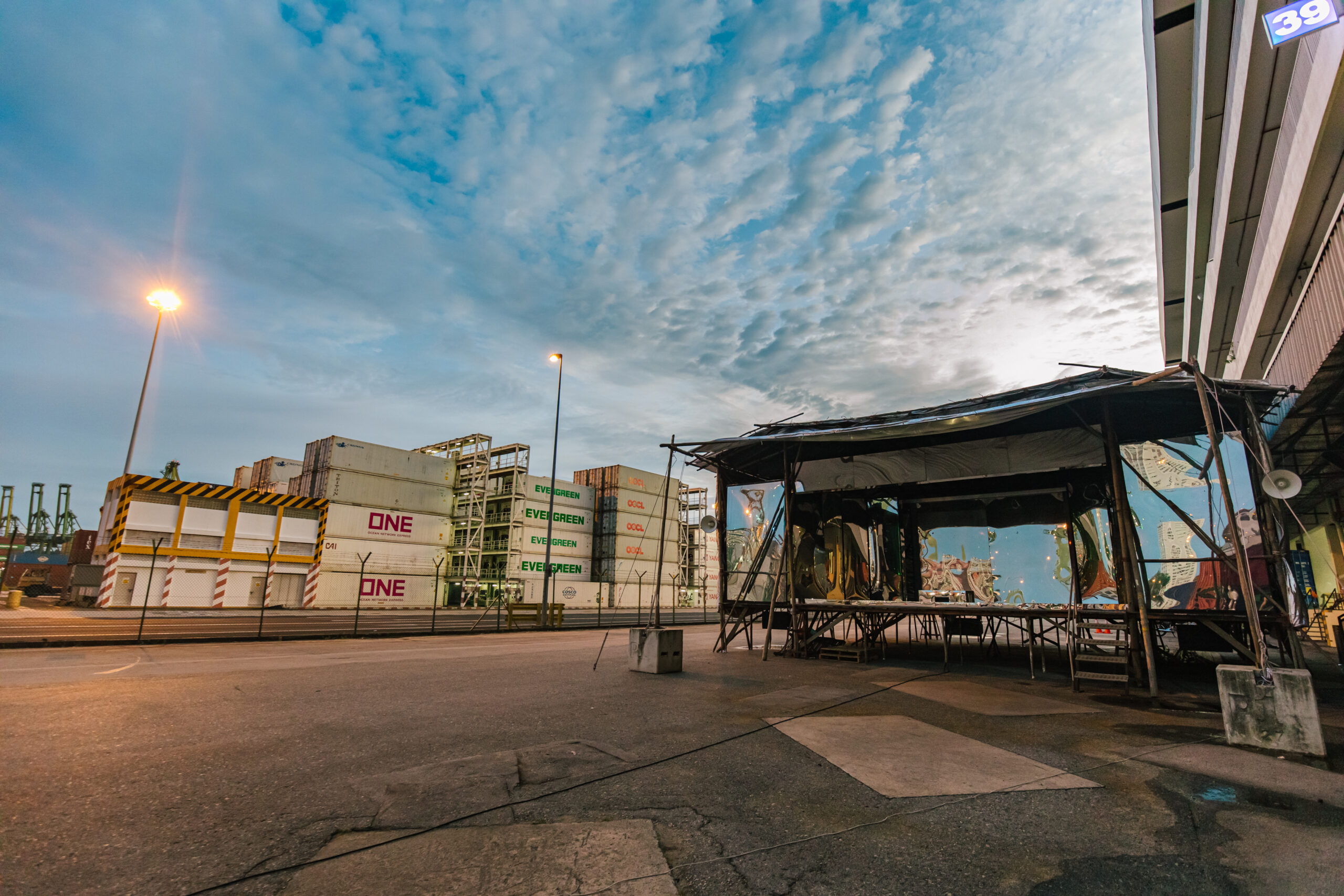 Installation view of Ming Wong's 'Wayang Spaceship', as part of SAM's
The Everyday Museum, 2022. Image courtesy of Singapore Art Museum. 
Partly hidden and camouflaged, the Wayang Spaceship rewards those who know that it is there and make the effort to find it. Its true identity is not apparent most of the time to the casual visitor to the museum. It doesn't just 'perform' for any audience, rather it performs a daily ritual at dusk, shareable to those who come for it.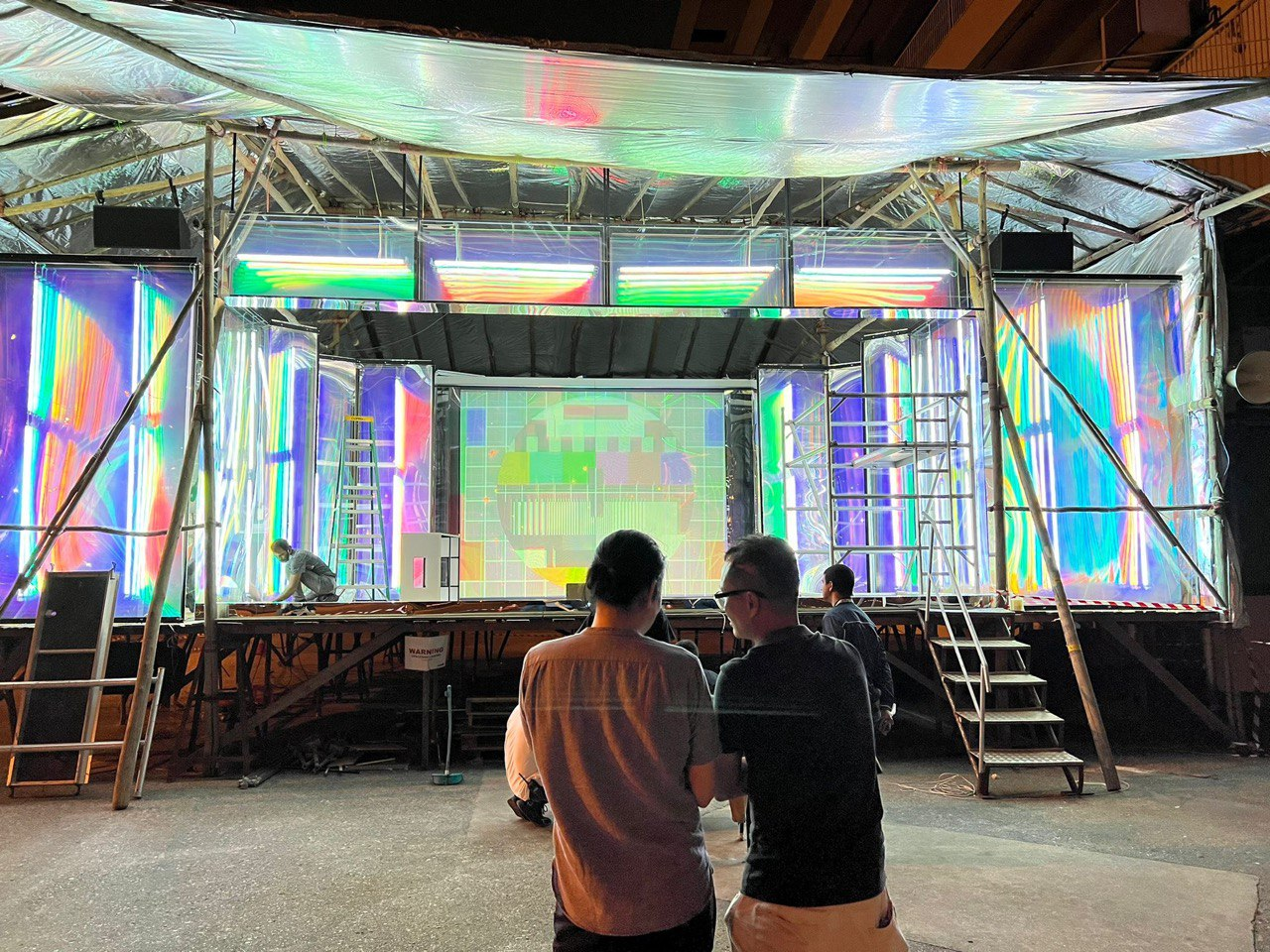 Artist Ming Wong (left) with collaborator and architect, Randy Chan (right), participating in on-site audiovisual synchronization tests, in preparation for the activation of the 'Wayang Spaceship'.
Image courtesy of Singapore Art Museum.
Another feature of the work that I found stimulating was the collaborative aspect in its realization. From the soundscape to the moving image components, designing the scenography of the lightboxes on the wayang stage built by the master stage builder, pulling everything together in a workflow overseen by an architect, making decisions and solving problems with the curatorial and production team from the museum, the ultimate goal was to make the work greater than the sum of its parts.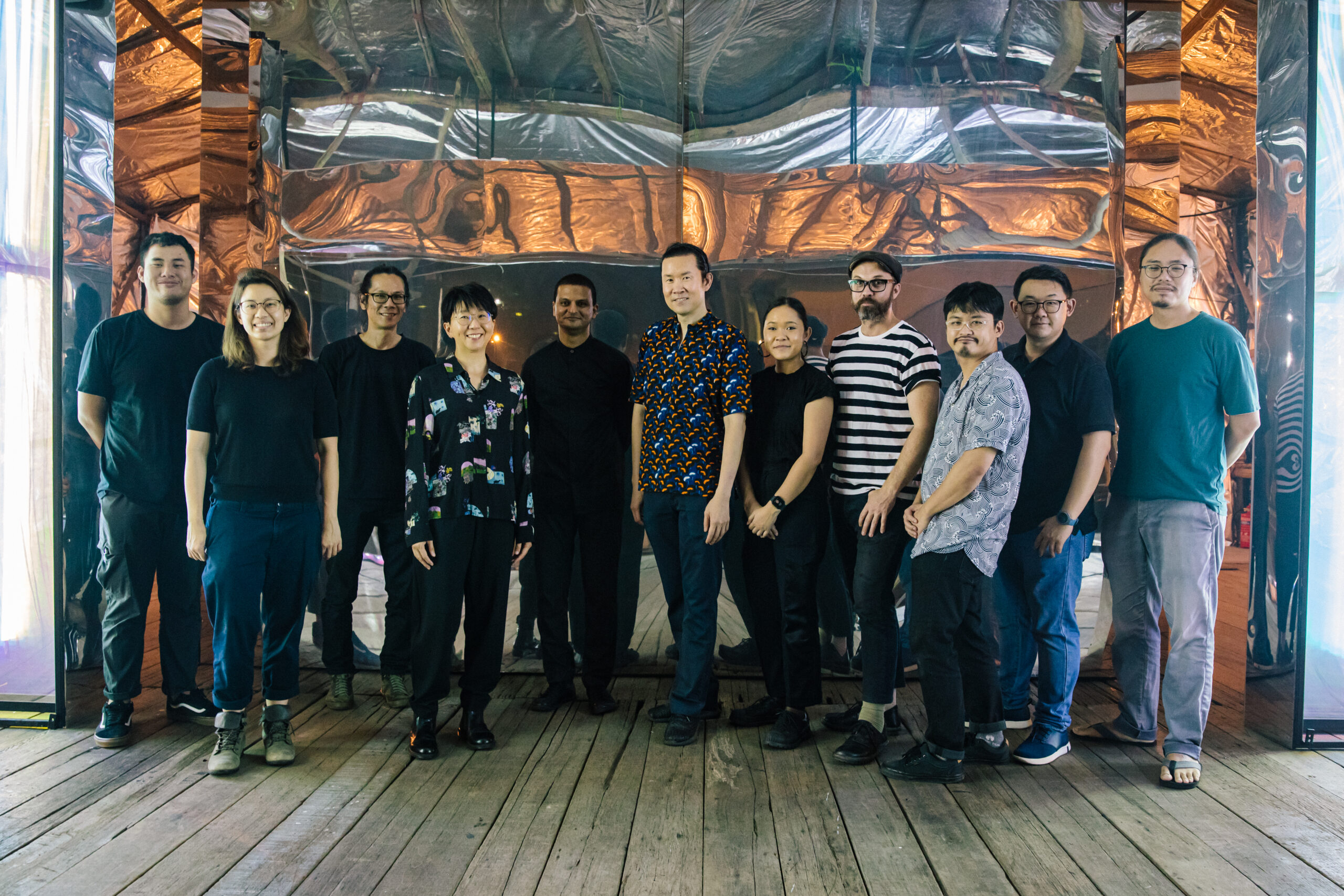 The team behind 'Wayang Spaceship'. Image courtesy of the Singapore Art Museum. 
What can we look forward to in the near future? Are there any projects you are currently working on, or ideas you are developing?
Ming Wong: I am developing a new performance piece in collaboration with a classical music conductor and two pianists, reworking classical music from China and the US, exploring the notion of nationalism and cultural identity, looking back at the fifty year history of cultural and diplomatic ties between the two countries. 
Ming Wong's Wayang Spaceship is currently on show until 31 January 2023 at the Singapore Art Museum at Tanjong Pagar Distripark, with daily activations from 7:15 – 7:45pm.
ABOUT THE AUTHOR: TAN SIULI
Tan Siuli is an independent curator with over a decade of experience encompassing the research, presentation and commissioning of contemporary art from Southeast Asia. Major exhibition projects include two editions of the Singapore Biennale (2013 and 2016), inter-institutional traveling exhibitions, as well as mentoring and commissioning platforms such as the President's Young Talents exhibition series. She has also lectured on Museum-based learning and Southeast Asian art history at institutes of higher learning in Singapore. Her recent speaking engagements include presentations on Southeast Asian contemporary art at Frieze Academy London and Bloomberg's Brilliant Ideas series.