A Conversation with Russell Storer
ART SG speaks to Russell Storer as he debuts as Head Curator for International Art at the National Gallery of Australia, after previously serving as Director of the Curatorial and Collections department at the National Gallery Singapore, and overseeing Asian and Pacific art at QAGOMA, Brisbane. 
In our conversation, Russell discusses the relevance of Southeast Asian art to Australian audiences, lessons from his curatorial practice in both regions, and how art might define and reconstruct prevailing cultural and historical narratives.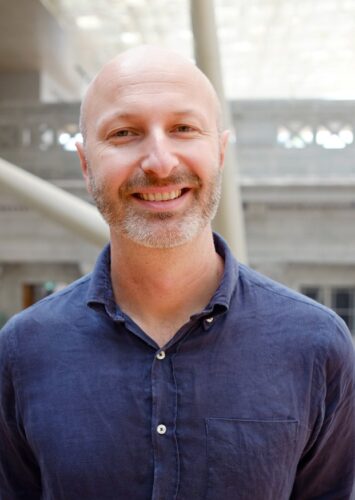 Image courtesy of Russell Storer. 
Hello Russell, congratulations on your appointment as Head Curator for International Art at NGA! Before this role, you spent several years at the National Gallery Singapore, as senior curator and then as Director of its Curatorial and Collections departments, and before that you oversaw Asian and Pacific art at QAGOMA, Brisbane.
What is it about this new role that excites you, and what do you hope to put in place now that you're at NGA?
Russell Storer: It's an exciting moment to join the National Gallery. It's an established museum with an extraordinary collection (over 150,000 works), yet still relatively young – it celebrates its 40th anniversary later this year. So there is a lot to work with, while still being able to shift and grow. The Gallery just launched its gender equity plan (which includes a series of exhibitions and a publication on Australian women artists titled 'Know My Name', as well as structural initiatives), and has worked in recent years to position First Nations art, culture, knowledge and people at the centre of the institution. There is a real desire to reframe the narrative of art history away from a series of Western movements which the rest of the world merely responded to, and offer a more inflected global perspective, which can be seen in the recent rehangs of the permanent collection. This will only continue and strengthen in future. It is an approach that views the world from the perspective of this place where we are, right now. I therefore see Australian art, which leads back through time immemorial in terms of First Nations art, as an intrinsic part of international art, deeply implicated in global flows, whereas in the past it has often been kept somewhat separate.
The American post-war collection, for example, which is one of the most extensive in the world outside the United States, is being rethought in critical ways, including opening it up to greater diversity and making connections with concerns elsewhere. An upcoming exhibition of Kara Walker's work will present her examination of African-American history and the slave trade via Britain, which resonates with Australia's own brutal colonial legacy. I'm keen to similarly build on the Asian and Pacific collections and programming to explore regional artistic dialogues, developments and collaborations.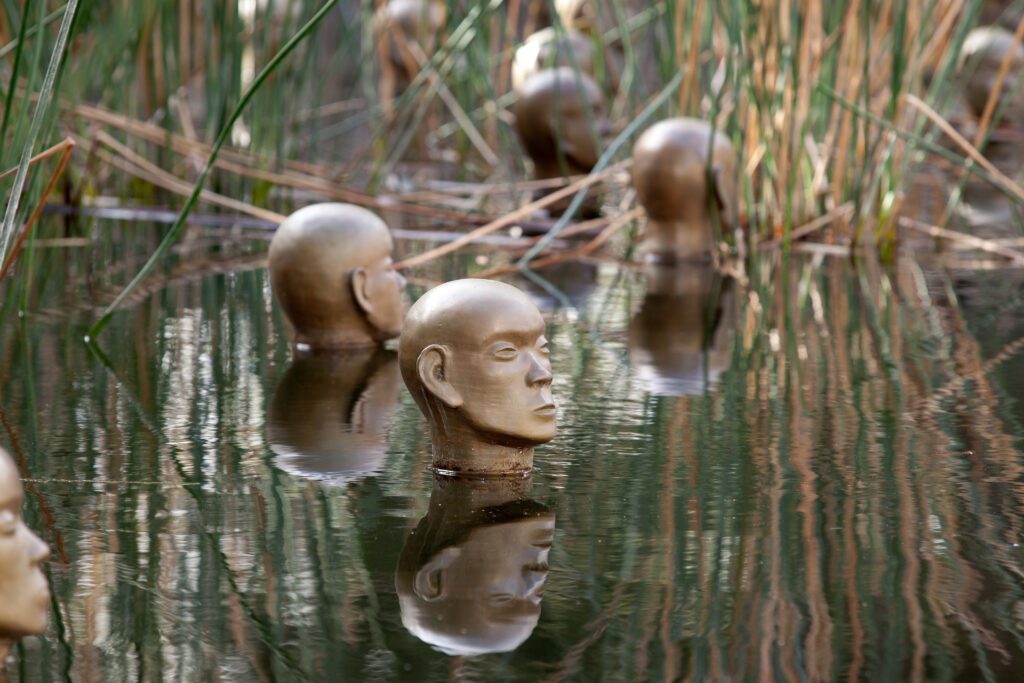 Dadang Christanto, Heads from the North, 2004, National Gallery of Australia, Kamberri/Canberra, purchased 2004
NGA has had a substantial history of engagement with contemporary art from Southeast Asia, in particular, Indonesian art. On my last visit, I remember Dadang Christanto's work "Heads From The North" installed in the museum's Sculpture Garden, and as recently as 2019, the NGA organized a survey of Indonesian art titled Contemporary Worlds: Indonesia.
What is it about Southeast Asian contemporary art that proves compelling or vital for audiences in Australia? How will it be integrated into larger conversations and ideas with the rest of the NGA's collection and exhibitions,going forward? And are there any plans for projects featuring art from Southeast Asia that we can look forward to?
Russell Storer: Australians have become increasingly engaged with Southeast Asian art and cultures over recent decades as they recognise that we are part of the same neighbourhood. We are travelling to the region more widely and often (at least before the pandemic), and the proportion of Australians of Southeast Asian heritage has also grown significantly, including many artists who have gained prominence within the local art scene. We have wider opportunities to see art from the region, and without wanting to generalise such a complex region, the aesthetic, material and conceptual strength of art from Southeast Asia, which often has an emphasis on narrative, makes powerful connections with audiences here. This is underpinned by shared concerns regarding colonialism, globalisation and identity, with particularly strong resonances with First Nations artists. The 'Ever Present' exhibition that just opened at National Gallery Singapore, which features works by Aboriginal and Torres Strait Islander artists from the National Gallery and Wesfarmers collections, draws out some of these historical, cultural and conceptual links. To me, this exhibition is a very powerful example of what is possible in rewriting regional art histories, both from a Southeast Asian and an Australian perspective. 
Given the enormous relevance of Southeast Asian art to Australia, it will play a crucial part in how we rethink our program moving forward. There are, as you note, significant works in the collection, particularly from Indonesia, which gives us a very strong base to build upon. It's a bit early for me to share future projects at this stage, but definitely watch this space!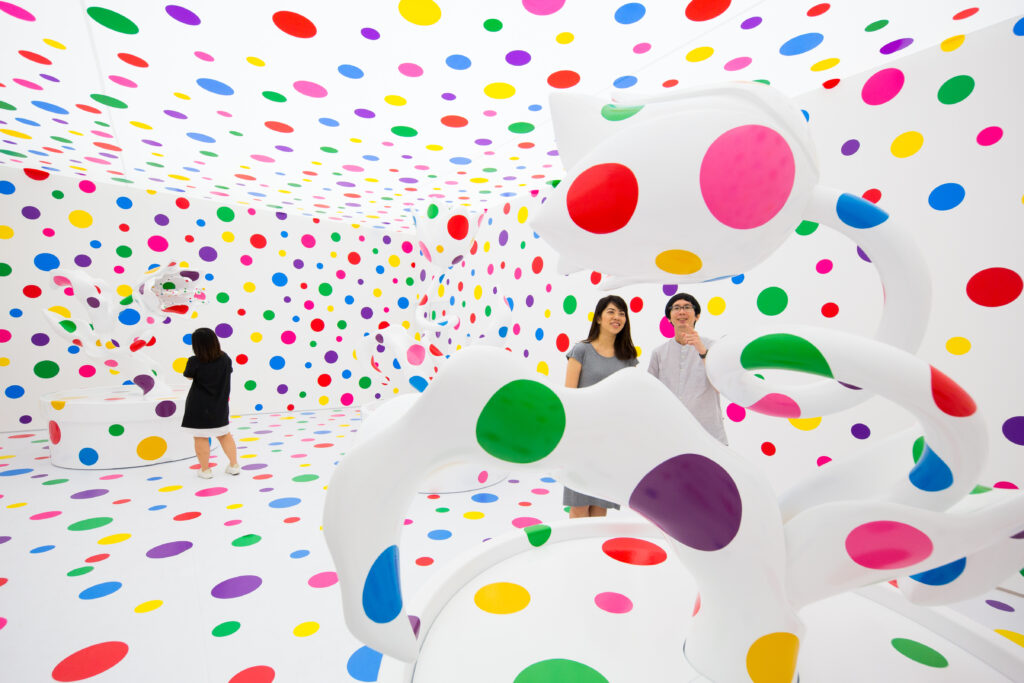 Exhibition view, Yayoi Kusama, 'With All My Love for the Tulips, I Pray Forever'. Image courtesy of the National Gallery Singapore.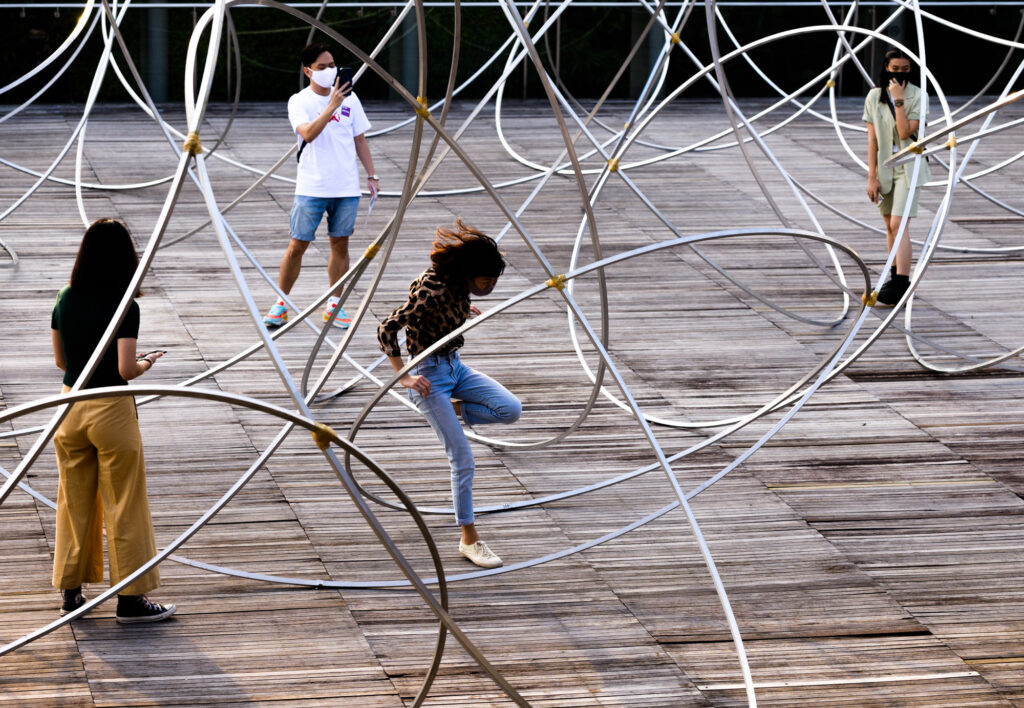 Exhibition view, Antony Gormley. Horizon Field Singapore, 2021. 47 rings of 23mm square section aluminium tube and spigots. Image courtesy of the National Gallery Singapore. 
At the National Gallery in Singapore you oversaw major international art exhibitions (such as the survey of Minimalism) and projects featuring internationally renowned artists such as Yayoi Kusama and Antony Gormley. Within this spectrum of art practices, where do you locate contemporary art from Southeast Asia? What facets of contemporary art or curatorial practice from the region do you find interesting, and worthy of further attention?
Russell Storer: I saw my role at National Gallery Singapore in some ways as a view from elsewhere – offering an outsider's perspective on art from the region that incorporated works from other parts of the world. I was therefore really thrilled to have the opportunity to work on exhibitions such as 'Minimalism' in which we could position Southeast Asian artists within wider historical trajectories, where they perhaps hadn't been in the past – at least in exhibitions – and contribute a new, local take on international art.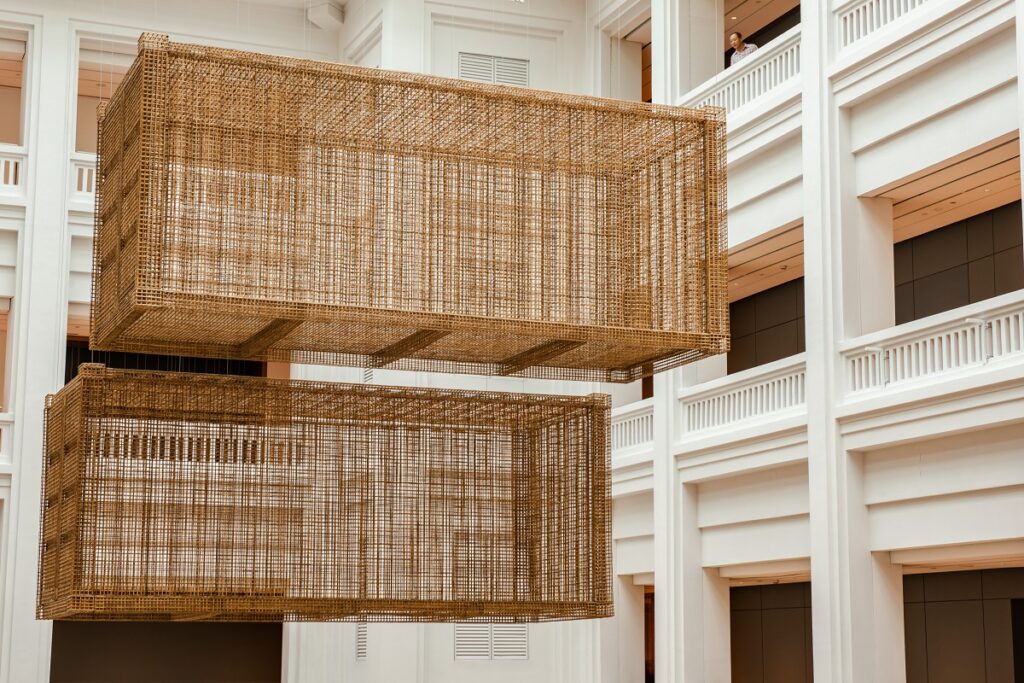 Sopheap Pich, 'Cargo', 2018. Bambo, rattan and metal. Collection of the artist. This work was commissioned by the National Gallery Singapore for 'Minimalism: Space. Light. Object.' Photograph by the National Gallery Singapore. 
Putting Tang Da Wu in dialogue with Lee Ufan and Richard Long, or Simryn Gill with John McCracken, or Roberto Chabet with Robert Morris and Lynda Benglis, was incredibly rewarding! In every case, I found art from Southeast Asia more than held its own, putting the lie to the western universalist obsession with originality and influence. The works are so solidly grounded in place and history, asserting deeply considered positions that have emerged out of specific contexts and debates. It has a complexity and ability to hold multiple elements in play, which I see as being generated out of a kind of compression, given the region is so historically and culturally layered and diverse within a relatively small geography. During my time working in Singapore, it was so exciting to see at close hand how artists and curators in the region, particularly from the younger generation, are exploring and questioning their own histories, breaking open the nationalist structures of the past to reveal fresh connections and overlooked perspectives.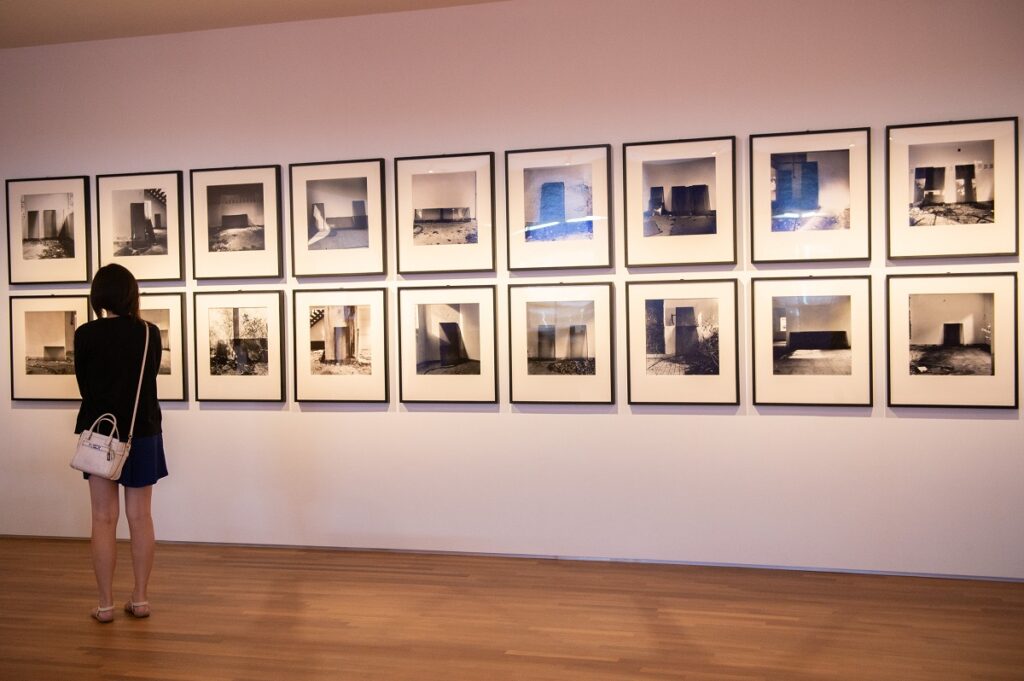 Simryn Gill, '
My own private Angkor', 
2007–2009. Gelatin silver prints on paper. 30 parts, each 39.4 x 37.5 cm. Courtesy of the artist and Tracy Williams Ltd., New York. © Simryn Gill. Image courtesy of the National Gallery Singapore. 
How would you characterize the art scene in Canberra compared with Singapore? Are there differences in the way people regard art, and what they want from their encounter with art?
Russell Storer: I'm only just getting to know the art scene here, but it's very dynamic for such a small city – less than 1/10th the size of Singapore! It's close-knit, as you might imagine, given its scale and distance from Sydney, Melbourne and Brisbane. Canberra is quite isolated, while Singapore is intensively networked within the region and the world. Unlike most other small cities, however, Canberra has the benefit of a number of great institutions and collections – the National Gallery, Australian National University, National Library of Australia, etc. With the prominence of the National Gallery in the community, there is a very committed local audience, but there is strong national and international interest too:  major exhibitions traditionally draw around 70 per cent of visitors from all over the country and from overseas.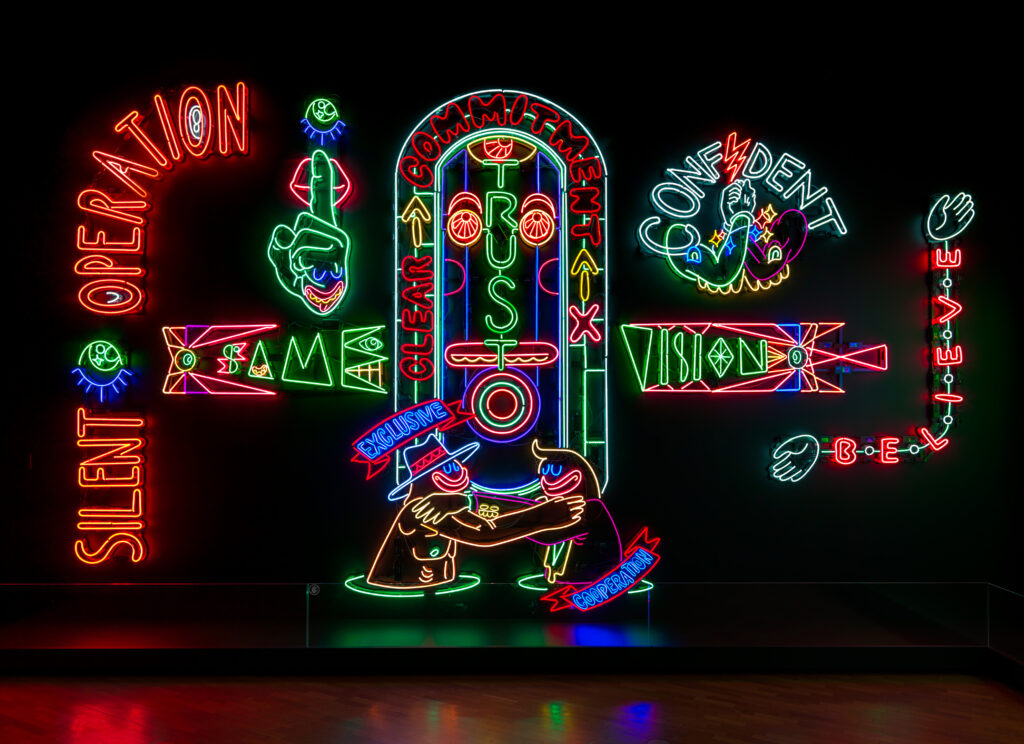 Uji 'Hahan' H. Saputro, Adi 'Uma Gumma' Kusuma, Silent operation: Sign study based on the formula of contemporary (visual) art, 2018-19, National Gallery of Australia, Kamberri/Canberra, Commissioned and purchased 2019. Image courtesy of the National Gallery of Australia. 
Australia has a vibrant museum-going culture, and if I were to compare, I would say that art is more embedded within daily life than in Singapore. It has a longer history of arts education and infrastructure – there have been art museums and art schools here since the mid-19th century. Australian museums were also quite early in putting an emphasis on education and outreach, opening up to broader audiences and working with different communities. Again however, one shouldn't generalise too much – Singaporeans were very quick to embrace their own National Gallery; and having closely watched the country's art scene over 20 years, the speed, ambition and scope of its expansion during that time has been head-spinning! Deep art appreciation is however a slow process, and museums everywhere need to play a long game, even while addressing the rapidly shifting expectations of the present. 
In both countries, there is a deep desire to understand our own culture and place in the world. Australia and Singapore are quite similar in that we both have multicultural, post-colonial identities that are not so easily defined. This should be seen however not as a weakness but a strength. Art museums in both countries therefore play a crucial role in exploring the complexity of who we are and offering multiple, rather than singular, perspectives on our own histories and societies, and how we might imagine our futures.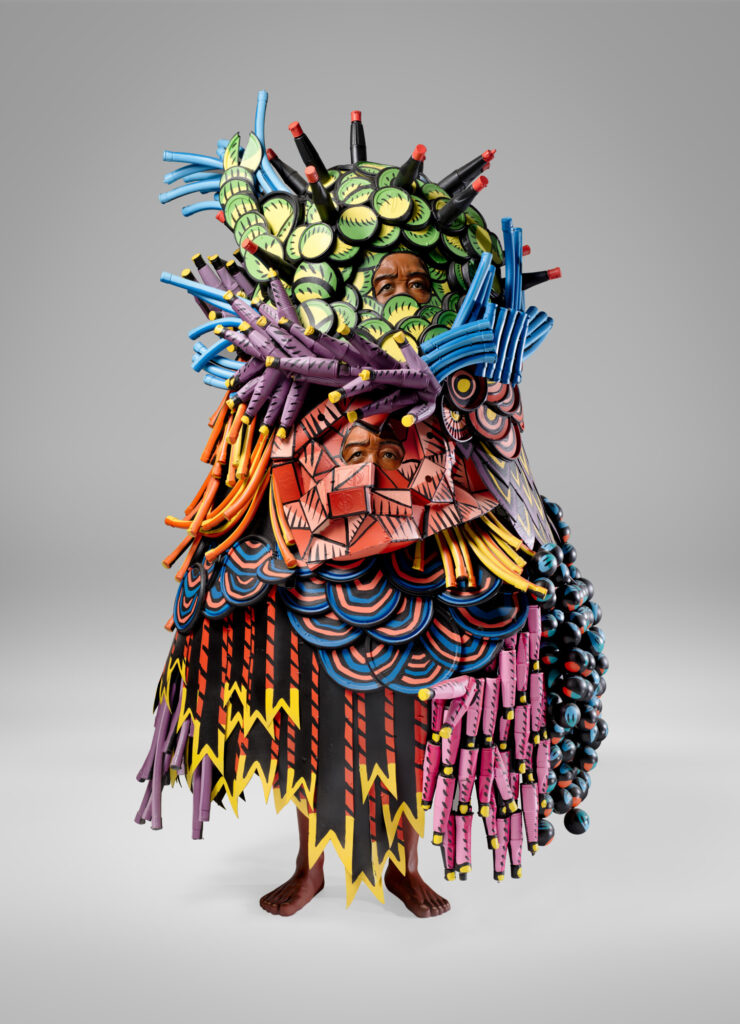 Eko Nugroho, Carnival trap 1, 2018, National Gallery of Australia, Kamberri/Canberra, purchased 2018. Image courtesy of the National Gallery of Australia. 
Is there anything from the Singapore / Southeast Asian art scene that you feel is a good practice to introduce to Australia, and vice-versa?
One thing I appreciate about the art scenes in Singapore and Southeast Asia is their strong sense of purpose – art has a crucial role to play in society and there is great importance placed by the community on developing and strengthening their art scene. The push against dominant western art histories and the continued need to assert and question cultural identity and promote social progress gives art in the region a real urgency. This energy can tend to dissipate when art scenes become more established, particularly in Europe and North America where contemporary art is now such a huge industry. Australia is a small market by comparison, but it has at times also felt a bit culturally complacent. However I think this has really shifted in recent years, particularly with the increased prominence of First Nations artists and artists from diverse communities, who are redefining what Australian art can be. This is the kind of energy I love in Southeast Asian art, and I'm excited to see how it is unfolding here.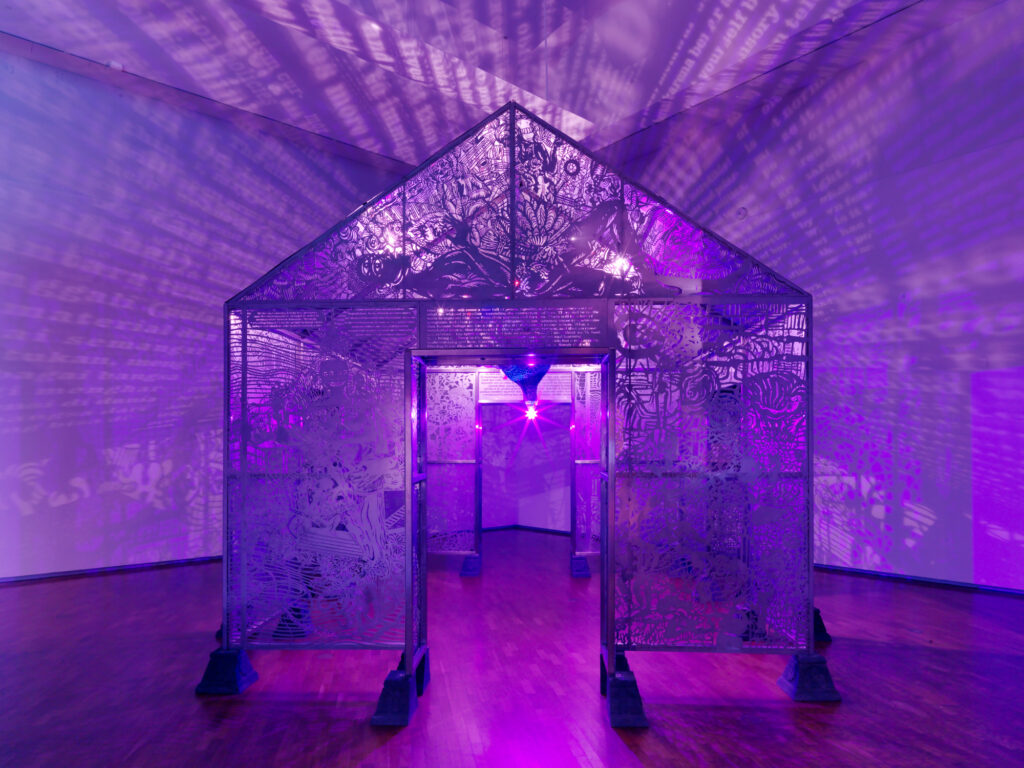 Entang Wiharso, 
Temple of hope: Door to Nirvana
, 2018-2019, National Gallery of Australia, Kamberri/Canberra, commissioned 2018, purchased 2019. Entang Wiharso, Black Goat Studios. Image courtesy of the National Gallery of Australia.
What I've always liked about the Australian art scene is its openness to the world – our geography could easily lead us to turn inward, but there has always been a desire for wider connection. While this traditionally focused on the north Atlantic, this has also shifted to encompass other parts of the world, particularly Asia, partly due to changing demographics but also through wanting to challenge those hoary old colonial/Cold War dynamics. This openness is an enormous strength, and something all art scenes can benefit from. This is fundamentally why I was drawn to art in the first place, as a child growing up in tiny, remote country towns: it makes you feel part of a bigger world.
Ever Present: First Peoples Art of Australia runs from 27 May 2022 – 25 Sep 2022 at the National Gallery Singapore. The exhibition surveys historical and contemporary works by over 150 Aboriginal and Torres Strait Islander artists from across Australia—the largest exhibition of its kind to travel to Asia.
Ever Present: First Peoples Art of Australia is presented by National Gallery Singapore in partnership with National Gallery of Australia and Wesfarmers Arts.
ABOUT THE AUTHOR: TAN SIULI
Tan Siuli is an independent curator with over a decade of experience encompassing the research, presentation and commissioning of contemporary art from Southeast Asia. Major exhibition projects include two editions of the Singapore Biennale (2013 and 2016), inter-institutional traveling exhibitions, as well as mentoring and commissioning platforms such as the President's Young Talents exhibition series. She has also lectured on Museum-based learning and Southeast Asian art history at institutes of higher learning in Singapore. Her recent speaking engagements include presentations on Southeast Asian contemporary art at Frieze Academy London and Bloomberg's Brilliant Ideas series.