BUILDING LEGACIES: PRIVATE MUSEUMS IN SOUTHEAST ASIA
One of the most interesting developments in Southeast Asia is the rise of collector-founded private art museums and spaces, now an integral part of the overall ecosystem. The first of a two-part feature by ART SG Contributing Editor Tan Siuli, this editorial surveys initiatives in Indonesia and Thailand, two of the most dynamic art scenes within the region.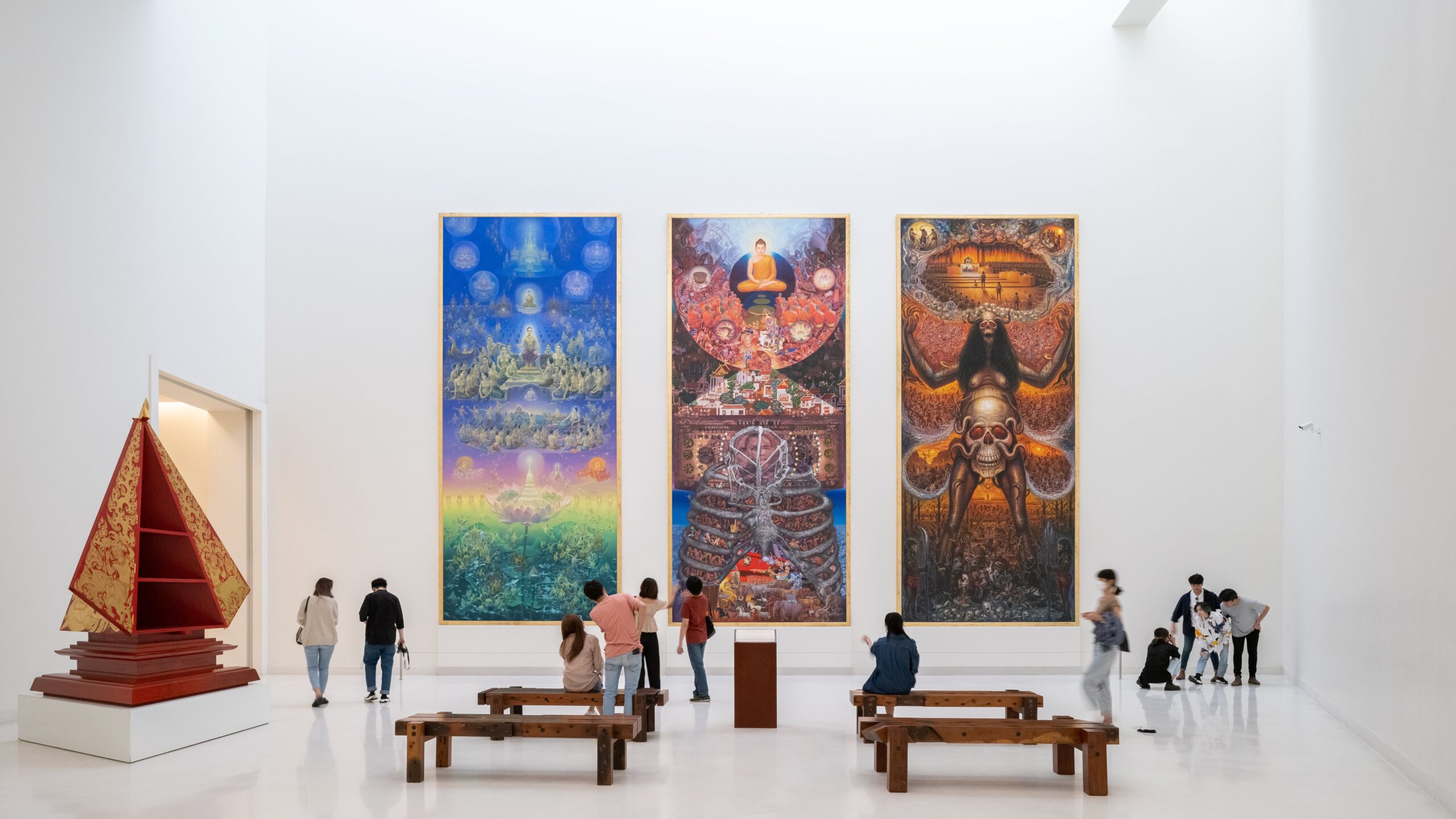 Triptych of Three Kingdoms by artists Sompop Butraj, Panya Vijinthanasarn and Prateep Kochabua.
Image courtesy of WBB&Co. -William Barrington-Binns, artists and MOCA Bangkok.
Southeast Asia's art scenes are varied, dynamic and stimulating. Unlike art ecologies in other parts of the world however, there is a general lack of public infrastructure and sustained government support for contemporary art, with the notable exception of Singapore. Often it is through grounds-up community efforts that the art infrastructure is established.
In recent times, art collectors and patrons have stepped up to establish private museums and not-for-profit initiatives. To name just a few: Museum MACAN in Indonesia, MAIIAM Contemporary Art Museum in Thailand, Ilham Gallery in Malaysia, SEED the Art Space in Singapore, and Bellas Artes Projects in Philippines. Many of these initiatives create more permanent platforms to support the development, presentation and promotion of work by artists in their respective countries, and complement other – often artist-led – efforts within these organic and collaborative ecosystems. For instance, Yogyakarta's flagship art fair, ArtJog, was the initiative of artists and arts managers; one could also cite GUDSKUL in Jakarta, a collaborative public learning space founded by collectives ruangrupa, Serrum and Grafis Huru Hara, or the vibrant N22 cluster in Bangkok which houses artist-helmed gallery spaces and working studios.
The private art museum landscape in Southeast Asia, which has flourished over the past two decades, is an integral part of these ecosystems. The first of a multi-part feature, this editorial surveys initiatives in Indonesia and Thailand, arguably two of the most dynamic art scenes in the region.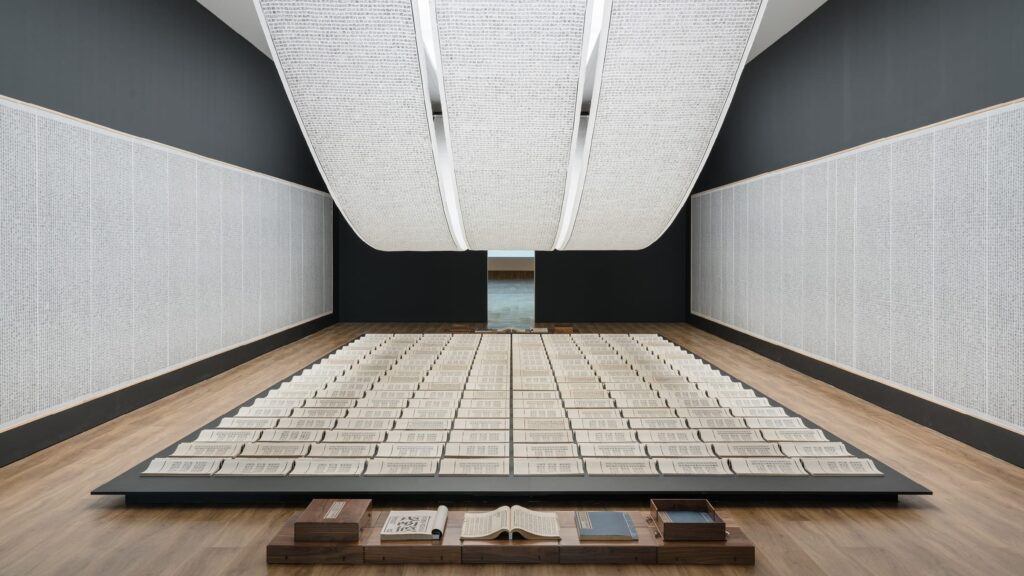 Xu Bing, "Book from the Sky" at Museum MACAN.

Image courtesy of the artist and Museum MACAN.
In a 2016 interview, Heri Pemad, the founder of ArtJog, lamented the lack of permanent infrastructure dedicated to supporting contemporary art: "We don't have a museum, which is humiliating"[1]. The inauguration of Museum MACAN in 2017 however, has significantly transformed the landscape in Indonesia. Along with MAIIAM in Chiang Mai, which opened in 2016, it is one of a number of private museums taking on roles akin to those of public art institutions, and plugging significant gaps in the ecosystem.
Founded by businessman Haryanto Adikoesoemo, Museum MACAN (Modern And Contemporary Art in Nusantara)[2]occupies a few floors in the middle of an office building in central Jakarta. Its nondescript exterior belies the treasures to be found within – since its opening, MACAN has presented an impressive roster of exhibitions, including blockbusters such as a traveling Yayoi Kusama survey and stunning solo shows for acclaimed Asian artists such as Xu Bing and Lee Mingwei. Importantly, major Indonesian artists such as Arahmaiani and Melati Suryodarmo are finally getting the museum surveys they deserve in their home country, with more solo shows for notable Indonesian artists in the pipeline at MACAN.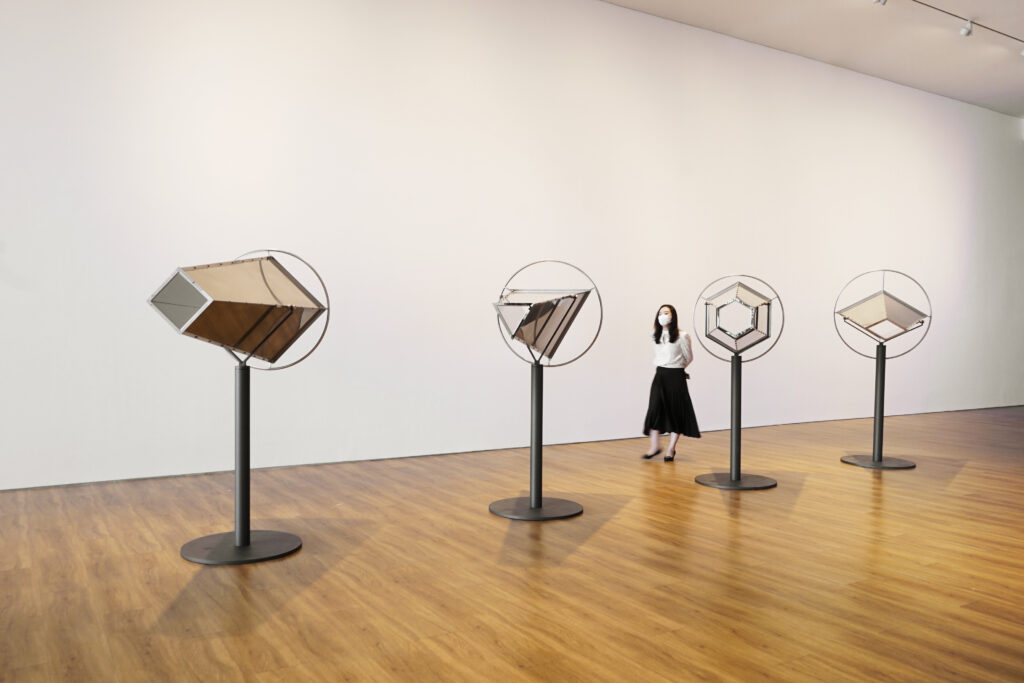 Olafur Eliasson, Multiverses and futures, 2017, Stainless steel, mirror, paint (black.) Square kaleidoscope, 186 x 82 x 150cm. Triangular kaleidoscope, 188.5 x 95 x 150cm. Installation view at Semesta dan Angan / Multiverses and Dreams.
Image courtesy of the artist and Museum MACAN​.
It used to be that art enthusiasts in Indonesia had to travel to neighbouring countries such as Singapore, Australia or Japan to catch major exhibitions of contemporary art; MACAN's arrival on the scene has changed that, and has opened up the possibility of encountering international-standard art presentations within Indonesia for swathes of the population who may not be able to travel to experience this.
Impressively, MACAN houses a dedicated Children's Art Space, where renowned artists from the region are commissioned to create interactive, child-and-family-friendly installations, introducing some of the ideas that underpin contemporary art practice as well as serving as an accessible entry point to contemporary art and museum-going for new – and future – audiences and patrons. This emphasis on education and access is very much informed by the Adikoesoemo family's vision for MACAN – Fenessa Adikoesoemo, Chair of Museum MACAN Foundation, shared that they see MACAN as "a museum that is very much for the public, rather than a private museum". In addition, the spectrum of staff roles at the Museum (from curatorial to education and conservation) also makes it an important training ground for developing the next generation of arts professionals in Indonesia.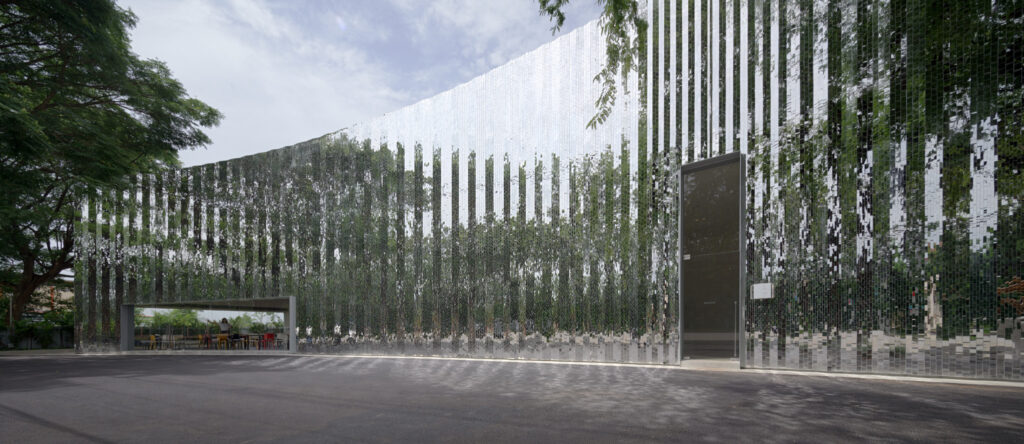 MAIIAM Contemporary Art Museum.

Image courtesy of MAIIAM Contemporary Art Museum.
Similarly, the opening of MAIIAM Contemporary Art Museum in Chiang Mai a year earlier was highly anticipated, as it was seen as an initiative that would go some way towards addressing the gaps in the Thai art ecology. Founded by Eric Booth and his family to share their collection and inspire others to collect, MAIIAM[3] is probably the only place in Thailand with a permanent display of Thai contemporary art. Its upper galleries house the Museum's collection, a wonderful introduction to key names and works. There, I was finally able to encounter in person a number of iconic pieces such as Montien Boonma's "Venus of Bangkok", and had the pleasure of making new discoveries such as an early installation work by Araya Rasdjarnrearnsook, made before she ventured into the video art she is so well known for today. The lower floor galleries are given over to major changing exhibitions. Like MACAN, MAIIAM has been active in according solo shows to important artists; in fact, it opened with a retrospective for acclaimed film-maker Apichatpong Weerasethakul, followed by a solo presentation for Chiang Mai resident Kamin Lertchaiprasert. Critically acclaimed traveling exhibitions have also been hosted at MAIIAM, including the recently-concluded "A beast, a god, and a line" which travelled from Hong Kong to Dhaka, Warsaw, Trondheim and Yangon, before ending its run in Chiang Mai.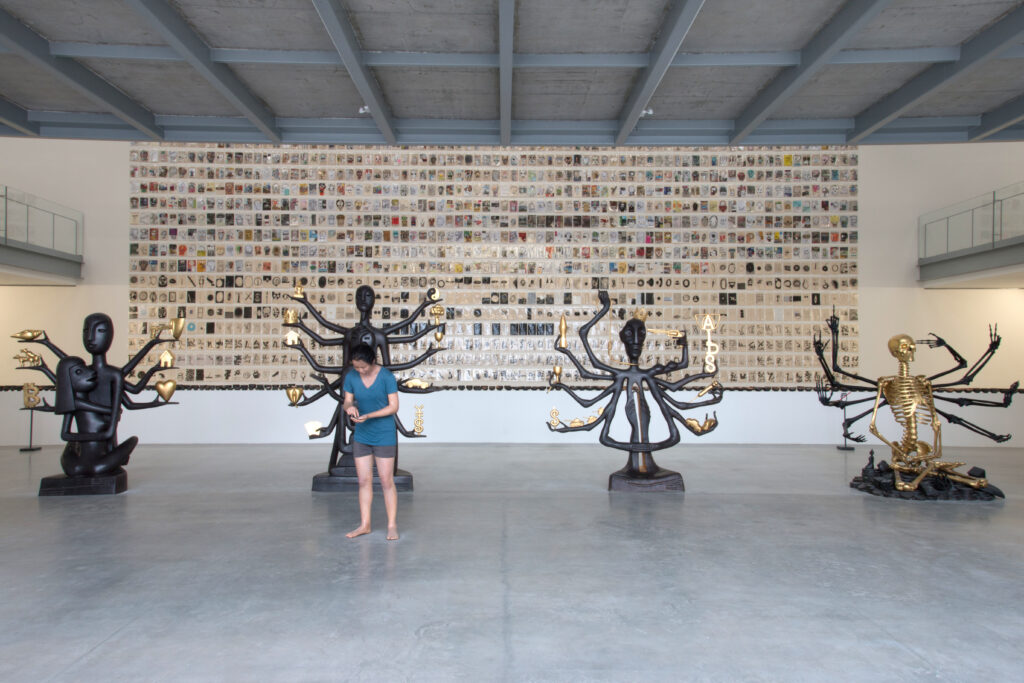 A view of Kamin Lertchaiprasert's solo show at MAIIAM.
Image courtesy of the artist and MAIIAM 
Contemporary Art Museum.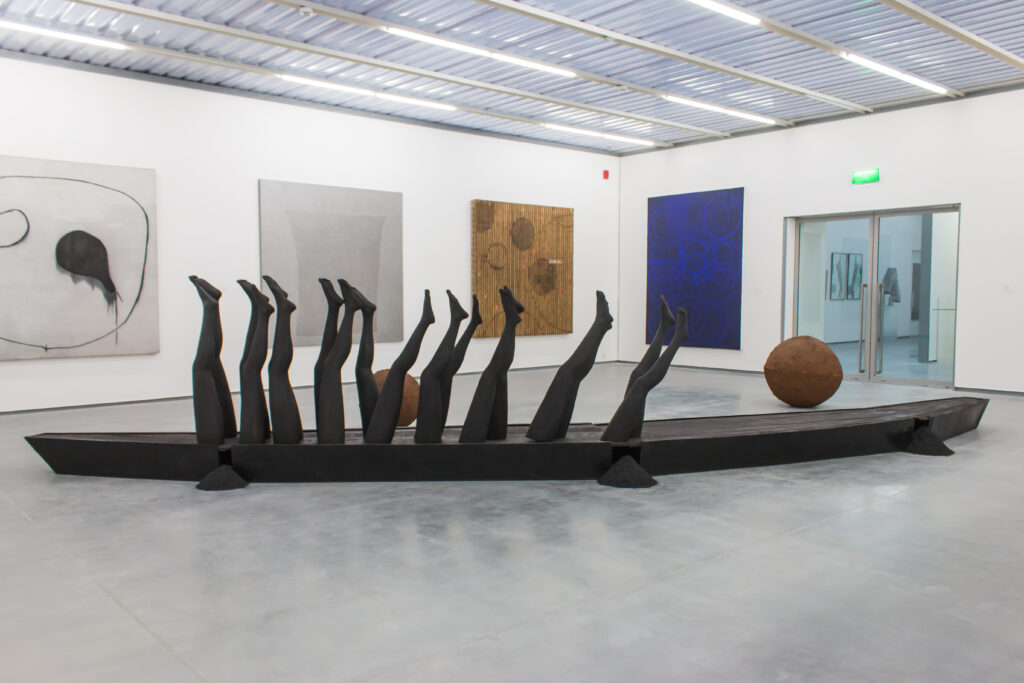 Araya Rasdjarnrearnsook, Departure of Country Thai Girls, 1995.
Image courtesy of the artist and MAIIAM Contemporary Art Museum.

Shiny venue aside, perhaps what is notable about MAIIAM is its founder's willingness to address gnarly issues in Thai history and society, and to provide a platform for otherwise marginalised voices. In 2017, MAIIAM presented Patani Semasa, a survey of art coming out of the Patani region in South Thailand, an area marked by tension and conflict between its Muslim and ethnically Malay community, and the predominantly Buddhist Tai majority in Thailand.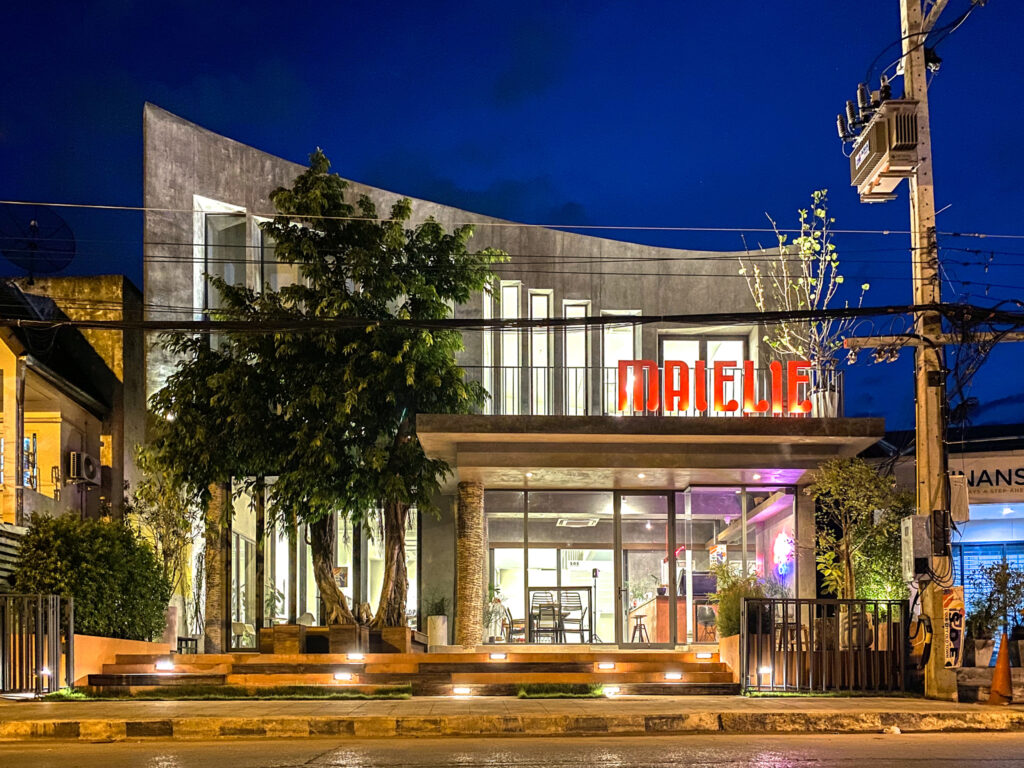 MAIELIE, Khon Kaen.
Image courtesy of 
MAIELIE.
Just last year, Booth opened MAIELIE[4], an offshoot of MAIIAM in Khon Kaen, Isaan – in the eyes of many, an unlikely host city for a contemporary art space. Isaan in Northeast Thailand is one of the country's poorest regions, and has been at the heart of contested identity since the late 19th century, a hotbed of local activism and resistance. It is precisely its distance from the capital city and its marginal position in Thai history and mainstream culture that attracted Booth, for whom 'decentralisation' is key. In his words, "it has been important for me to open spaces away from Bangkok, the centre of authority and all decision making in Thailand, as part of the push for decentralisation". Khon Kaen's art scene has also seen a flourishing of art activism in recent years, with the advent of events such as the Khon Kaen Manifesto, a guerilla-like 3-week art exhibition seething with calls for social and political change. MAIELIE draws on these histories and energies, with Booth outlining the independent art space's mission to focus on "social and political engagement which addresses contested mainstream history in Thailand and beyond". Importantly, spaces like MAIIAM and MAIELIE also offer artists who live at some distance from Bangkok platforms for showing their art, and connecting with other artists and visiting researchers. It will be interesting to observe in the coming years how much these two art spaces contribute to the development of art and cultural nodes in further-flung regions of Thailand.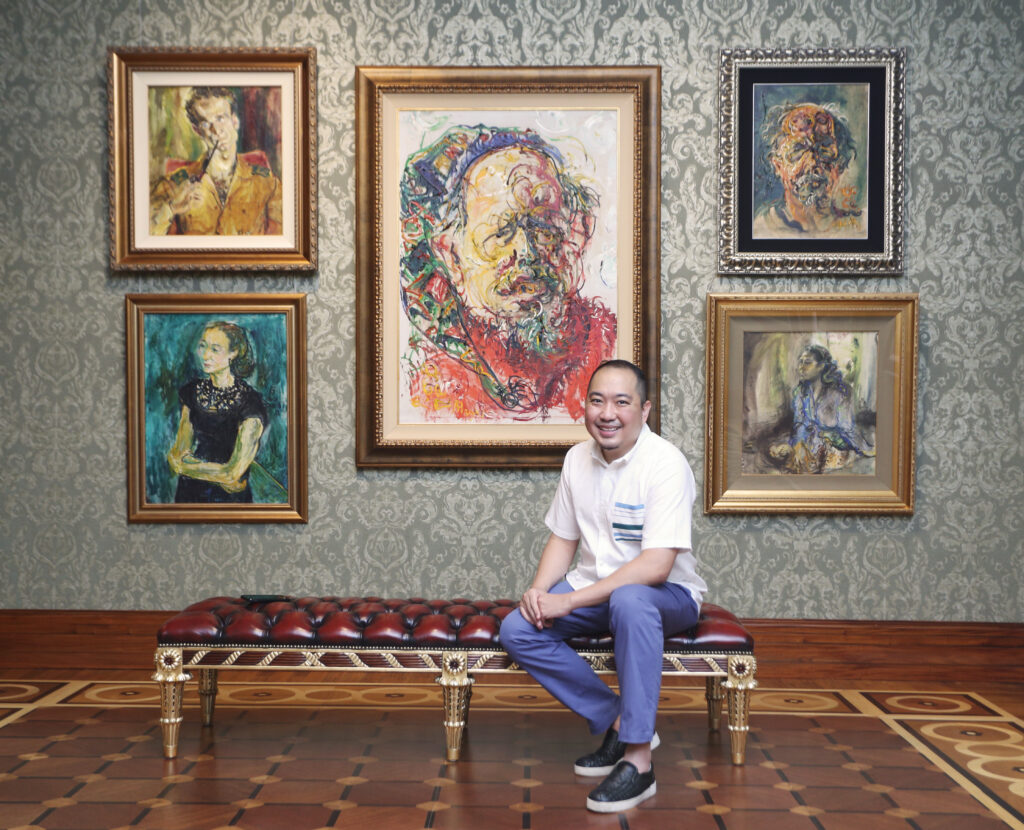 Iwan Lukminto, founder of Tumurun Private Museum.
Image courtesy Tumurun Private Museum.
It was a similar desire to offer access to art in a city at some remove from the main hubs of artistic activity, that motivated Iwan Lukminto to open Tumurun Private Museum[5] in Solo, Indonesia. A collection of contemporary Indonesian art sits alongside Lukminto's father's collection of vintage cars, and while visits to the museum are by appointment, access is free. The collector opines, "the exposure of art in our society is very limited, especially for young art students in Solo and Jogja area", and with the establishment of his private museum in 2018, Lukminto hopes to "contribute in giving knowledge or widen the view of art in society".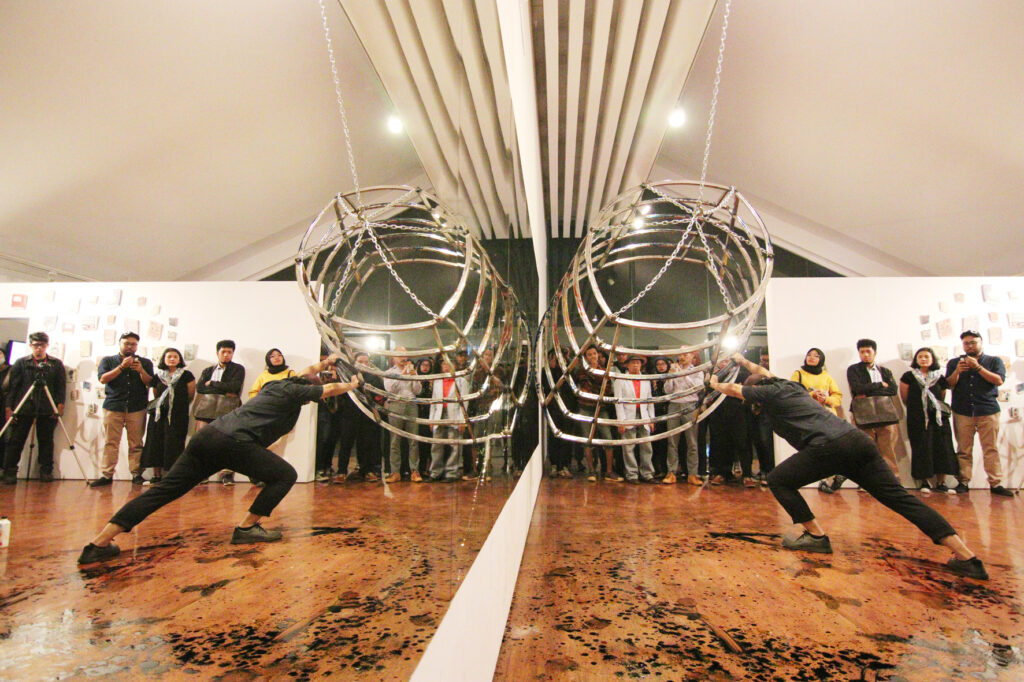 re:emergence, a group exhibition of 30 artists who had previously exhibited in Bandung New Emergence, 16 September – 22 October 2017.
Image courtesy Selasar Sunaryo Art Space documentation.
Selasar Sunaryo Art Space (SSAS) in Bandung, Indonesia, has played a similar role. Nestled in the highlands, a few hours' drive from Jakarta, SSAS is named after its artist-founder, and was established during the watershed year of 1998, when Suharto's 'New Order' regime gave way to the 'Reformasi' ('reformation') era. As its name suggests ('selasar' approximates the idea of a 'breezeway', or an open space which connects with another), SSAS was envisioned as a facility for an open exchange of art and ideas, and a means of supporting and nurturing the artistic community in Indonesia. This notion of collectivism is deeply rooted in Indonesian culture, having a precedent in the 'sanggar'[6]concept in Indonesian art, as well as being informed by the 'gotong royong' community spirit that is often cited by many in the Indonesian art scene.
True to its founding objectives, SSAS runs a residency programme called 'Transit', which gives opportunities to artists who have struggled to establish themselves, or to those without a conventional art background. Sunaryo, who selects these artists, gives them 'coaching clinics' based on their needs. Alternative platforms for presenting work and nurturing talent are vital in an ecosystem otherwise dominated by the market for a good part of the 1990s and 2000s: I still recall vividly an interview with an artist in Indonesia, who, in response to my question on what he was working on at the moment, said that he would only start developing new work when promised a gallery show.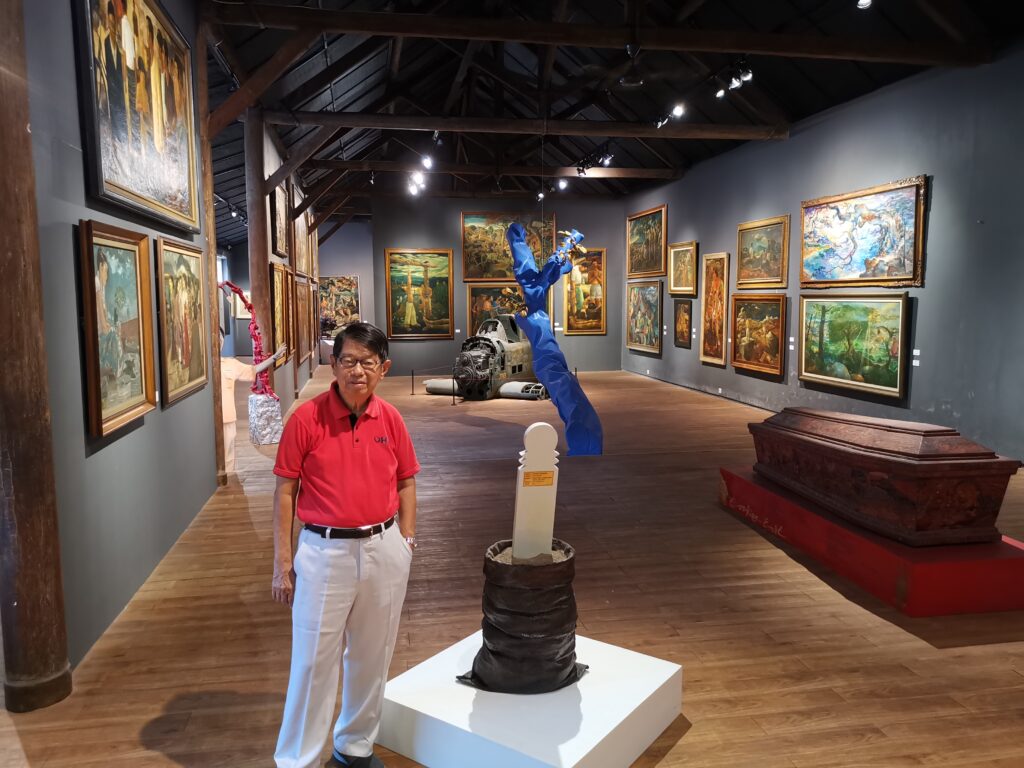 Dr Oei Hong Djien
Image courtesy Dr Oei Hong Djien.

Perhaps the precursor to them all, OHD Museum was established in 1997 by collector Dr Oei Hong Djien, whose initials make up the name of the museum. The museum started off as an extension of Dr Oei's residence in Magelang – an hour's drive from the 'art city' of Yogyakarta – and has since expanded into three separate buildings, including a former warehouse and a heritage home. For a long time this was the only private art museum in Indonesia that art lovers as well as visiting curators and researchers could visit in order to learn about the development of modern and contemporary Indonesian art, and to see significant works in the flesh. Many in the Indonesian and regional art scene will also remember the OHD Museum fondly as a convivial meeting spot, especially during Dr Oei's yearly birthday celebrations with invited guests from both the local and international art community, and a presentation of specially-commissioned artworks by Indonesian artists. In this way, the private museum served as something of a cultural node in the local art ecology prior to the advent of more internationally-oriented events such as ArtJog or the Jogja Biennale, connecting artists, curators, collectors and art enthusiasts.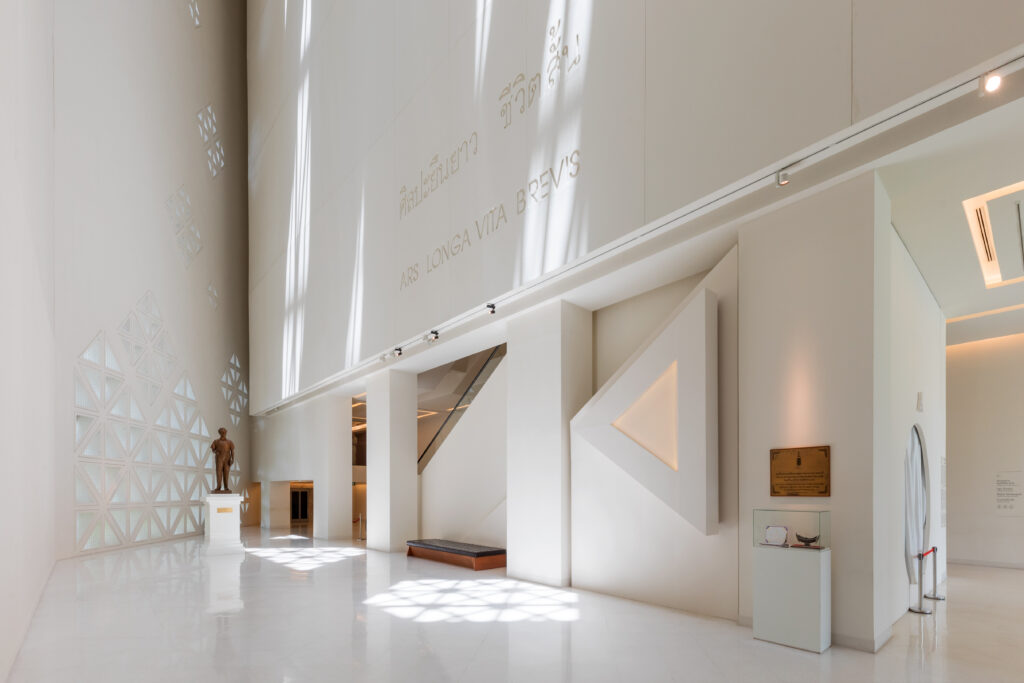 MOCA Bangkok.
Image courtesy MOCA Bangkok
Art and sociability also inform the changes afoot at the Museum Of Contemporary Art (MOCA) Bangkok. Built in 2012 to house the collection of telco magnate Boonchai Bencharongkul, MOCA is heavy on Thai modern masters, and several galleries in the museum are given over to displays reflecting its founder's tastes, interests and relationships. The second floor for instance, recounts narratives from Buddhism and the Ramayana epic, and traces these influences and the shared culture of Southeast Asia through various art forms, including a special collection of Asian and Ramayana masks; the fourth floor is dedicated to the work of Thawan Duchanee, the artist behind the enigmatic 'Black House' in Chiang Rai, and a close friend of Bencharongkul's, who inspired him to open the museum in the first place.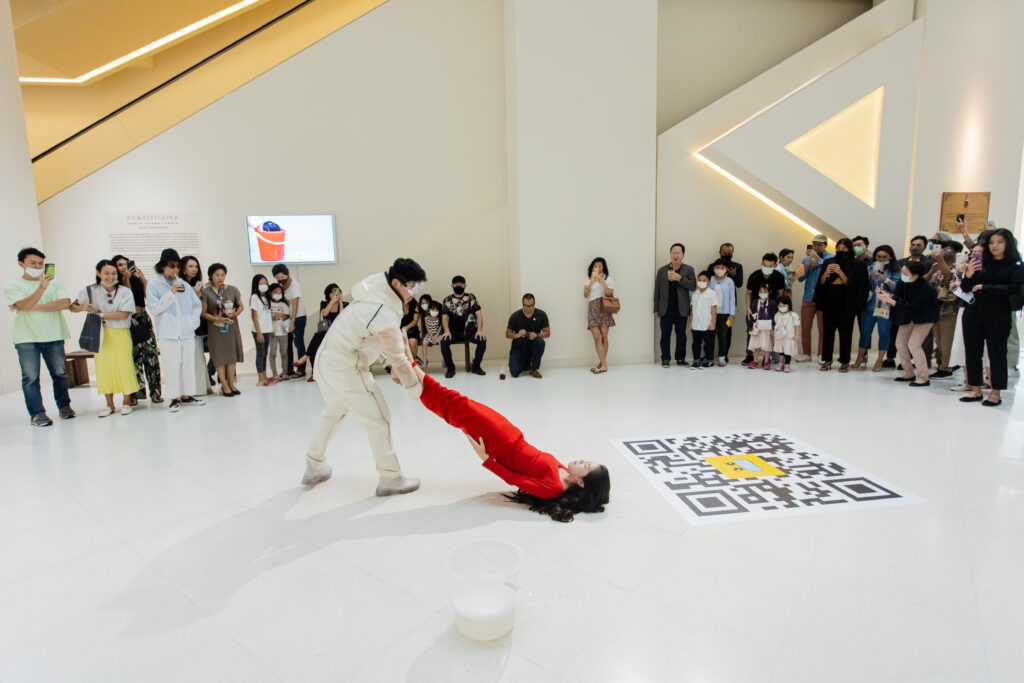 Kit Bencharongkul performing with artist Kawita Vatanajyankur at MOCA Bangkok.
Image courtesy of the artist and MOCA Bangkok
The rest of the museum however, has recently undergone a significant transformation since Bencharongkul's son took on a more active role. Acknowledging that museum-going is still very new to the general Thai public, Kanachai 'Kit' Bencharongkul – an avid photographer – has introduced more contemporary forms of art and activities to attract new audiences and to position the museum as a 'lifestyle' destination, an initiative that parallels the programming of several public institutions making a bid to revitalize their legacies. Amongst these were the introduction of interactive AR (augmented reality) works, accessible and appealing works of contemporary art such as those by street artist Alex Face and ceramicist Nino Sarabutra, as well as lifestyle offerings within the museum building such as meditative yoga and a  specially installed ice-skating rink – all heavily promoted on social media. As Kit notes, "art has itself evolved greatly, and we also want to push the limits of what an art museum can be. One day we could be hosting an art exhibition and the next a fashion show or concert."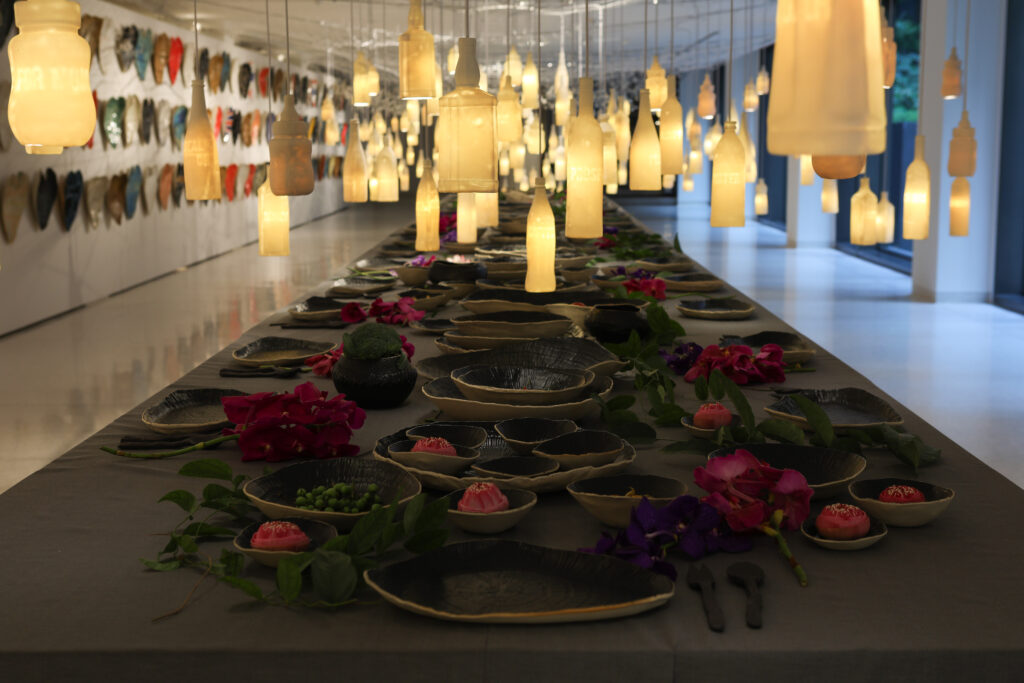 Ceramic installation by Nino Sarabutra at Four Seasons Art Space.
Image courtesy MOCA Bangkok.
MOCA Bangkok has also adopted an interesting partnership model: an Art Space in the Four Seasons Hotel in downtown Bangkok is a joint venture between hotel and museum to promote greater visibility for Thai artists. Solo presentations for important contemporary artists such as Sakarin Krue-On are also in the pipeline at MOCA, and with time – and the easing of travel restrictions – Kit hopes to bring in international exhibitions for local audiences as well.
Private museums across Southeast Asia are responsive to, and redefining the art landscape, and in the past decade, alongside other platforms such as the advent of new art fairs and Biennales in the region, art enthusiasts and audiences in the region have had greater access than ever before to contemporary art. The long-term presence and development of these ventures of course, remains moot, as immense resources, vision and willpower are required to sustain such undertakings. It will be interesting to observe the evolution of Southeast Asia's art ecologies in the coming years, and to take stock of how these private initiatives have contributed to and shaped its art scenes.
[1] 'Heri Pemad: Founder of ArtJog & Defender of the Arts' in DAMAN, 25 April 2016. https://daman.co.id/heri-pemad-founder-of-artjog-defender-of-the-arts/
[2] 'Nusantara' is Indonesian for 'archipelago'; in Indonesia it is generally taken to refer to the Indonesian archipelago. MACAN, the Museum's acronym, is also Indonesian for 'tiger', a reference to the Chinese zodiac sign of its founder Haryanto Adikoesoemo.
[3] The name means 'brand new', and yokes together the name of its host city as well as the name of Booth's great grand aunt who lived through a time when Thailand came into modernity.
[4] 'Maielie' means 'brand new' in the local Laotian-Isaan dialect.
[5] In Javanese, 'turun tumurun' means to pass down from one generation to the next.
[6] 'Sanggar' approximates the idea of an association of artists, particularly one in which younger artists are apprenticed to, or learn from, a more senior mentor.
ABOUT THE AUTHOR: TAN SIULI
Tan Siuli is an independent curator with over a decade of experience encompassing the research, presentation and commissioning of contemporary art from Southeast Asia. Major exhibition projects include two editions of the Singapore Biennale (2013 and 2016), inter-institutional traveling exhibitions, as well as mentoring and commissioning platforms such as the President's Young Talents exhibition series. She has also lectured on Museum-based learning and Southeast Asian art history at institutes of higher learning in Singapore. Her recent speaking engagements include presentations on Southeast Asian contemporary art at Frieze Academy London and Bloomberg's Brilliant Ideas series.