Exhibition Review: "Work-In-Progress, Video Art From Southeast Asia"
Exhibition Curated by Lourdes Samson, Seed Art Space, Singapore. 30 January – 14 March 2021

Exhibitions comprised entirely of video art works are not always the easiest to get into, but "Work-in-Progress" which recently concluded its run at independent art space SEED was a notable exception. A survey of moving image works from Southeast Asia, largely drawn from the private collection of Michelangelo and Lourdes Samson and curated by the latter – who is also one of SEED's founding directors – the exhibition was modest in size, featuring just seven artworks. Precisely because of its scale and the intimacy of the space, "Work-in-Progress" offered an accessible encounter, and engaged the viewer with the illuminating conversations it drew out between the works, and between work and space.
The title of the exhibition offers much to unpack: first, it alludes to the fact that video art is still nascent in Southeast Asia, and appreciation for this art form is still developing. Second, the works included in the show address notions of 'progress' in the region's rapidly developing economies, either directly or obliquely, and as will become evident, this 'progress' is extremely uneven. It is also this 'progress' (both in technological and economic terms) that has facilitated the adoption of this form of art-making and its dissemination.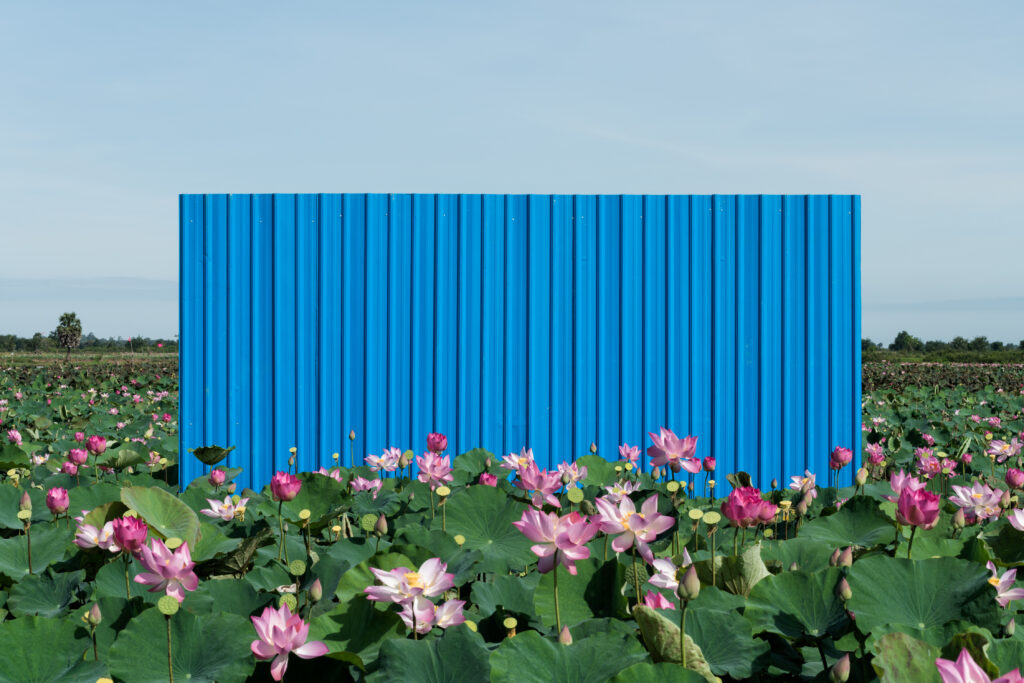 Lim Sokchanlina (Cambodia, b.1987), Wrapped Future II, 2019 single channel video, sound 14'43"loop. Edition of 3 of 5. Private collection, Singapore. Image courtesy of the artist.
Nowhere is this unevenness more pronounced than in the comparison between Lim Sokchanlina's work Wrapped Future II (2019) and Charles Lim's SEA STATE 9: Proclamation (Drag), (Drop), Pour) (2018). A still from Lim Sokchanlina's work has been used as the title image for the exhibition, and adroitly captures the idea of 'progress' seen through the artist's lens: a vivid blue wall of corrugated metal – the sort of hoarding commonly found at construction sites or in makeshift shelters and homes – is set against a foreground of swaying pink lotus flowers, an emblem of urban development encroaching on the natural landscape. The video presents seven staged environments, with this blue 'wall' installed in various settings in Cambodia, amongst them a grassy field, a mangrove swamp, and in the open sea. Conceived as an extension of an earlier photographic series, this moving image iteration engages the senses in ways that a photograph is unable to, with its evocative soundtrack of the sounds of nature, the subtle shifts in changing light, and the capture of movements across the screen, such as that of lone human figures crossing the field or the gentle swaying of grass and lotus flowers in the wind. In a memorable vignette, the blue wall rocks slightly to and fro as it is buffeted by the waves of the sea; curator Lou Samson reveals that in all these staged images, the artist engaged a makeshift team of two assistants who were responsible for holding up the 'wall' as he filmed the scene.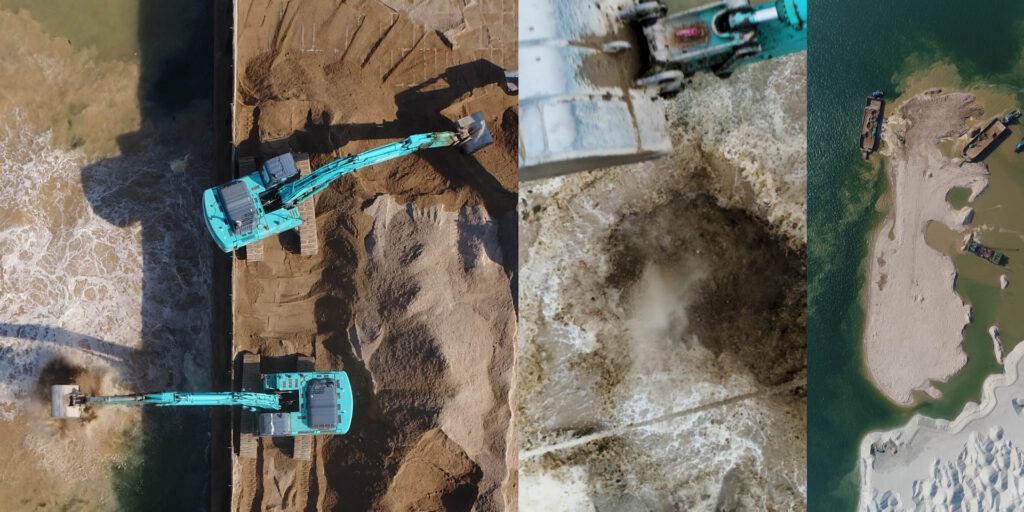 Charles Lim (Singapore, b. 1973), SEA STATE 9: Proclamation (Drag), (Drop), (Pour), 2018, single-channel HD video, looped, with output to high-luminosity seamless monitor, 27' mins (Drag); 6'30" (Drop); 22' (Pour). Edition 2 of 3 + 1AP. Private collection, Singapore. Image courtesy of the artist.
The hands-on manual labour involved in the making of Lim Sokchanlina's work is starkly contrasted with Charles Lim's SEA STATE 9 which presents spectacular footage of Singapore's land reclamation efforts. Where Lim Sokchanlina's landscapes were shot from a height approximating the human eye level, Charles Lim's dramatic footage is captured from an elevated perspective, its panorama communicating a sense of power, oversight and control.  SEA STATE 9 makes abundantly – and spectacularly – clear, the resources and technology available in the city-state, and what this enables the nation – and its artists – to achieve.  Singapore is notably the only country in the region where the government has a sustained funding programme for arts infrastructure, including resources to facilitate the participation of its artists at international art platforms such as the Venice Biennale, at which earlier iterations of SEA STATE were presented in 2015. As the conversations between these two works establish, 'progress' is markedly uneven across the region.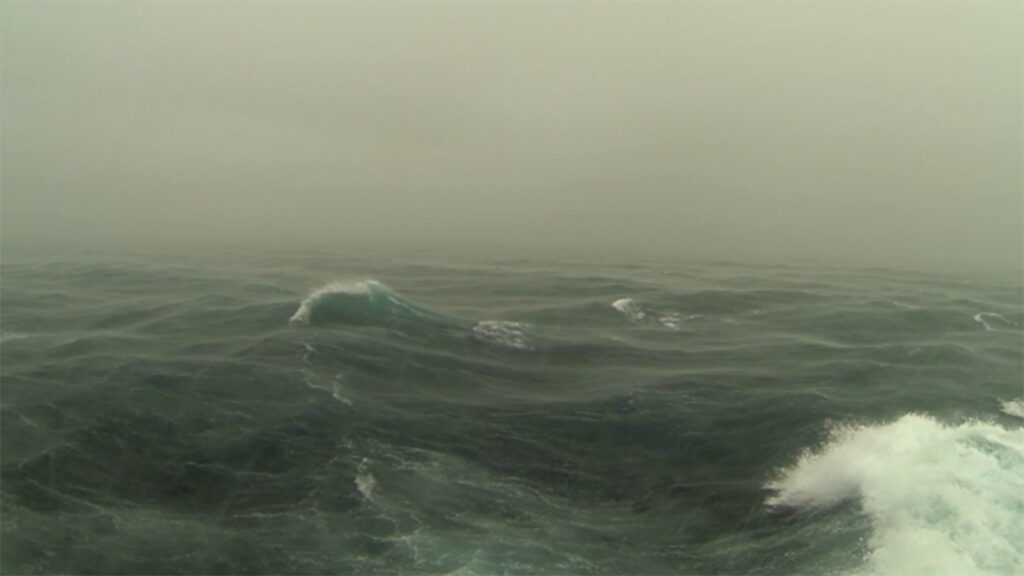 Martha Atienza (Philippines, b. 1981), Newfoundland N 47° 9′ 35.424", W 49° 55′ 18.75", 2015, single channel video, 48' loop. Edition 1 of 5. Private Collection, Singapore. Image courtesy of the artist.
Martha Atienza's Newfoundland N 47° 9′ 35.424", W 49° 55′ 18.75" (2015) on an adjacent wall, is a poetic counterpoint to the relentless movement and excavation of cranes and machinery in SEA STATE 9: Proclamation (Drag), (Drop), Pour). Here, the seascape gently roils, in slow, hypnotic motion. The low horizon line and the stormy palette of Atienza's seascape recall the works of Romantic painters such as Joseph Mallord William Turner or Caspar David Friedrich, who sought to capture in their paintings a sense of nature's sublime power. This painterly quality was precisely what drew Lourdes Samson to the work; the curator and collector shared that she gravitates towards works of video art "that draw from, and expand on, the imagery and poetry of painting and photography". Newfoundland is an intensely personal work, created as the artist's quest and desire to trace the footsteps and journeys of her absent seaman father. It poetically weaves together this personal narrative with a broader commentary on the sacrifices made in the name of economic betterment, by referencing the often difficult and lonely sojourns of Philippines's seafaring migrant workers, who comprise a large proportion of the country's labour force. Read in proximity to Charles Lim's work, it is also a reminder that the sea has long been a conduit for trade, wealth, power, and the exchange of cultures in this maritime region.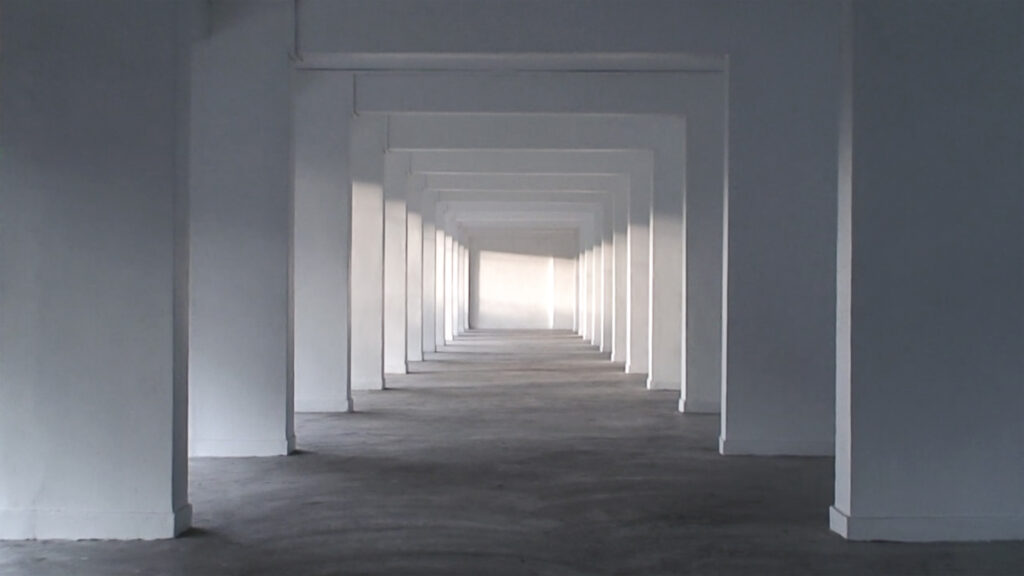 PERCEPTION3, (Regina De Rozario, Singapore, b. 1973) (Seah Sze Yunn, Singapore, b. 1977), Terminus, 2008, single channel video, sound, 5'42" loop. Edition 2 of 7 + 2AP. Private Collection, Singapore. Image courtesy of the artists.
In another corner of the art space, a pairing of works by Singapore-based collective Perception3 and artist Debbie Ding introduces another conversation on 'progress'. Both works revolve around public space(s), which are at a premium in cities such as land-scarce Singapore, and relentlessly rationalized or put to productive use. Terminus (2008) is a durational capture of an overlooked walkway and the poetic play of light and shadow within this architectural frame. The movement of passing traffic animates this otherwise static space, as do the shadows of passers-by and leaves swaying in the breeze. There is a sense of a celebration of the quotidian, in finding beauty in things just as they are: not every space needs to be put to 'use', or overly designed – a compelling proposition in light of Singapore's relentless place-making efforts to 'rebrand' and redesignate urban spaces. In a similar vein, Ding's Architectural Desires (2015) playfully reclaims public space with the artist walking her fingers over various concrete walls and architectural features, creating a tactile and personal 'psycho-geography'. The single screen on which this video plays is set on the floor rather than at eye level, making concrete the idea of 'walking the ground', and establishing a conversation with the geometric architectural features of the building housing SEED art space.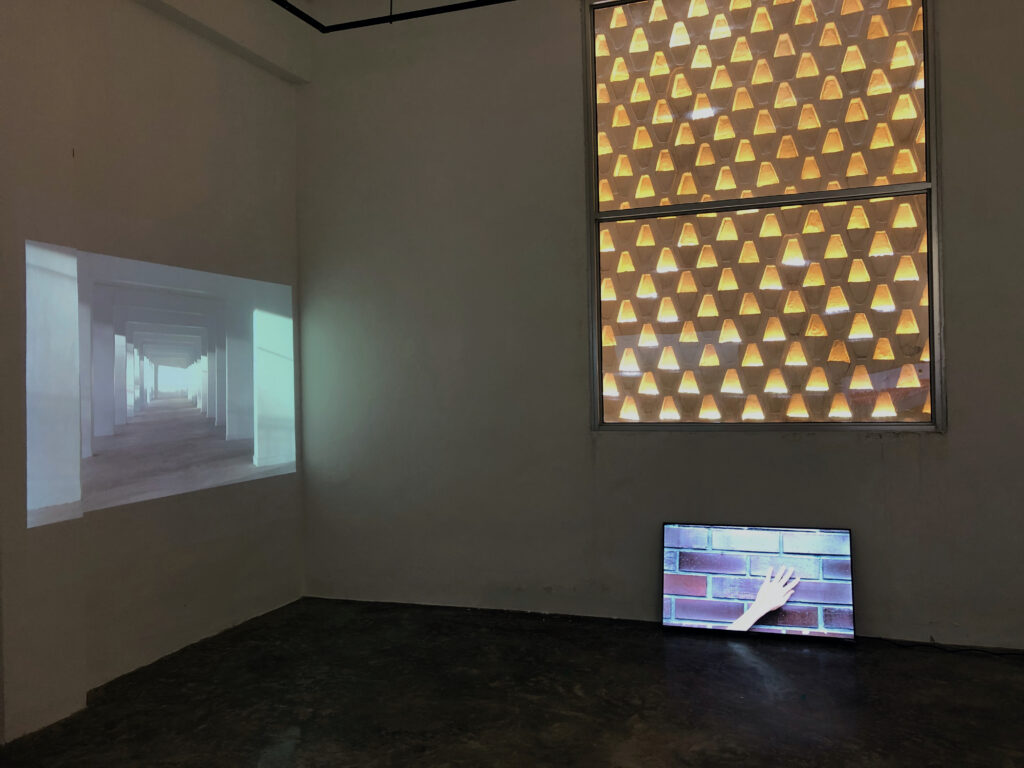 Installation Image courtesy of SEED THE ART SPACE.
There is an emphatic warmth and human scale to this exhibition, evident in the subtexts of the selected works, as well as in the scale of their presentation. Many exhibitions of video art tend to opt for cavernous 'black boxes' which can often be alienating. The success of this presentation may also be attributed to its curator's own predilections as a collector. The Samsons' collection of contemporary Southeast Asian art is, at its core, driven by what Lourdes Samson describes as "the common humanity and universal concerns that connect us", even as it celebrates the diversity of artistic practices and ecologies in the region.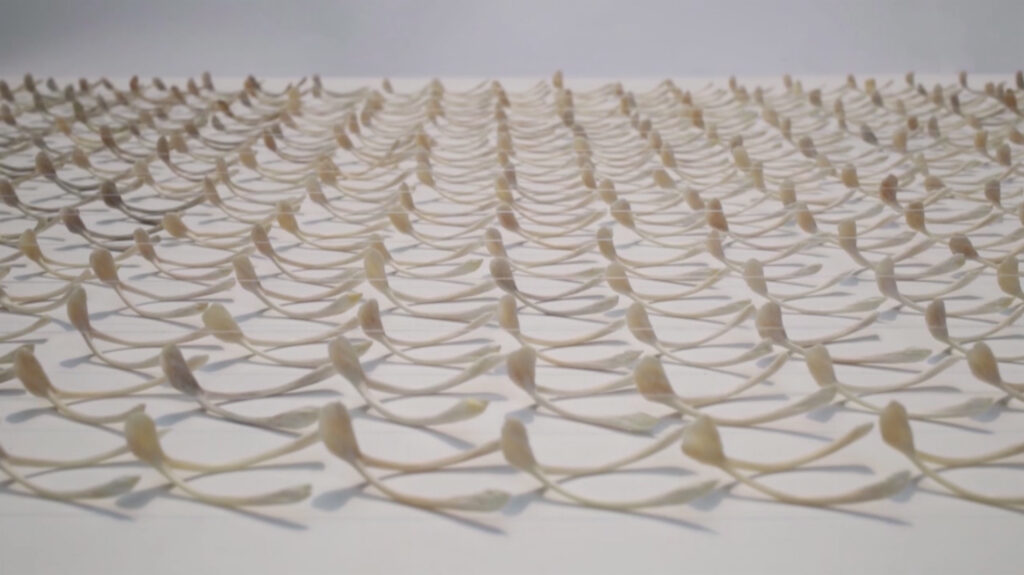 Christina Quisumbing Ramilo (Philippines, b. 1961), Waves, 2016, single channel video, sound 1' loop. Edition 1 of 3. Private Collection, Singapore. Image courtesy of the artist.
"Work-in-Progress" is not about video art for video art's sake. It showcases the broad spectrum of how this technology has been employed by artists across the region, but its ends are, ultimately, less a fete of this medium and its artists in terms of technical virtuosity, but rather how video enables artists to tell meaningful stories. After all, as Christina Quisumbing Ramilo's work Waves (2016) demonstrates, one does not need much to make an engaging work: in her case, just chicken bones, string, and an electric fan. At the same time, Ramilo's simple video calls to mind a plethora of narratives, from ongoing debates about sustainable and ethical food sources, to the matter-of-fact commentary on low-cost chicken as the prevalent source of nutrition for many developing economies. Ramilo's video, with its DIY aesthetic, piquantly demonstrates that great works of art do not necessarily require access to extraordinary resources. "Work-in-Progress" is testament to the spirit and resourcefulness of artists working in Southeast Asia, who craft compelling works of art with what they have at hand, and with the power of their imagination and observation
ABOUT THE AUTHOR: TAN SIULI
Tan Siuli is an independent curator with over a decade of experience encompassing the research, presentation and commissioning of contemporary art from Southeast Asia. Major exhibition projects include two editions of the Singapore Biennale (2013 and 2016), inter-institutional traveling exhibitions, as well as mentoring and commissioning platforms such as the President's Young Talents exhibition series. She has also lectured on Museum-based learning and Southeast Asian art history at institutes of higher learning in Singapore. Her recent speaking engagements include presentations on Southeast Asian contemporary art at Frieze Academy London and Bloomberg's Brilliant Ideas series.